Rufus is an adorable five-year-old Blue Heeler. He was reunited with his family this week after spending nearly a year alone on the streets of Santa Fe. Rufus, who is completely deaf, escaped from his family home in early September 2021, and an entire community has been on the search for him since.
There were certainly those who feared that they would not find him alive. Rufus' family had just moved to Santa Fe and had barely lived in the area one month when he ran away. What chance did a special needs dog have surviving on the streets of an unknown city?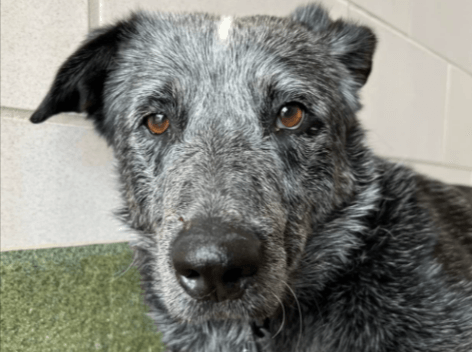 Those fears were put to rest when, to everyone's surprise, Rufus was spotted one day. On July 3rd of this year, a motorcyclist saw Rufus on the side of a busy road and sent his picture to Team Frijoles. This particular group, which specializes in lost pet recovery, had been on the search for Rufus since the very beginning.
Team Frijoles assisted Rufus' family in handing out flyers and creating social media campaigns. They worked alongside the Martinez family for almost a year to bring Rufus home.
A Thoughtful Gift
Rufus was gifted to his owner, Marisa Martinez, after her daughter's death. Her child succumbed to pediatric cancer at the age of nine — a devastating blow to the entire family. The person who gifted Rufus believed that he would bring the Martinezes peace and comfort, a job at which he excelled.
The pairing was ideal as Rufus is a special needs dog, and his owner is a special education teacher. They quickly became a bonded pair. Martinez even taught Rufus sign language to communicate!
This family's history of loss made Rufus' disappearance even more distressing. The loss of another family member was all but unbearable. The Martinez family searched tirelessly for months following his disappearance. They never gave up hope for his safe return. Still, they had no choice but to come to terms with a new kind of Rufus-less life.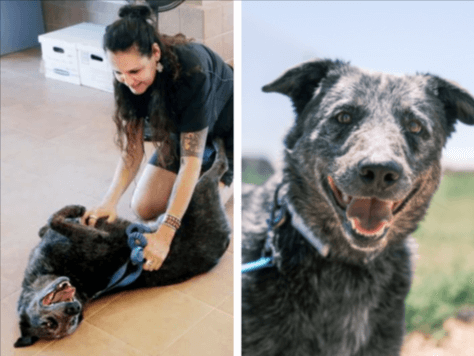 A Miraculous Return
But then Rufus reappeared, an event which has since been called a one-of-a-kind miracle. While we don't know where this brave pup was for the past year nor how he survived, we know that Rufus's bravery and perseverance are unlike any other.
Once they had received Rufus' photo from the Good Samaritan, Team Frijoles went to work. They set up a humane trap for Rufus, attempting to lure him in with food, and he took the bait. Team Frijoles was able to bring him out of the elements and into a safe place.
Rufus would spend the next several days at the shelter as his family was out of the country visiting relatives. However, a Zoom video call with the family and a microchip scan confirmed that this was, indeed, the missing Martinez dog. And his family was ECSTATIC.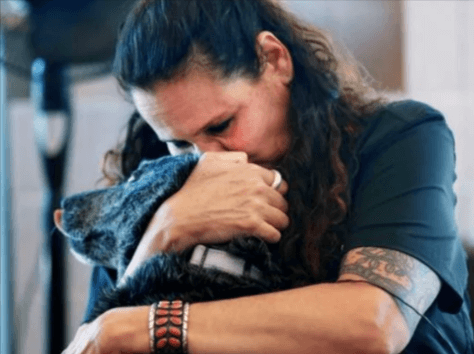 An Emotional Reunion
When Rufus and his family were finally reunited, onlookers shed many tears. It was clear that they had not stopped thinking of one another for a single moment. Rufus was, at first, apprehensive when approaching his owner. After all, he had not seen her in nearly a year — how could he be sure this was really his mom?
Rufus' nervous behavior changed instantly when Martinez used a hand signal to say hello. He sniffed her outstretched hand and became puppy-like in his greeting. He began rolling on the ground for belly rubs, snuggling into her arms, and giving her endless kisses. Martinez then loaded Rufus into the family car, ready to take him home.
Martinez knows in her heart that Rufus is a miracle dog. She hopes that their story will encourage others never to give up, no matter how hard things may seem:
"We want this to be a feel good story of a sweet dog with disabilities who is magical," said Martinez. "Who had overcome the wilderness, being deaf, being a fighter, and helping a mommy in mourning."