A CCTV camera in Sao Leopoldo in the southern Brazilian state of Rio Grande do Sul captured heartbreaking footage of a disabled dog being cruelly abandoned by his owner. Sadly, it was only the first of two such incidents that occurred that same day.
The dog, dubbed TinTin by rescuers, was found by a good Samaritan and returned to his family, only to be dumped in another location hours later.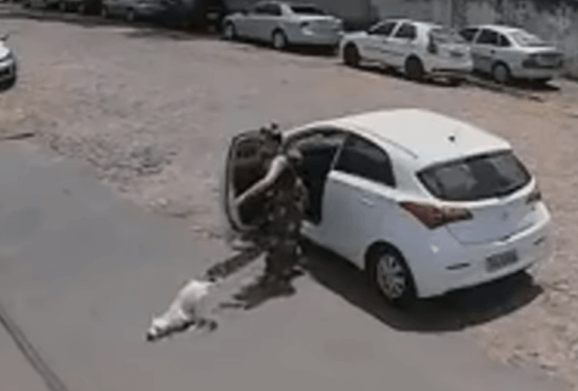 A Double Abandonment
The video shows a woman in a white hatchback pulling over on a quiet street. When she opens the door, two dogs hop out; one black and one white. The white dog is missing his right front limb, while the left is severely deformed. He can walk but is slow and unsteady compared to his canine companion.
The woman is seen coaxing the black dog back into the car, then cruelly shoving TinTin when he tries to hop in too. The poor pup lands on his chin and recovers to see his family speeding off without him. TinTin briefly hobbles after the vehicle before wandering aimlessly down the street.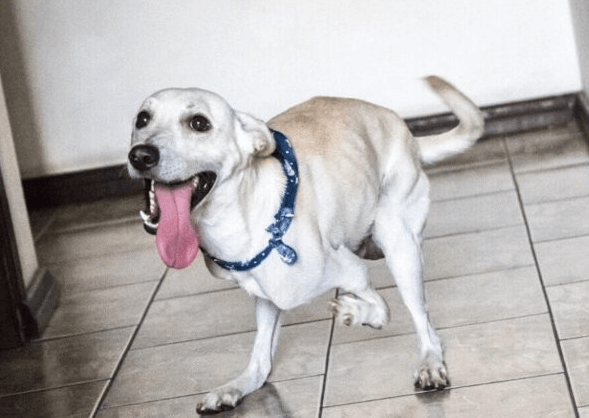 The footage is certainly not for the faint of heart but can be viewed at the end of this post at your discretion.
According to local media, the dog was returned to his family within hours of the incident, only to be abandoned for a second time by the woman's husband.
Luckily, TinTin was quickly picked up again and taken into the care of the Patas Geurreras animal charity. Despite his disability, the friendly pup is quite healthy and happy.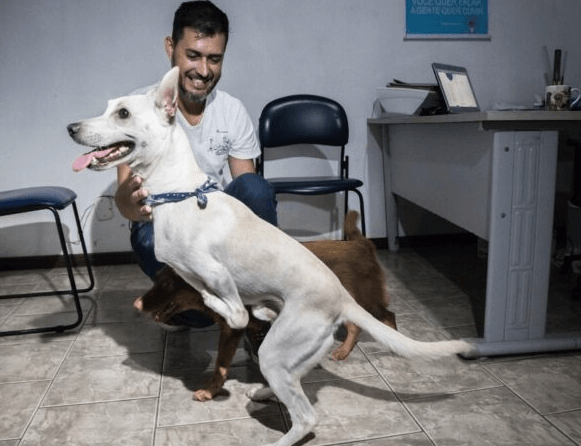 Brazil's Most Eligible Shelter Dog
Once the footage hit social media, the dog's story went viral, sparking widespread outrage and petitions to locate and punish the heartless owners. Hundreds of people also expressed interest in adopting TinTin, including Brazilian celebrities Tatá Werneck and Patrícia Pillar. Rescuers were understandably careful in choosing his new family, finally settling on a couple living in Porto Alegre.
"It was a procedure that demanded extreme attention," said Anderson Ribeiro, Secretariat of Animal Protection in Sao Leopoldo. "Due to the pet's physical characteristics, we added some questions to the standard adoption questionnaire, especially regarding the floor of the adopter's home."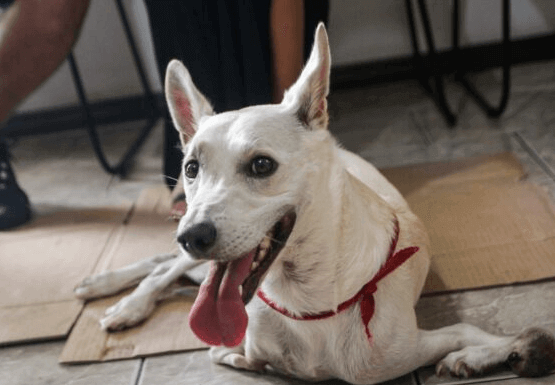 Love, Care & Justice
Patas Guerreras reports that the new family has four other dogs and is actively involved in rescuing Brazilian street dogs. They are showering TinTin with lots of "love and care." As a show of gratitude, TinTin's new mom donated 150 kilos of food to the Secretariat of Animal Protection of São Leopoldo on her latest birthday.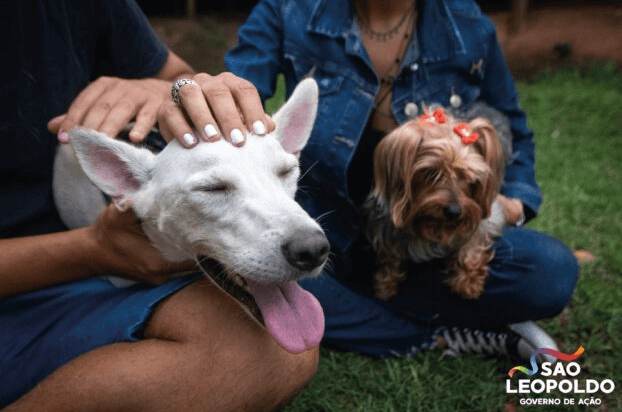 According to one source, police managed to locate TinTin's previous owners. They admitted to the heartless abandonment and were charged with animal abuse. Penalties range from three months to a year in jail and a fine. >>… RELATED POST: Elderly Man Pushes His Disabled Dog On a Cart So He Can Still Go For a Walk
¿Qué tipo de persona puede abandonar a un peludito y más en esas condiciones? 💔😔 #UnAmigoNoSeAbandona #NiUnMásEnLasCalles #PatasGuerreras #ProtecciónAnimal pic.twitter.com/0Y93tBdJ4s

— Patas Guerreras (@PatasGuerreras) January 4, 2020