A dog now nicknamed "Aquaman" has survived a tragedy that no dog should have to face. Someone reportedly abandoned him by throwing him off a bridge and into the Harlem River in New York City. When someone saw him, he was paddling in the river, barely staying afloat.
But luckily, many kind humans were on his side, including a Good Samaritan and several firefighters. Without the help of dog-loving humans, the struggling pup likely would've drowned. Instead, he's preparing to find a forever home because so many humans refused to give up on him.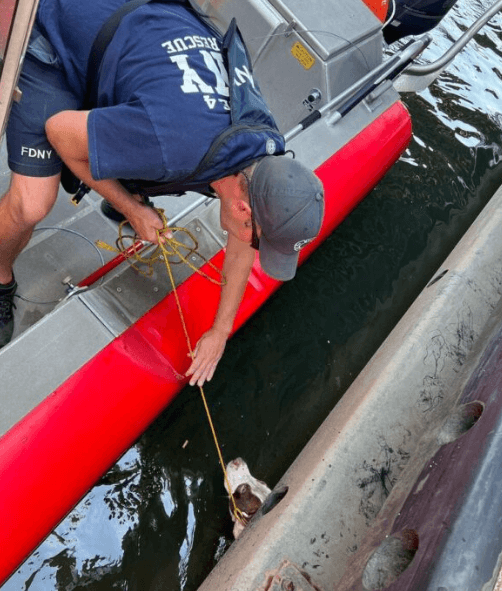 Good Samaritan Spots Dog
A Good Samaritan found the dog in the Harlem River and documented the rescue on his Instagram story. While at work, he spotted the 2-year-old Pit Bull mix and stepped up to help.
The man held onto the 62-pound dog from the shore to keep him afloat, but he couldn't pull the pup out of the water. When someone saw the man and dog, they contacted the New York City Fire Department (FDNY) for support.
Related Post: Lost 10-Year-Old Girl Survives Intense Blizzard By Hugging Stray Dog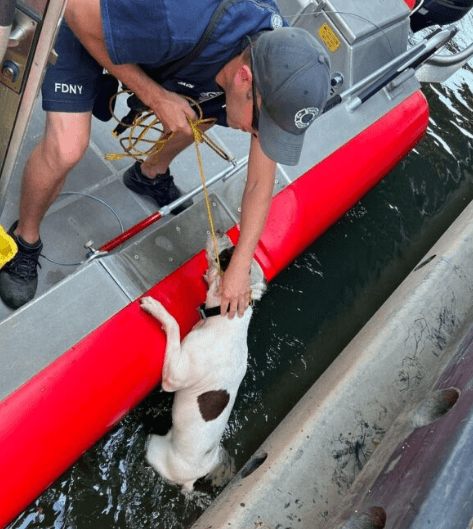 The firefighters hopped on the Marine 4 rescue boat and headed to where the dog was. They worked with the man to pull the Pit Bull onto the boat, so he could relax and dry off. FDNY posted about the rescue on Instagram, including photos from it.
"Upon arrival, Marine 4, led by Lieutenant Sodano, saw a civilian clinging to the dog from shore attempting to keep [him] afloat. Members from Marine 4 were able to bring the dog on board the vessel and take him to shore, where he could receive the necessary care," FDNY wrote. "Without the quick response from both the civilian and FDNY members, the outcome for this animal could have been very different."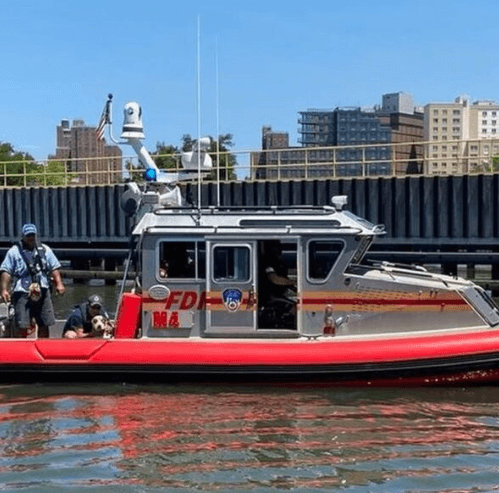 A Team Effort
The Good Samaritan didn't share his real name publicly, but on Instagram, he goes by the user name "slimshady0321." He shared some photos and videos from the rescue on his Instagram account. He stated that he wants whoever did this to the dog to pay for their actions.
"Today me and the FDNY rescued a dog that was thrown into the Harlem River. I hope the person or persons responsible for this heinous crime gets what's coming to them," the man wrote.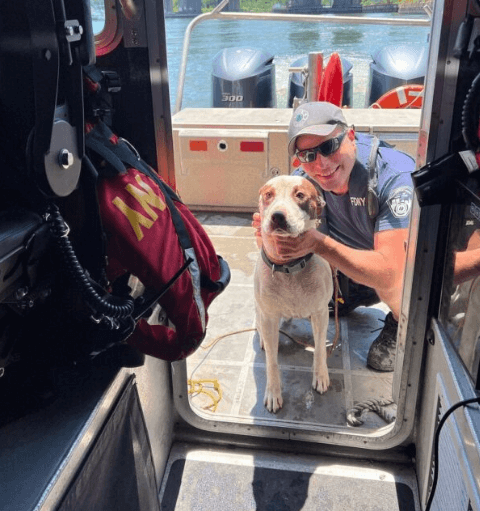 Animal Care Centers is currently tending to the dog named Aquaman. Once he's feeling his best, the dog will be put up for adoption. A few of the firefighters have already expressed interest in giving the pup a home.
Related Post: Couple Attempts To Bury Their Dog Alive But He Survives