Ibrahim made the world a little bit brighter on a gloomy day in Grozny, Chechnya, by demonstrating the unconditional nature of a child's love. The child can be seen lovingly cuddling and petting a pair of stray canines on the pavement in a video shot by a neighbor from a nearby residential building.
He apparently saw the pups lounging around as he was leaving for school. He could have simply continued walking, but he made the conscious choice to greet her in the most loving manner possible. He appears to be taking his time with the puppies in the video, but eventually decides it is time to leave.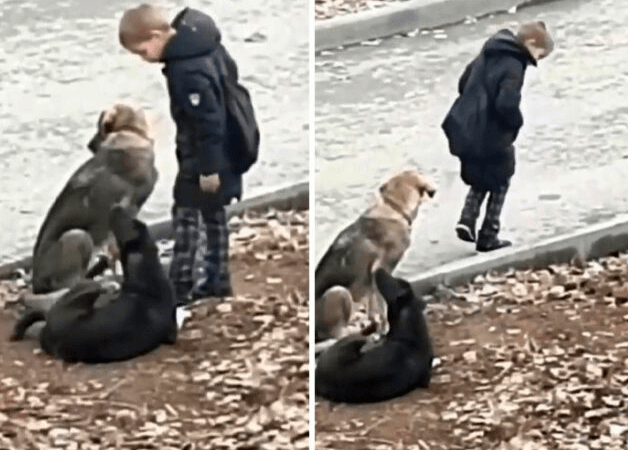 He moves a little distance forward before quickly turning around. After pausing for a few moments to reflect, he raced back to the dogs, hugging and petting the canine companions, because he could no longer resist the draw.
The boy received appreciation from both friends and complete strangers after the video became popular and touched people's hearts. A family friend named Katerina told The Dodo that the boy's true character, kindness, and compassion were well captured in the video. She went on to claim that the youngster frequently accompanied her daughter to school and assisted with carrying her luggage before concluding, "he's a very kind boy."
However, the description of the shared video brought attention to a problem: the brutality and disregard shown to homeless animals as a result of people's fear of them.
Why are your kids terrified of dogs, the caption asks, according to Google Translate (We do not include any instances of terrible incidents involving dogs.) Because of the adults nearby who promote fear, anger, and hostility in kids, kids are scared of dogs. "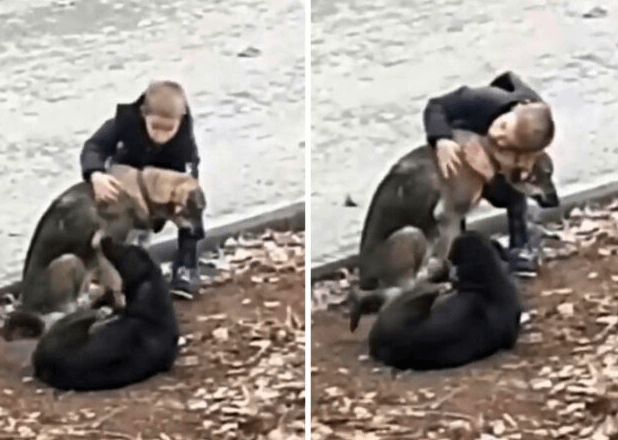 Although the phrase is a little harsh, I can still remember my mother warning me to be careful around dogs since you never know what they might do.
It's also hard not to start worrying about companion animals because there isn't much information about dogs besides reports of sporadic assaults. It's taken me some time to feel more at ease with larger dogs, however, I do become nervous when one is close by.
Both the stray puppies and the youngster had found solace in one another; neither of them perceived the other as a danger. It is unquestionably wholesome, whether that comes from the boy's excellent nature or the animal-related skills his parents have taught him.
The complete video may be seen here: