Officers with the Las Vegas Metropolitan Police Department are being hailed as heroes after rescuing a mother dog and her puppy from the back seat of a hot car earlier this month.
Although the car was parked in an enclosed parking garage, the temperature outside was nearly 96 degrees. A kind guard noticed the dogs in distress and called the police right away.
The car was parked in a lot for the Wild Wild West Gambling Hall — and the dogs' owner was presumably inside gambling.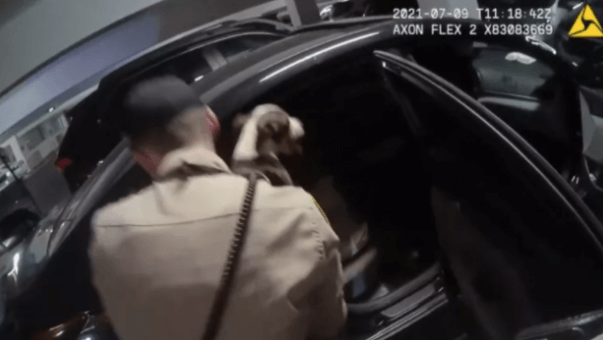 When officers arrived, they saw the two dogs inside the car struggling for breath and panting. A sunroof and the rear windows were left slightly open, but there was no circulation in the dry, stale air.
Since the dogs were in the back seat, one of the quick-thinking officers decided to smash in the front passenger side window in order to safely retrieve them. Body camera footage shows the tired and panting dogs in another officer's arms.
One of the dogs couldn't stop wagging her tail when she realized she'd finally been saved. After the daring rescue, the dogs were ushered by patrol car to a local veterinary office where they received care. Luckily, both dogs were unharmed in the incident.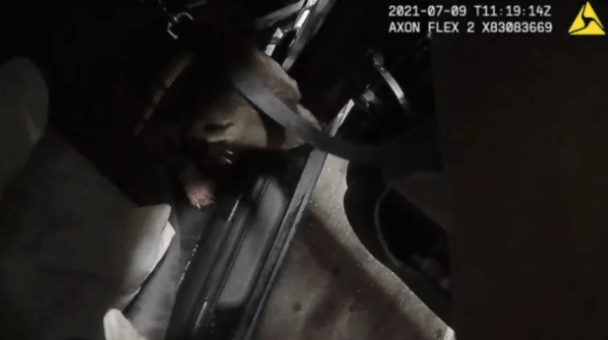 "Recently, our officers have been forced to break vehicle windows to save dogs in distress," the department posted on Facebook. "The Las Vegas heat is lethal and the weather is too hot to leave animals and pets in cars. In two unrelated cases, we saved the lives of three poor puppers and arrested one owner."
In Nevada, it is a misdemeanor to leave an animal unattended inside a car "if conditions, including, without limitation, extreme heat or cold, present a significant risk to the health and safety of the pet."
Across the country, 31 states have similar laws, which vary in who can rescue the animals. Fifteen states let anyone rescue an animal in distress, while in Nevada, only public safety officers and animal control officers can do it on private property.
While it's not clear whether the owner of the dogs was arrested, many on social media called for the dogs to be taken away.
"Oh my goodness — thank you so much Metro," one concerned person wrote. "You were the chosen angels that day to rescue those babies. Please, please don't let them go back to that horrible person."