Some dogs look a little different, but that doesn't make them any less worthy of love. That was the case for one poor shelter dog, who lost his ears due to an injury, and his carers feared it would keep him from getting adopted.
But one thoughtful vet tech found an adorable way to give the dog new ears — which will hopefully help him on his search for a new home.
According to KCRA, a 2-year-old dog named Willy Wonka arrived at the Sacramento SPCA, after he became stuck in a fence and attacked by dogs from a neighboring home.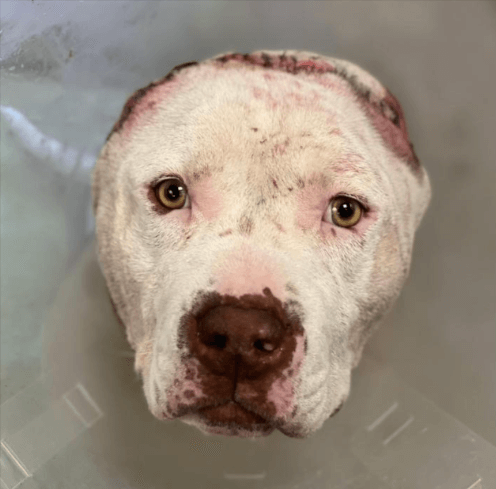 RELATED POST: Cops Help Dying Stray Pit Bull Complete His Bucket List Before It's Too Late
Due to the injuries, emergency vets had to surgically remove his ear flaps. Vet tech John Holmquist helped care for the dog in the shelter.
He saw that Willy was a sweet boy, but worried that his scars and lack of ears might put off potential adopters and keep him from finding a home.
So, he went home and crafted up a gift that would make Willy Wonka as adorable as any dog in the shelter.
He crocheted a hat with its very own floppy ears: "When you lose both of your ears after a dog attack, but your vet tech knits you new ones," the SPCA captioned their post.
Holmquist told KCRA that Willy didn't exactly love his new hat, but he was undeniably adorable in it, and photos soon went viral.
On January 6, Willy became available for adoption. The SPCA hoped that Willy's viral fame would help him find a home.
Over the weekend, news outlets reported that Willy had been adopted, but sadly that's no longer the case, as the family's other dog "did not appreciate his arrival." Earlier today they clarified that Willy was "back at the Sacramento SPCA looking for his forever family."
Despite that setback they aren't giving up, and are confident that there is a perfect family out there for this sweet dog. They describe Willy as a "couch potato," who has experience living with kids and is also good with dogs who "appreciate his outgoing personality and slightly 'different' appearance."
RELATED POST: Rescued pit bull is named 'Cinnamon' because of her unique curled ears
If you are interested in giving this sweet dog a home you can reach out to the Sacramento SPCA and meet Willy Wonka in person.
Please share this story to spread the word — we hope after everything he's been through this sweet dog finds a home soon!