On March 6, 2021, the San Diego Humane Society's Law Enforcement rescued two dogs from a home in Mira Mesa, California. Their back paws had been bandaged so tightly, blood flow was cut off. The dogs' previous owner said it was to prevent them from licking and scratching, but ultimately both dogs needed to have their back paws amputated.
Fortunately, one of these poor pups, Chloe the 9-year-old Shih Tzu, would end up finding a family that understands her. Mostly, Chloe would endure it all to end up loved and happy.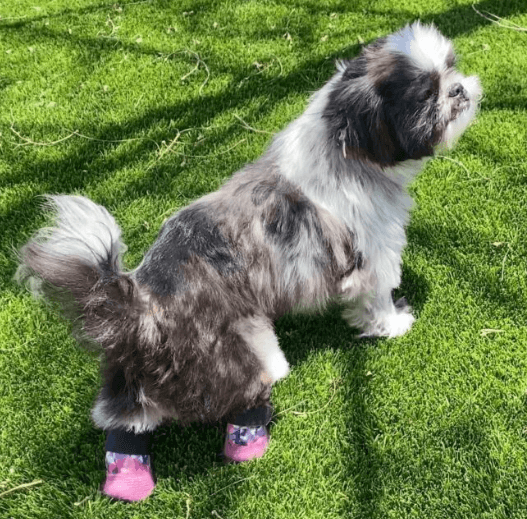 Chloe's Recovery
At the vet, Chloe had both of her back feet partially amputated. Following her surgery, the humane society staff in Escondido helped teach Chloe to walk again using a wheelchair and prosthetics. Chloe was also custom fitted with orthopedic slippers for both back legs.
Veterinarian Susan Garity, who helped Chloe with her recovery, described the long process:
"Fitting a dog with prosthetics is quite an involved process and this was a first for San Diego Humane Society. It included sedation to create a mold of the feet, getting the prosthetics to fit perfectly, and monitoring for pressure sores. It takes time for the dogs to learn to use them, but our staff is so dedicated and I am so grateful we had our whole organization's support in giving these sweet dogs a second chance at some normalcy."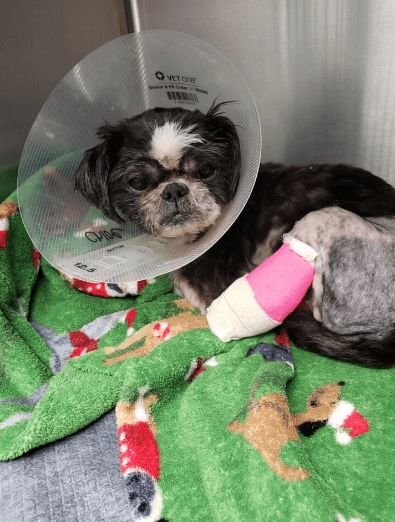 Roxy, the other dog rescued from the California home, was also fitted with new prosthetics. Because she has arthritis in her spine, her recovery will take a little longer. Still, The Humane Society hopes that after another month in her foster home, Roxy will be ready for adoption.
After physical therapy and adjusting to her prosthetics, Chloe went to a foster home to recover. It's lucky officer Serena Boney knew the perfect foster family for her.
Someone Who Can Relate
San Diego Police Department Detective Chappie Hunter lost his leg in a car crash in 2013. He returned to work a year later with a prosthetic leg.
Relating to Chloe's difficult journey on a personal level, Detective Hunter and his family fostered Chloe for a few weeks. Soon, they knew they had to officially adopt her.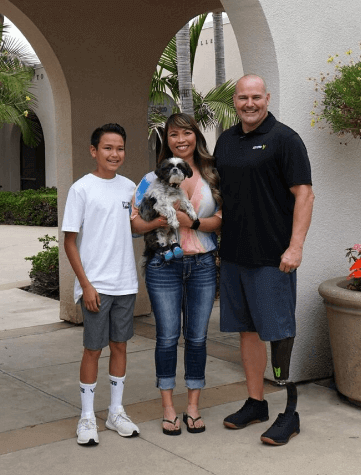 Announcing Chloe's adoption on Facebook, Arlene noted in a comment how similar Chloe and Hunter's spirits are.
"She is amazing, she only had her prosthetics a few days and the 2nd day at our house, she jumped on the couch from the ground! Reminded me of Chappie after his amputation. He was working out in the garage soon after coming home from the hospital! Similar fighting spirit! They are super cute together too!"
As Hunter put it: "We really didn't adopt her … She adopted us!"
A New Life For A Spirited Dog
With her new family, Chloe is running around again despite her limitations. She has another dog sibling and is adjusting extremely well.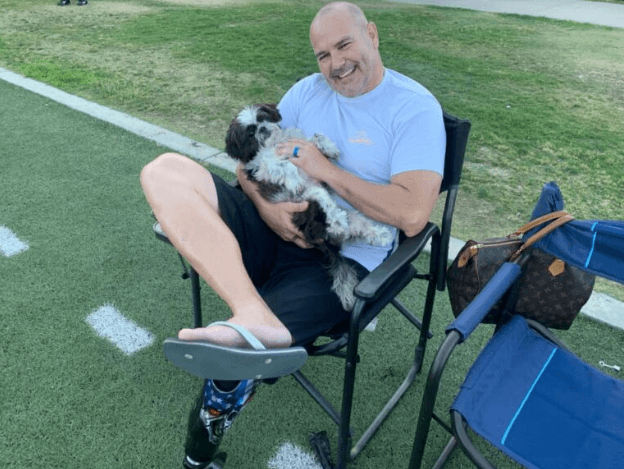 The San Diego Police Department described on Facebook how happy Chloe and her new family make each other.
"Within the first two days of staying at the family home, Chloe was eating well, curling up in their laps, and running around waging her tail. You could tell she was thrilled to be in a loving home."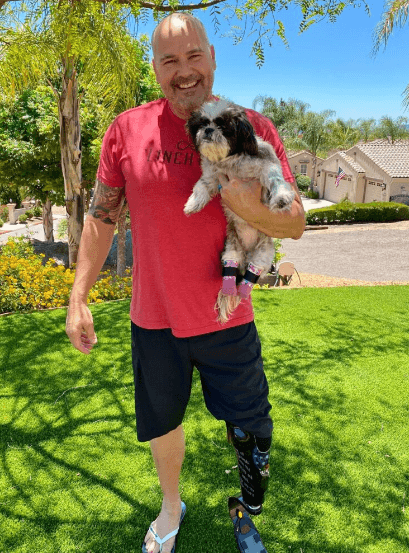 Both overcoming such physical and emotional challenges, Chappie Hunter and Chloe are destined to be together.