Leaving your dog improperly chained up can leave them with great pain and discomfort. Chains that are too tight can become embedded in the dog's skin, and tied-up dogs can be exposed to hazardous weather conditions.
It's a form of animal neglect that should be a crime — and as of today, it is finally against the law in Texas, who has officially enacted a new law banning leaving dogs chained up outside.
Tougher law for tethering outdoor dogs in Texas took effect today
https://t.co/ZODQ78mG7h @HoustonSPCA @HoustonHumane @bestfriends pic.twitter.com/x0xXByqmAG

— KHOU 11 News Houston (@KHOU) January 18, 2022
The new animal cruelty bill — Senate Bill 5, aka the Safe Outdoor Dogs Act — was announced in October. The bill bans chain tethers and improperly fitted collars and requires dogs to have adequate shelter from inclement weather.
According to the San Antonio Express-News, that weather includes rain, hail, snow, and extreme high and low temperatures. The shelter is also required to allow dogs to move around comfortably.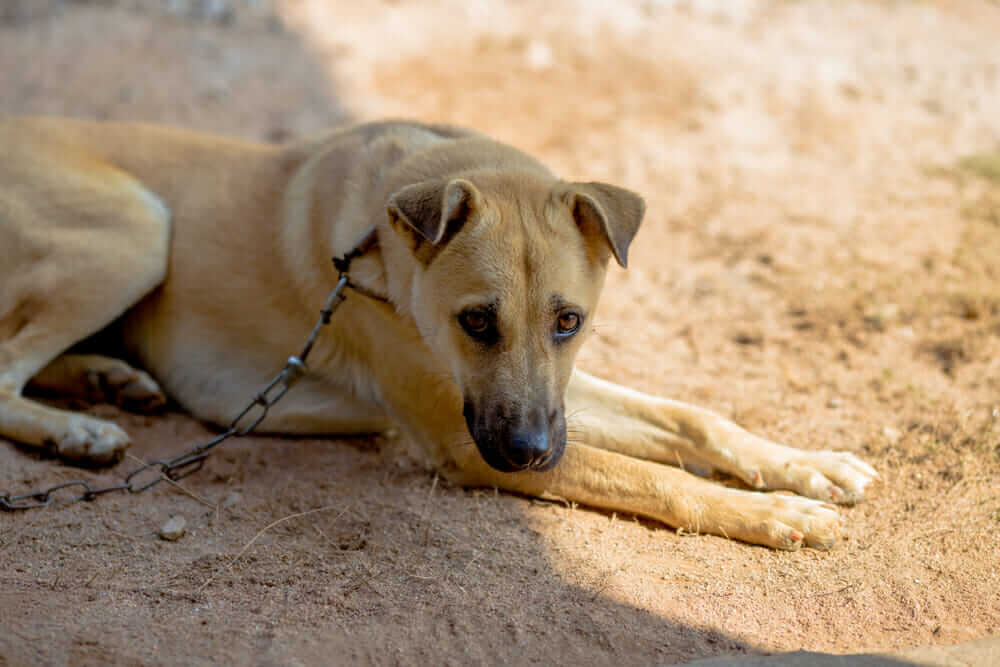 The new law also bans the use of heavy, painful chains, which are often used by dog fighting operations.
"What has been used historically, and tragically, for dog fighting is tow chains and logging chains," Deborah Dobbs, president and founder of the SPCA of East Texas, told KHOU. "Chains that I can't even pick up. Chains that one dog would have to wear around its neck for its entire life to reach its food, its water and its shelter."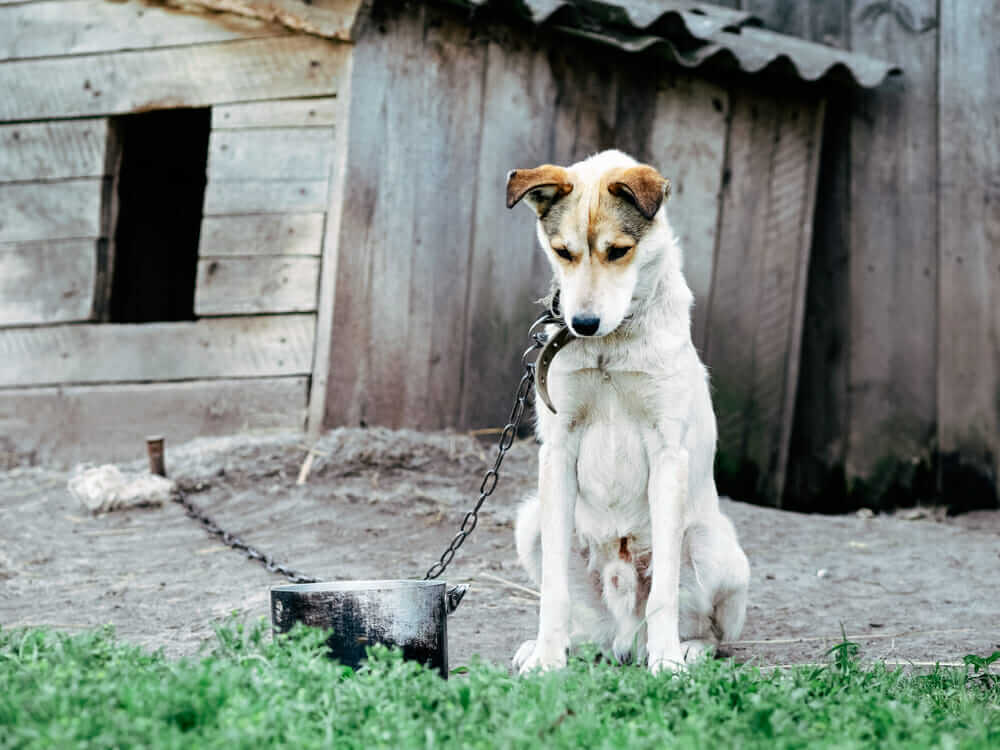 By offering more specific guidelines for what is considered animal cruelty, the new law makes it easier for law enforcement to protect animals and bring criminal charges against perpetrators.
"One of the biggest hurdles has been the confusion and the vagueness about what's considered appropriate confinement, appropriate shelter, appropriate care for the animals," Dobbs explained.
The new law has been hailed by animal activists as necessary and overdue. It's especially important in a state like Texas, which sees its fair share of extreme weather conditions that could be a major hazard for dogs left outside.
The state often experiences dangerous extreme heat, with a reported average of 60 dangerous heat days per year. But they're also no stranger to the cold: the state was hit by an Arctic blast last February, causing blackouts and leaving some dogs left out in the cold.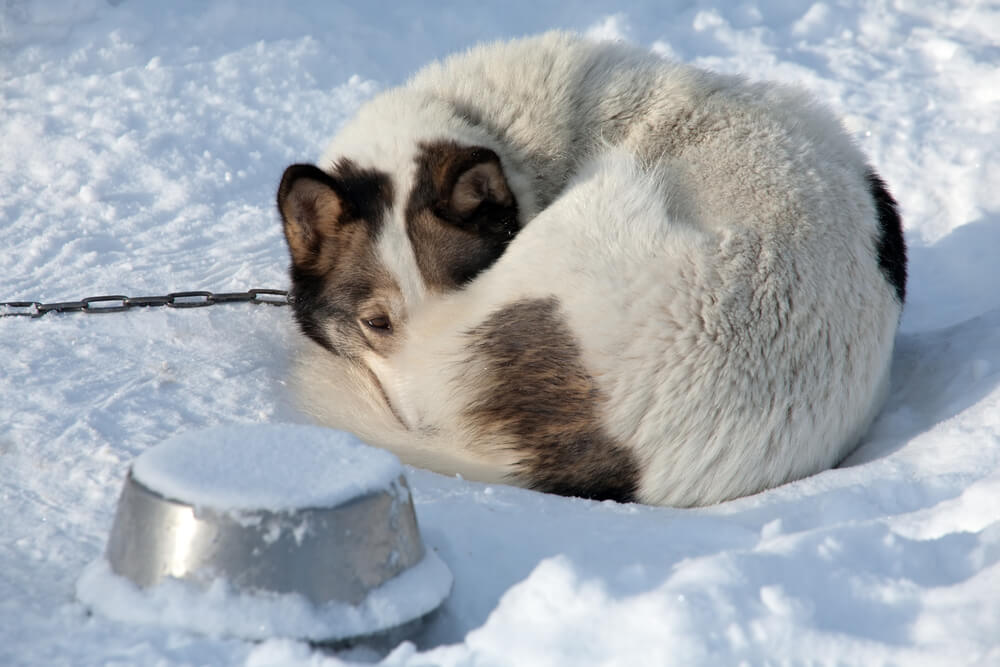 "This will effectuate change for thousands and thousands of dogs across the state," Stacy Sutton Kerby, director of government relations for the Texas Humane Legislative Network, told the Houston Chronicle.
"Every season, whether it's super-hot Texas summers or whether it's hurricane season or in the northern part of the state where it can regularly get to freezing temperatures, we get reports of dogs that have died outside at the ends of their chains. So we know that this is going to affect animals in a positive way going forward."
Despite being hailed as overdue and receiving widespread support, the new bill took an unusual and controversial path towards passing.
A nearly-identical bill passed the state's house and senate with widespread bipartisan support last year. However, supporters of the bill were left surprised when Governor Greg Abbott unexpectedly vetoed it, accusing it of "micromanaging and over-criminalization."
You can still chain up dogs with no water or shade in Texas after @GovAbbott vetoes bill to ban it, the @TexasTribune reports
https://t.co/lPCNNTZ24m pic.twitter.com/X3OYfiXujg

— KHOU 11 News Houston (@KHOU) June 22, 2021
Gov. Abbott's veto received widespread backlash — a hashtag claiming #AbbottHatesDogs started trending on Twitter — and eventually the bill got a second chance after the governor put it back on the agenda, eventually signing a bill with only minor alterations to the language, according to the Chronicle.
The law officially went into effect on January 18.
We hope this law will help protect Texas' dogs from cruelty and mistreatment. No dog should be left out in the extreme heat or cold, or have to wear a heavy chain their whole life.
We're so glad this law has finally gone into effect! Share this amazing news!