Nino is a lovable 8-month-old Pittie that takes advantage of every nap opportunity he gets. After a long day spent at the beach with his favorite humans, he couldn't help but pass out in an adorable way.
Kamilla Ferreira adopted Nino when he was just 4 months old. He quickly became the talk of the neighborhood due to his friendly personality, greeting everyone he meets with an eager tail wag and a kiss.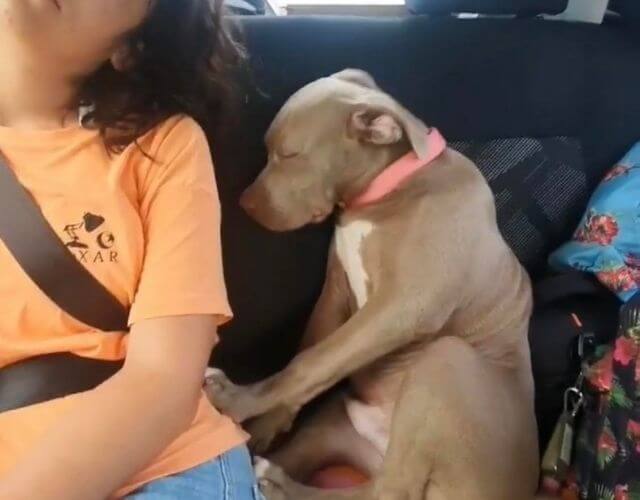 People sometimes get scared of his tough looks, but a couple of minutes and they're enchanted. He welcomes people on the street with such happiness … People know him by name in our neighborhood." – Kamilla Ferreira
While Nino loves everyone he meets, he especially loves his human sis, Carol. Carol is Kamilla's teenage sister who shares Nino's love of quick power naps. Kamilla states that when Carol and Nino are together, there is always a nap involved.
"They have a strong bond. She is like a sister to him, too, and Nino is a professional cuddler." – Kamilla Ferreira
Kamilla and Carol knew Nino would enjoy a day spent at the beach, so they set out to introduce Nino to the sea for the very first time. Nino spent the day running through the water and enjoying the sand between his toes, causing him to be tuckered out by the end of their adventure.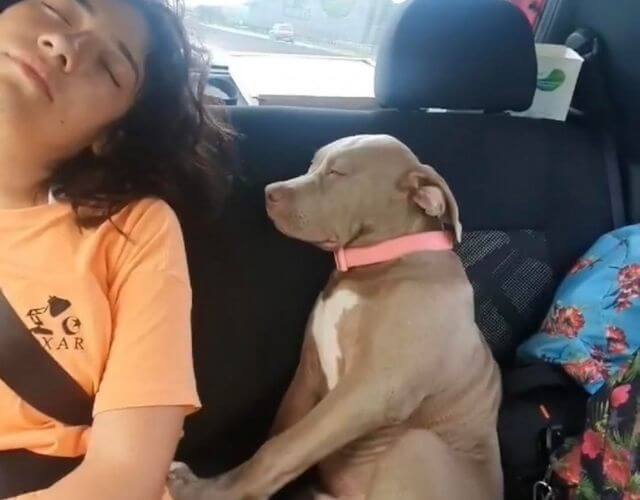 Nino hopped into the backseat with Carol when it was time to leave the beach, allowing the two to cuddle on the long drive home. Carol quickly passed out once the engine started, with Nino following suit soon after. Kamilla looked back at the two comfortably napping with each other and immediately pulled out her camera to capture the sweet moment.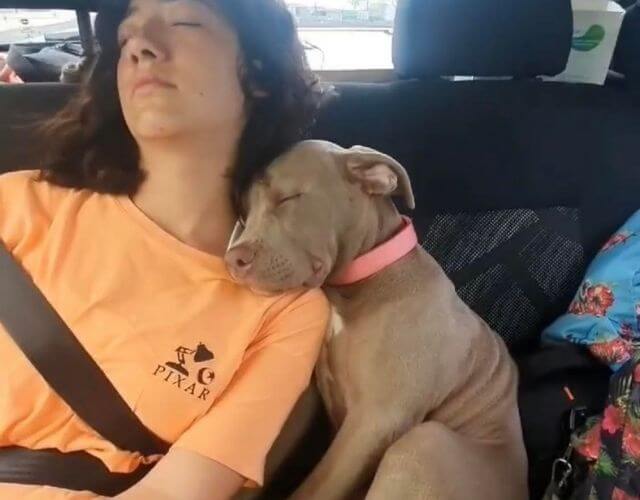 The video first begins with Nino fighting the sleep monster with all his might, eventually losing his battle to the soothing hum of the vehicle. After swaying from side to side before finding a comfortable position, Nino soon finds the perfect spot on Carol's shoulder.
The two professional nappers dozed the entire way home, further strengthening their special bond. Little did they know, they would soon become internet sensations.
"It was so cute, I just had to film it." – Kamilla Ferreira
The heartwarming moment has been viewed over 3 million times on Nino's TikTok account and has nearly 200,000 likes on Instagram. Nino has since grown a following of over 25,000 fans on TikTok, making him one of the most famous napping pups around.
Nino was just 4 months old when his adorable nap went viral, but he still enjoys a good snooze! If you would like to keep up with his sleepy adventures, you can follow him on TikTok here.