As dogs age, a lot can change in their personalities and abilities. They might slow down and prefer a good nap over a game of fetch, which is okay! But just because a dog is a senior doesn't mean they want to miss out on adventures.
Cocoa the Chesapeake Bay Retriever was once full of energy, but at age 16, she found walking difficult. Yet, she loved going on adventures in Virginia Beach. So, her family found a way to keep the tradition alive. Before their next Virginia Beach trip, they created a mobile dog bed so Cocoa didn't have to miss out on all the fun. It made the end of the pup's life perfect!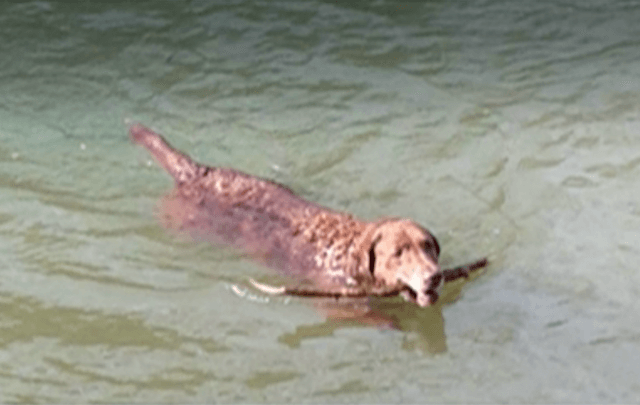 No Dog Left Behind
Tom Antonio and his wife live in Georgia, but they visit Virginia Beach regularly. It was one of Cocoa's favorite places to explore outside. She loved visiting the dog park, walking along the water, and seeing the sunset. But when the pup entered her late senior years, those everyday activities grew harder and harder. Soon, long walks weren't an option for the 16-year-old dog.
So, the family came up with a unique way to help Cocoa keep enjoying life. They put a big dog bed on wheels and pulled it around while Cocoa relaxed on it.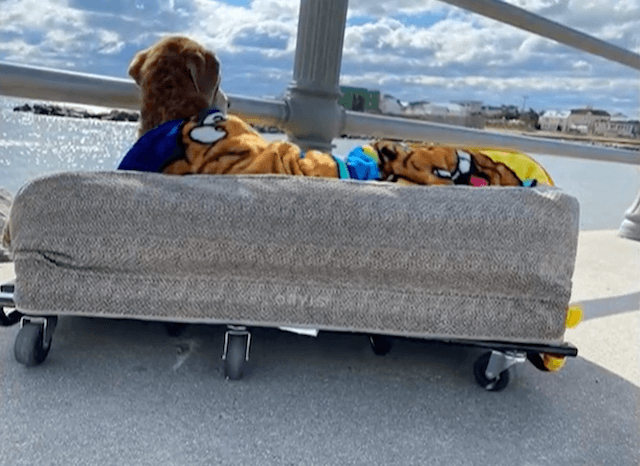 "My wife and I, we came up with a way to, with a mechanics creeper and stuff like that, to take her for walks. We had rope and a bed, and we'd bring her out," Antonino said.
On her mobile bed, Cocoa could still explore the world without feeling discomfort. Her family explored places near their home with her, but of course, they continued to visit Virginia Beach too. Cocoa was overjoyed!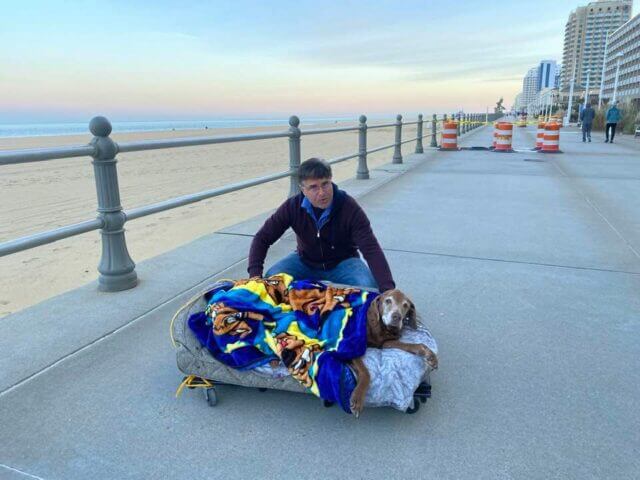 Cocoa Lives Life to the Fullest
In Virginia Beach, Cocoa's moving bed caught lots of eyes. One woman stopped to ask Antonio about the contraption, and he allowed her to take an adorable photo of Cocoa. Little did he know, that photo soon circulated on Facebook. As someone without a Facebook account, Antonio had no idea.
"I found out from my brother-in-law. He said, 'Is this you?' and then other people asked, 'Is this you?' And I'm like, 'Yeah, that's Cocoa. That's Cocoa and I going for a walk,'" Antonio said.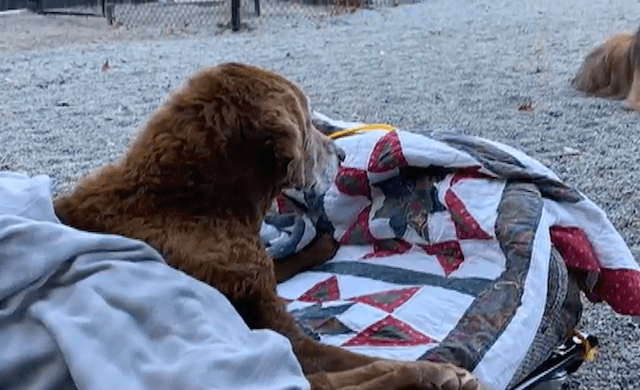 But sadly, Cocoa didn't live forever. Not long after her social media fame, the gentle dog passed away. But her story left a lasting impact on many dog lovers before she left. Antonio is proud that Cocoa was able to show the world the unbreakable bond between a human and their dog. It's one of the strongest things on this planet.
Rest in peace, Cocoa. May your afterlife be filled with endless walks by the sea.