The holidays often bring out the best in human nature; but for others, their cruelty knows no season. This past weekend a very pregnant mama Pit Bull was tossed into a dumpster like garbage by an unknown culprit.
She was rescued just in time to give birth to her seven puppies in a warm, safe place, surrounded by kind and helpful shelter staff. The sweet pooch is being called Mary in honor of her miraculous holiday birth story.
One chilly December, officers from Virginia's Richmond Animal Care and Control (RACC) responded to a call about a dog locked in a dumpster at an area apartment complex. It was a night when temperatures dropped into the low thirties.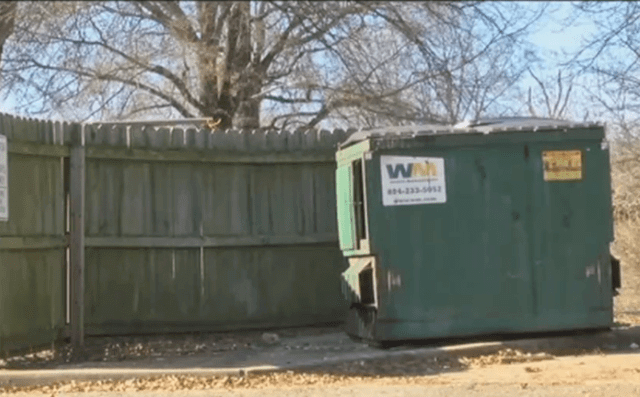 When they arrived, they found that the doors to the dumpster were closed and locked, meaning they would have to climb in through the top to get to the abandoned dog. Once inside, they discovered a Pit Bull heavily pregnant and already dripping milk.
In an interview with NBC 12, Christie Chipps Peters, director of Richmond Animal Care & Control said:
"We unfortunately see horrible things all the time, but this one really takes the cake. It's a level of cruelty that should be abolished."
Less than 48 hours after she arrived at the shelter, Mary finally felt safe enough to bring her puppies into the world. She gave birth to seven healthy babies, all in varying shades of grey and white just like their mama.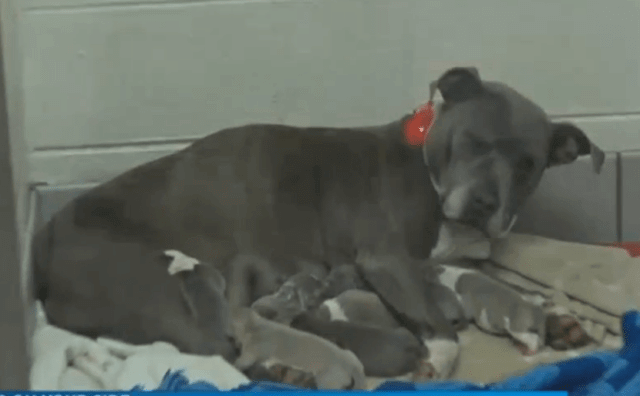 The eight of them have been resting comfortably ever since, and appear to be quite healthy. Mom Mary is approximately six or seven years old and has had at least one other litter in the past.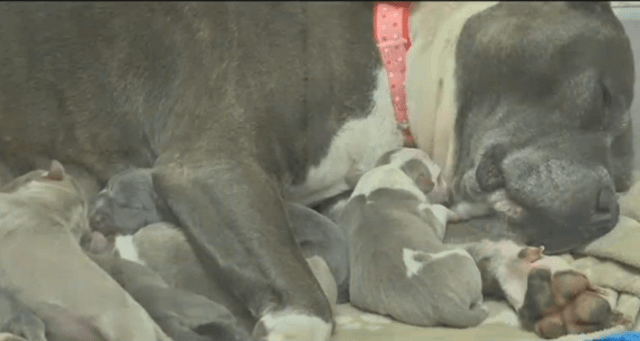 Peters expressed her gratitude that Mary was rescued from the dumpster before the trash was collected, and that they were able to provide her with a safe place to give birth and care for her puppies.
"It's a blessing all around, because oftentimes we don't have a super win. We've had a super win with her," she said in the story.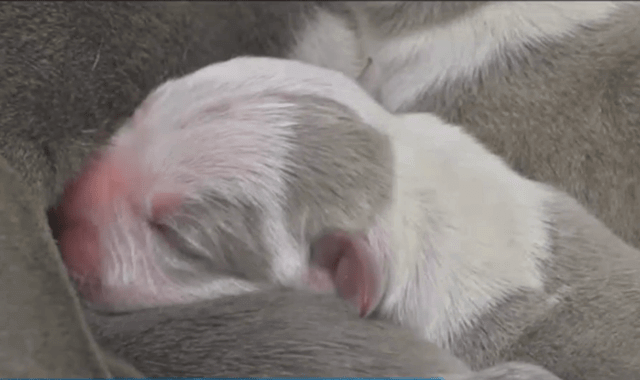 Mama Mary and her pups will spend at least six weeks together in a foster home before being adopted out. Although the pups are adorable, Peters is hoping that Mary will find a family to love her, as well. RACC is already accepting adoption applications on mama and her pups.
Although everyone at the RACC is grateful that Mary was rescued, they are left wondering, who would do this and why?
Please SHARE to pass on this story to a friend or family member.
Update: Mary and her pups have all left RACC.