It's always sad when someone gives up their dog, but the very least you can do is properly surrender it to a shelter so it can find a good home.
But there are some heinous people in the world who will throw away their dogs like trash, leaving them for dead and not caring if they live or die.
That was the case for one poor dog who was abandoned in a shocking way— but luckily one family was in the right place at the right time and stepped in to save his life.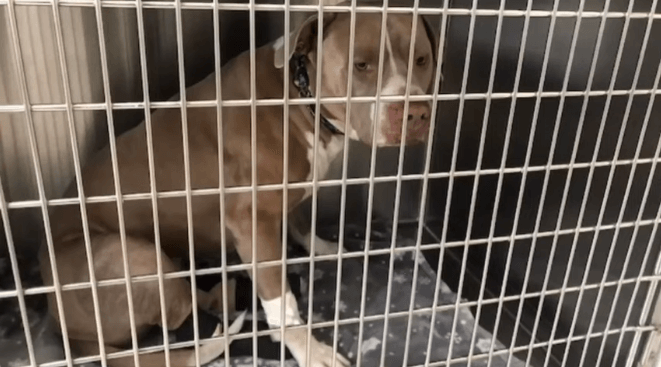 In July, April Eells got a frantic call from her mother, who said she had seen something thrown from the freeway at Interstate 5 in Portland, Oregon, according to KPTV.
Something told her to stop and investigate… and she realized with horror that the thing thrown was a pitbull.
The dog was seriously injured. It was clear that the owner had intentionally thrown the dog from the overpass to abandon it, and possibly kill it.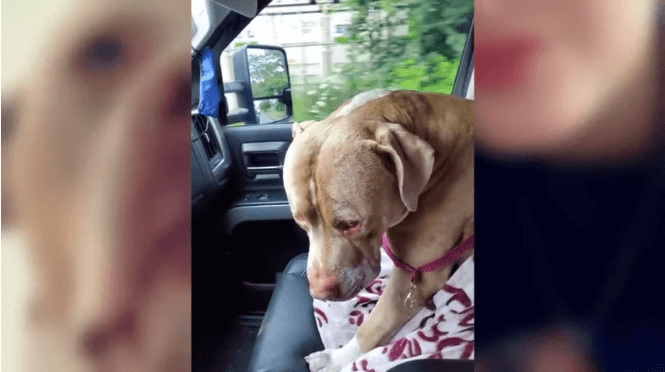 The woman got the dog to her car and rushed to get him help. Luckily her daughter worked in a vet clinic and they were able to treat the dog.
The dog, who they named Hank, was found to have serious injuries: he had broken bones, torn ligaments, and would require extensive surgeries.
But not willing to give up on Hank, the family started a GoFundMe page to fund his surgeries.
"Given his injuries most Good Samaritans and veterinary clinics would have euthanized this boy, but my parents wanted to give him a fighting chance," April wrote on the fundraising page.
"He is the absolute sweetest and is only between 1-2 yrs old so this boy deserves a second chance at a good life!"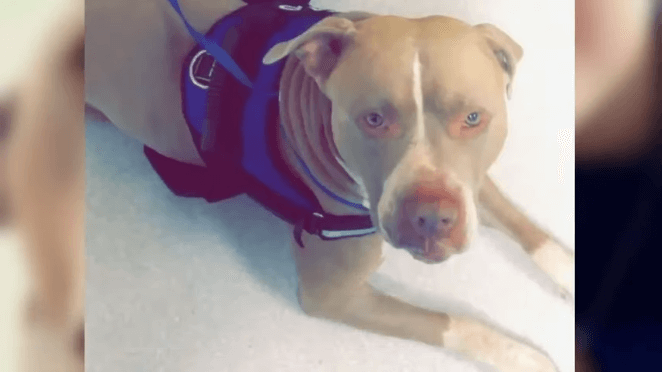 April also has a special connection with the dog: her own daughter attempted suicide last year by jumping off an overpass, but survived. Like Hank, she has been recovering through surgery.
"He's very symbolic of her," April told KPTV. "So, we can't just give up on him. They both have made it. There's this parallel and he came into our lives for a reason."
Amazingly, their dedication paid off: Hank's GoFundMe page surpassed what they needed to fund his surgery. The rest of the money will be donated to helping other dogs like him.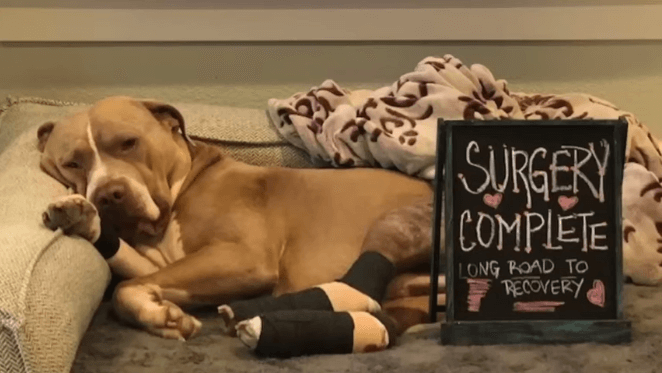 Hank is now happily recovering. The family has found him to be a friendly, playful dog… and can't imagine why anyone would ever get rid of him, especially in such a horrible way.
While Hank's story is sad, it has a happy ending. He has found his forever home with April's parents!