A young German Shepherd mix struck by a vehicle in Indiana this summer could have lost his leg. Instead, thanks to the police officers who rescued him, he kept all limbs and even gained a forever home.
One late night back in August, a car hit the then 4-month-old puppy, knocking him into a ditch. The car didn't even stop. He was left there to die.
Thankfully, a tow truck driver passing by saw him there and called 911. There wasn't much else going on that night, so five police cars showed up on the scene. Hobart, Indiana Patrolman Steven McGuirl described the awful scene to NWI Times.
"We saw the dog backed up in a corner, he was scared and shaken up. You could tell something was wrong with his leg, and there was blood coming out of his nose. One of the responding officers, a corporal, had just lost his dog, so it hit close to home."
McGuirl said he and another officer wrapped the injured puppy in a blanket and put him in a car. They then drove him to a 24-hour animal clinic nearby.
"Four or five squad cars showed up at the clinic. They were all concerned, asking, 'Is this dog going to be OK?'"
The veterinarians found Crash (as he was aptly named) in poor condition. He had a broken rib, broken leg, and injured paws. They had to install a metal plate in his back leg.
Jennifer Webber, Humane Society of Hobart's executive director, emphasized the community effort in saving this little cutie.
"Crash could have lost his leg, but the doctor did such a good job. With all of the officers behind this animal, between all of us, we were able to keep Crash out of the animal shelter. It shows how compassionate of a community Hobart is."
The area where Crash was found has many rural roads and highways, so the Hobart Humane Society sees a lot of animals injured in car crashes.
After holding that injured little puppy in his arms and carrying him to safety, McGuirl became extremely invested in Crash.
"When I saw him laying there, the only thing I could think of is that I don't want this dog to be in pain. Knowing there was this dog out here on its own, suffering. I felt for him. I wanted to do something to help him along the way."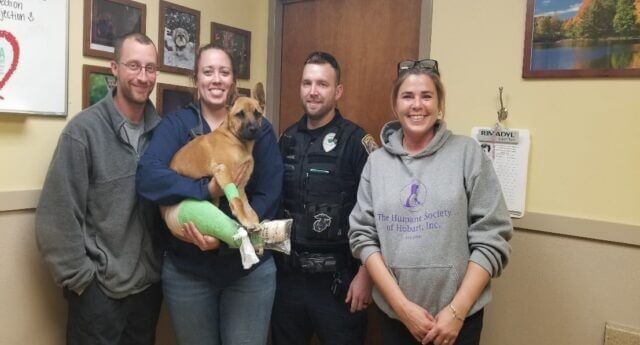 He and his wife fostered the pup, waiting for anyone to claim him but secretly hoping no one did. Sure enough, in early October, the couple officially adopted Crash. He joined a family with two other dogs, a 5-year-old Jack Russell terrier mix named Jax and 2-year-old German Shepherd named River. Now that Crash has done some recovery, he's enjoying just being a puppy with his new family.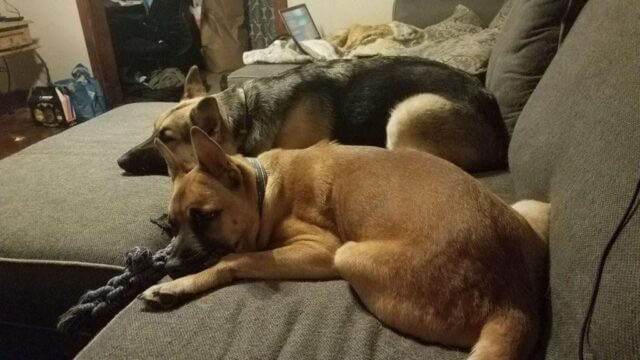 Webber, who sees abandoned injured animals all the time, loves seeing success stories like these.
"Fostering is how we were able to save Crash from going to a shelter. Officer McGuirl fostered him, and he fell in love. I have 15 more stories like Crash's. It's the story of millions of abandoned animals."
Please, drive safe out there everyone!
Please SHARE to pass on this story to a friend or family member.