Gracie Laney, a senior runner from Logan High School, had an unexpected experience while competing at a track event in Utah. She was running ahead of her opponents, gliding down the final stretch, when she encountered an unlikely participant on the course – a small dog named Holly.
Track meets are usually full of exciting running and jumping events, but this one was made even more memorable when Gracie came across her furry friend. Gracie was confident that she would easily take first place for her team as long as she kept running steadily. But the dog in the area had other plans.

Gracie recalls feeling something come up behind her at around the 50-meter mark. She initially thought it was another runner, but then she realized it was something much smaller. Suddenly, the small dog came up behind her as she was running the second heat of the girls' 4 x 200 relay event. Holly had broken free from her owners and decided to try and catch Gracie.
Video footage shows Holly appearing from a grassy area, running past two other participants, and catching up to Gracie. To everyone's surprise, Holly not only kept up with the speedy Laney, but she even passed her and came in first place. Gracie was amazed by Holly's speed and humorously stated that she was "beat by a dog."
Laney was taken aback when she heard the crowd cheering as Holly approached her. She thought it was just a normal audience reaction, but she later learned that they were cheering for Holly's reunion with her rightful owner. Although Gracie never discovered who owned Holly, she is overjoyed knowing that the beloved pup found its way home safely.
Gracie hopes to meet Holly again one day and take a selfie with her before saying farewell. This heartwarming and humorous incident will surely bring a smile to your face. Get ready to laugh out loud by watching the video of this hilarious event.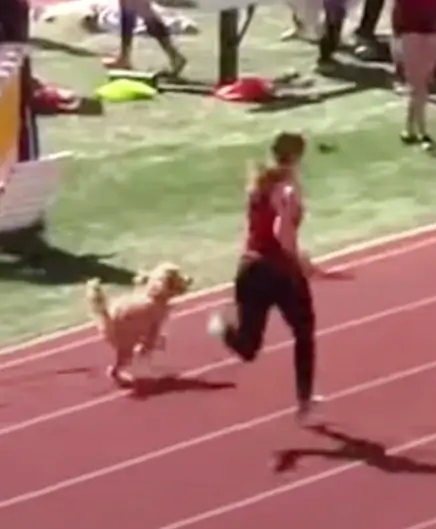 Share this story with your friends and family to bring some joy into their day.