A handful of years ago, a black Lab mix wandered onto the campus of Northeast Alabama Community College and decided to make it his home. The lucky dog was lovingly embraced by faculty and students, especially NACC President Dr. David Campbell.
His name was Roscoe, and he spent the best years of his life lounging in Campbell's air-conditioned office, wading in the NACC fountain, and patrolling with the campus police.
The unofficial campus mascot passed away this week at the ripe old age of "at least 15," but not before seeing a beautiful statue erected in his honor.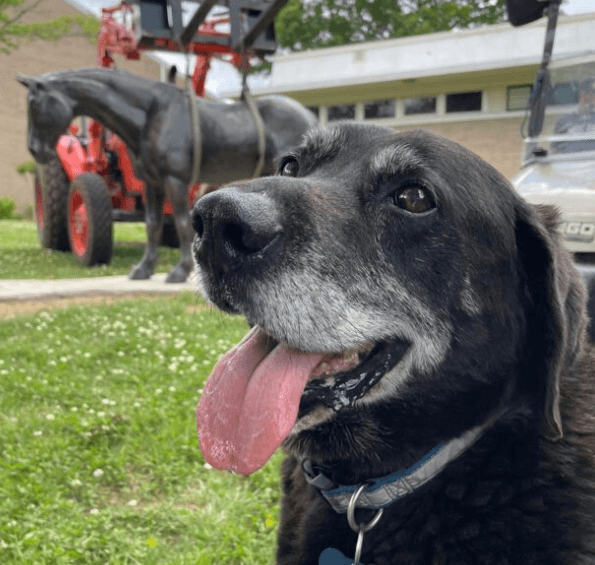 Roscoe is memorialized in bronze, along with Trouper the horse, NACC's official mascot. Trouper is a full-blooded mustang rescued from the western mountain region of Nevada. He belongs to a graduate and former employee of the two-year college.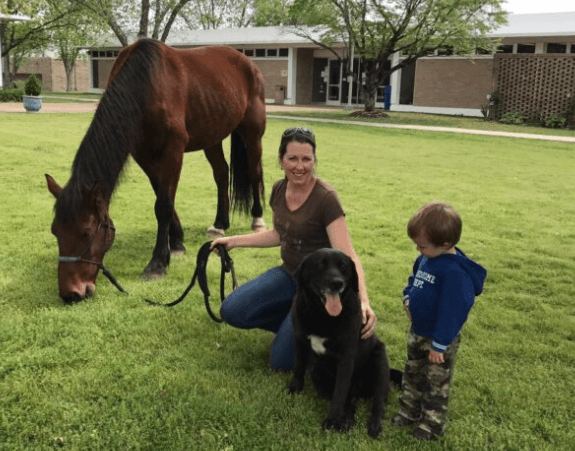 Together, the two animals represent the college's warm, welcoming atmosphere.
"It occurred to me that Roscoe had chosen us to be a part of his family and that we have chosen Trouper to be a part of our family," said Barbara Kilgore, NACC's Associate Dean of Academic Instruction and the statue's designer. "I realized that if we were going to have a sculpture that showed the spirit of the institution, it had to include them both. The interaction between the two is one of total acceptance. They are nose to nose, looking at each other. The mood is one of love and respect: the essences of NACC."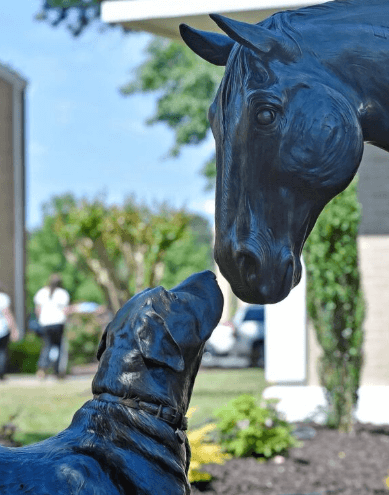 According to a Facebook post from Dr. Campbell, Roscoe passed away on May 23, just 11 days after his statue was officially unveiled. The senior dog suffered from calcifications in his spine that "resulted in him not being able to walk or maintain bodily functions."
"Roscoe will be buried near our Walking Trail on campus," Dr. Campbell wrote. "We are going to miss Roscoe dearly, but his spirit, legend, and likeness in the statue will be with us forever."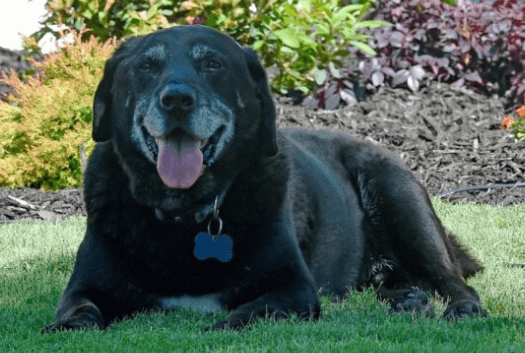 The plaque accompanying the statue features an inscription written by Daniel Wallace, author of the novel, Big Fish, which was adapted into the Tim Burton film of the same name.
The daring spirit and ambitious dreams of Northeast Alabama Community College could never be represented by a single mascot, and that is why we have two," the plaque reads, in part. "Roscoe, the wandering Labrador; and Trouper, the wild yet gentle mustang; friends to this campus for years, embody the ideals of friendship, family, and community NACC hopes to share with all who come to this campus."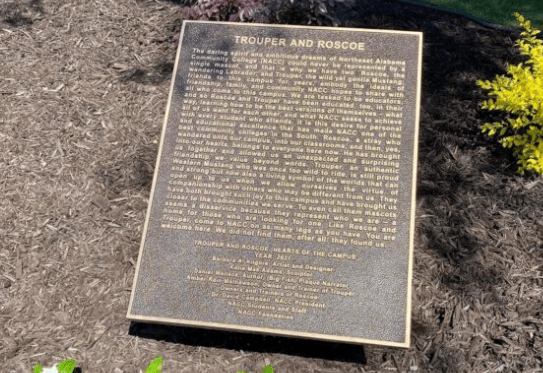 What a wonderful way to honor a faithful friend. Rest easy, Roscoe.