When you look at an English bulldog, it's unlikely that the words "physically fit" spring into your mind. After all, bulldogs are squat and stocky, and not necessarily known for their agility.
But Rudy the English bulldog proves that looks can be deceiving.
Working out regularly can have a significant impact on your overall health and fitness. And while many dogs would rather cozy up on the couch or sprawl on the bed than do anything that requires running around, Rudy is not that dog.
He loves to train for agility tests, and that has turned him into one talented pup!
He put on a dazzling performance at the Westminster Dog Show. He completed the course in a jaw-dropping 50 seconds, leaping over obstacles like it took no effort at all.
He blew away everyone's expectations, proved that bulldogs are more fit than most people give them credit for, and simply stole the show.
Alas, Rudy didn't win.
So many people were rooting for the breakout star, but even though he didn't win the title, he still won our hearts!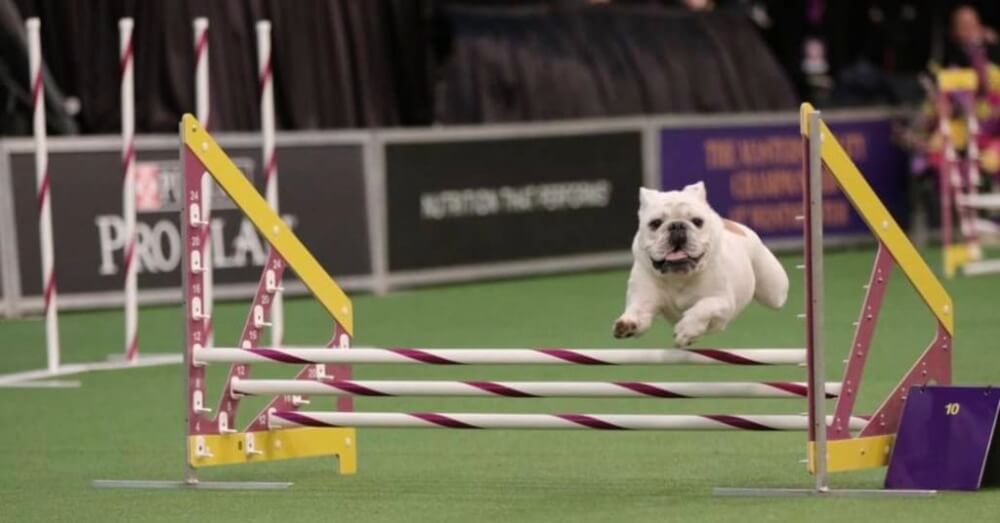 Rudy's full name is Von Rudolph Augustus Perkins, and he competed in the 16-inch class. He hails from Ohio, and his mom and handler, Debra, worked through the course with him, prompting him and encouraging him. He sailed through numerous jumps, all set at 12 inches, which is the preferred height. He scaled angled walls, charged through tunnels, and wove his way through the course with impressive ease.
Once his handler released him and the clock started, the announcers knew they were in for a treat. Rudy just took off, clearly having the time of his life. He flew through the hoop like it was the easiest thing in the world, and kept up his brisk pace through the entire course. He was a little clumsier during the "bully weaves" but, seriously, what a guy!
One obstacle required that he run up a board and then lower it so he could run down. His agility there left the announcers shocked.
"That was awesome!" One announcer cried when Rudy came flying off that tricky dog walk.
Seeing the replay was just as fun. The announcers were half-expecting the crowd to start chanting "Rudy! Rudy!"
See him in action in the video below!