Simon Cowell might be best known as the tough, mean judge on TV competitions like American Idol and America's Got Talent, but off screen, he has a heart of gold, especially when it comes to animals.
Cowell has used his own money to help shut down one of the most barbaric threats to dogs: the slaughterhouses and meat markets that still continue to cook and serve dogs as food.
In 2018, Cowell donated £25,000—about $32,640 in US dollars—to Humane Society International, as part of their efforts to shut down a dog meat farm in South Korea.
He was credited with saving the lives of over 200 dogs.
DOUBLE YOUR IMPACT: With us leaving next week to save 200+ dogs on a SK dog meat farm, TV personality @SimonCowell has agreed to match ALL donations up to £25,000! Give TODAY to have your donation matched to support this rescue & protect animals worldwide: https://t.co/Vpet497GSB pic.twitter.com/uJDK7fi7aT

— Humane Society International (@HSIGlobal) September 28, 2018
It was an incredible gesture, but a thankless one—until recently, when Cowell got to see firsthand the impact of his contributions.
Appearing on Good Morning Britain earlier this year, host Pip Tomson talked with Cowell about his efforts to shut down the dog meat trade.
"It's like eating your friend," Cowell said.
Then, Tomson had an extra special surprise for him: she brought out her own puppy — one of the dogs rescued from the slaughterhouse.
'Without people like you, he'd basically be in someone's stomach.'

Dozens of dogs were saved from slaughter at a South Korean dog meat farm by a donation from @simoncowell.

Here's the moment @Piptomson introduced him to one of those rescued dogs at an exclusive interview. pic.twitter.com/GxAWimYARE

— Good Morning Britain (@GMB) July 16, 2020
Cowell held the dog on air, putting a face to the efforts to shut down these markets — and the importance of finding these dogs good homes.
"Without people like you, he'd basically be in someone's stomach," Cowell said.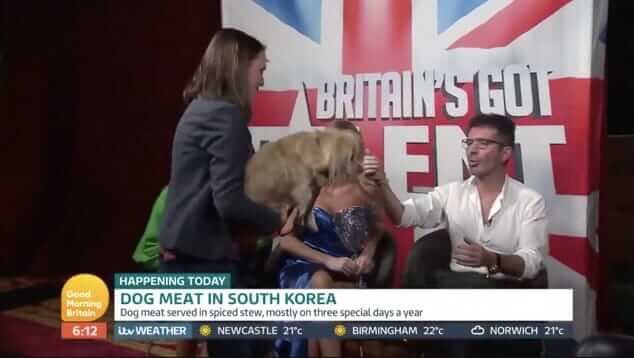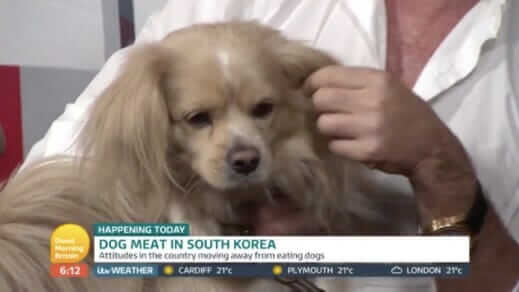 What a sweet video! Thank you to Simon Cowell for doing so much to rescue dogs like this one. Share this heartwarming story!