It's truly shocking how cruel some people can be to their dogs. We've seen far too many cases of people carelessly abandoning their dogs, leaving them tied up in the middle of nowhere with no care what happens to them.
But thankfully, there are also kind people willing to step up and help these animals — and the kindness can mean the world to a neglected dog.
That was the case recently, when an officer came to the rescue of a neglected, tied-up dog who reached out his paw to her.
Earlier this month, Officer Angela Laurella of the Broward Sheriff's Office responded to a call about a severely malnourished dog left tied to a pole.
It's not clear who tied up the dog or how long he was out, but he was found in terrible shape: "Emaciated. Every bone and rib protruding. His eyes sunken into his body for being so malnourished. Definitely abused," Amy Roman of 100+ Abandoned Dogs of Everglades Florida told Local 10 News.
So when Officer Laurella arrived on the scene, the dog was desperate for help — and in a heartbreaking sight, reached out his paw to her.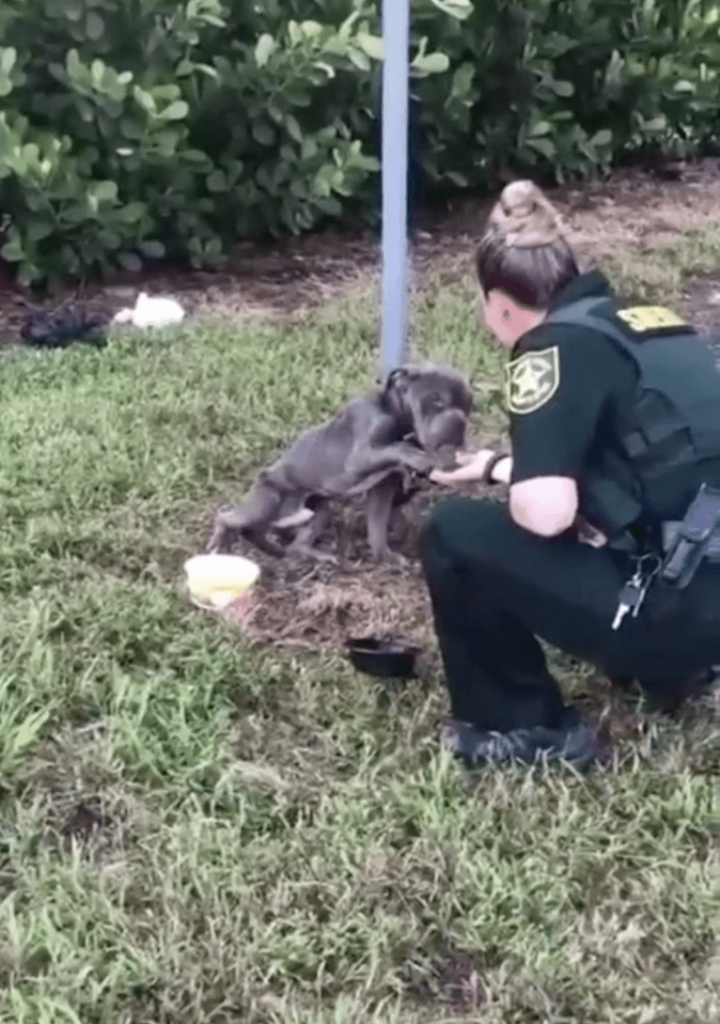 "She just walked toward him very slowly and reached out her hand, and he kind of cowered and gave her his paw, as if to say, 'Please help get me out of here,'" Roman told The Dodo.
The dog had no microchip to identify an owner, and was tied up with a very short leash, restricting his movement.
But the neglected dog soon knew he was in better hands once Officer Laurella started gently feeding him:
The dog was taken in by rescue group 100+ Abandoned Dogs of Everglades Florida. His rescuers named him "Liam."
They committed to giving the emaciated, four-year-old dog all the love and care he needed and had so long been without.
"Poor baby is so emaciated, so thirsty, so exhausted and so sweet," they wrote on Instagram. "We can't believe what he had to endure… we will put him back together again."
Liam is now on the road to recovery and getting the help he needs, though his previous life of neglect has taken a toll on his health. He has been receiving medical treatments from vets.
"Both of his eyes are sunken in due to malnutrition and is causing entropion," the rescue said in an update, after Liam underwent a minor procedure at the eye specialist. "He also has an ulcer in his left eye."
Sadly, it still isn't known who Liam's previous owner was, and there are currently no leads, though the rescue is hoping someone might come forward with information.
"We hope someone sees the report that knows who did this to him and maybe we can get justice for Liam," they wrote on Instagram.
But in the meantime, Liam is in good hands, improving day by day, and the rescue says he is "doing well."
"He has a long road ahead, slow and steady," they wrote in an update. "But he is eating and drinking like a champ, sleeping well, and always happy!"
We're so glad Liam is safe! Thank you to Officer Laurella and all the people at 100+ Abandoned Dogs of Everglades Florida for saving him, and showing him the love and care he deserves.
Share this great news!