The Big Fluffy Dog Rescue is searching for the perfect home for a special needs pup named Teacup. As a victim of cruel breeding practices, Teacup needs a family that is dedicated to giving her the beautiful life she deserves.
The 5-month-old Miniature Schnauzer and Wheaten Terrier mix has a heartbreaking past. She was born without eyes due to irresponsible breeding practices, leading her to the rescue's doorstep just weeks into her life.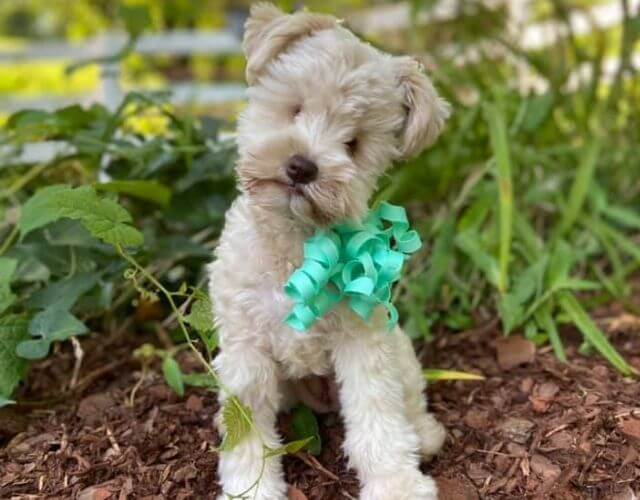 Not only was Teacup born without eyes, but she was struggling immensely to keep up with her other littermates. Teacup was dangerously underweight, too weak to suckle from a bottle, and was in need of a skilled caregiver to help her survive. Once her breeder realized they were in over their heads, they surrendered her to the care of the Big Fluffy Dog Rescue.
"She was freshly groomed, but she was not getting enough food as the breeder was using a blue ear suction bulb to squirt food into her mouth. It seems she was treated well, but the lady was just not trained or prepared for when things go wrong." – Big Fluffy Dog Rescue
Teacup was placed in the care of the rescue at just 4 weeks of age. Her foster mom jumped into action the moment she met the pitiful pup, creating a feeding plan that would help her avoid life-threatening malnourishment. After feeding her through a syringe for the first few months of her life, Teacup gained a whopping 4 pounds.
Not only is Teacup left without eyes due to the heartbreaking breeding she was a part of, but she also has a few internal differences as well. Veterinarians performing her spay procedure stated that her bladder and other organs were adhered to her uterus, and were not in the normal position they should be. This is a direct result of breeding dogs to fit the "toy" description, causing pups to be dangerously smaller than they should be.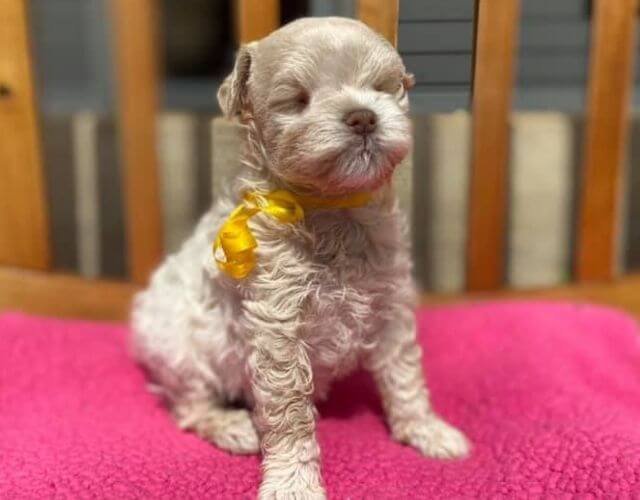 Toy breeds are often achieved by breeding two runts with smaller features, creating the tiny puppies that bring in the big money. Runts often come with a list of medical complications of their own, so the breeding of two runts together can lead to serious birth defects down the line.
"Sadly, money is all that matters to so many of these breeders and not the health, temperament, and overall integrity of the bloodline." – Big Fluffy Dog Rescue
Teacup is lucky to have made it into the arms of the Big Fluffy Dog Rescue and now has a beautiful future ahead. The team at the rescue is dedicated to finding her the best forever home possible, as this inspiring pup truly deserves it all.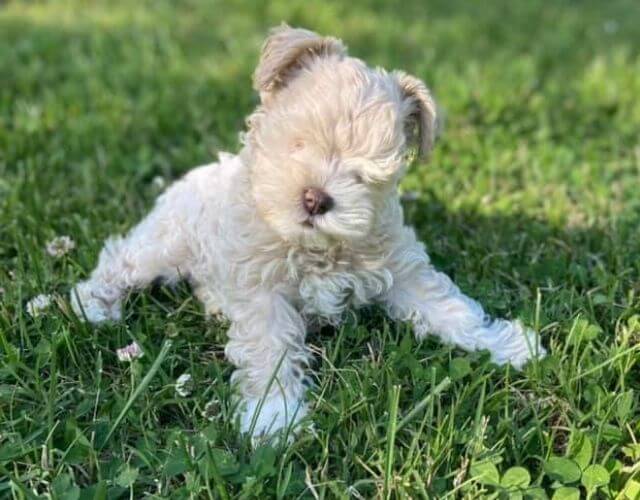 Nicole, Teacup's foster mom, has a list of specific requirements needed to be considered for adoption. You must have another small dog for Teacup to play with (not over 20lbs), you must have very few steps in your home, and you must have a rock-solid fence designed to keep a blind dog safe while outdoors. If your home and family fit this description, they would love to hear from you in hopes of adopting this beautiful pup.
If you are interested in being Teacup's forever family, be sure to fill out the adoption form on bigfluffydogs.com. Once you have done that, you can then send an email to [email protected] to see if you are the best fit for the job! We hope Teacup finds the forever home of her dreams, and that the cruel breeding practices she was a part of will soon come to an end!