Anyone who has a Pit-Bull-type dog in their family knows how lovable these breeds can be. But sadly, not everyone sees it that way. Dogs classified as "Pit Bulls" are often feared and discriminated against through no fault of their own. Any dog can be dangerous if not properly trained, so it's time to stop discriminating against Pitties.
Thankfully, amid the 2020 election, Denver, Colorado finally voted to lift their Pit Bull ban. For over 30 years, people weren't allowed to have any Bully breeds in Denver, which made many innocent dogs suffer. But now, one Pit Bull named Gumdrop is making history!
Gumdrop Gets Adopted!
Gumdrop, a 3-year-old Pit Bull at the Denver Animal Shelter was adopted soon after the ban was lifted. He's reported to be the first Denver Pit Bull adopted in over 30 years. No one knows exactly when the last Pit Bull was adopted, but it had to have been some time before the ban in 1989.
Some Pit Bull breeds have been labeled as mixed breeds throughout the years to get around the ban, but now, it's much easier for Pits to feel safe and loved.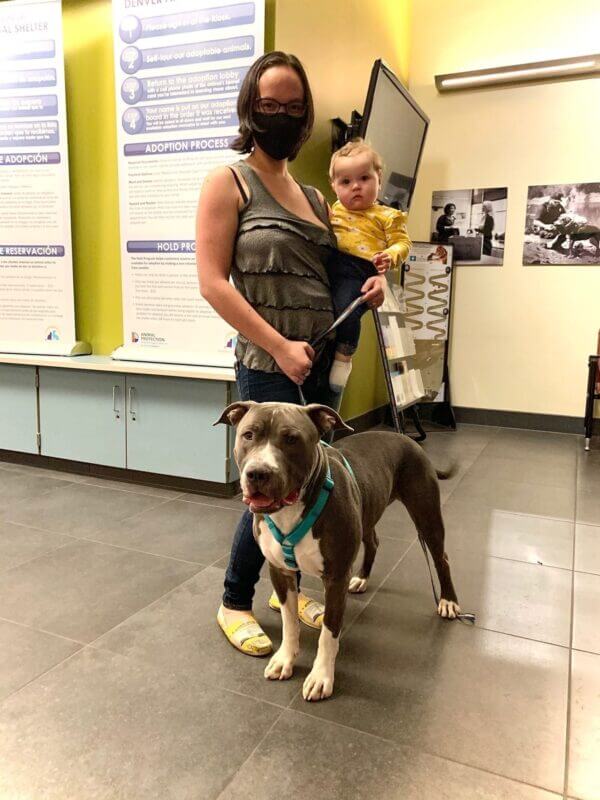 This gray and white rescue dog was found as a stray in December, but had no microchip or tags. So, the shelter put him up for adoption after the required holding period. Before long, Gumdrop found his forever family!
He was adopted by a family in Colorado Springs, who drove about an hour to see him. They chose to rename Gumdrop to Odin. Odin has one human infant as a sibling, but he will be the only animal in the household. The shelter celebrated this victory by sharing Odin's adoption story on Facebook.
Pit Bulls Get a Second Chance
Although Odin is the first Pit Bull to find his forever home since the ban was lifted, one other pooch became available for adoption before him. Penguin, a black and white Pittie also residing at the Denver Animal Shelter, is reported to be the first adoptable Pit Bull since the ban was put into place over 30 years ago.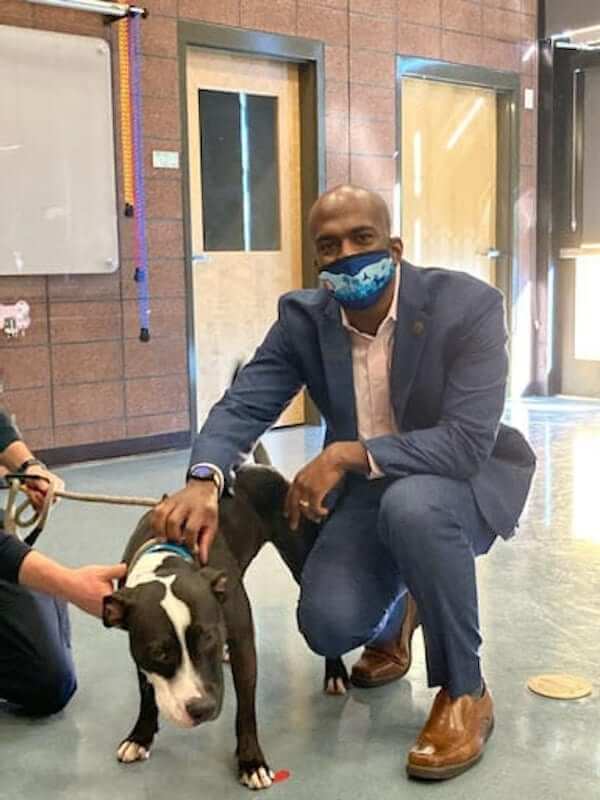 This news is certainly a step in the right direction for dogs and dog lovers alike. Yet, there are still a lot of barriers that Pit Bull parents have to go through to adopt one of these dogs. Pit Bulls will have a higher fee than other dogs, they must be microchipped, and the dog cannot have any issues for at least three years. Humans wanting to adopt a Pit Bull will also need to obtain a permit.
All these rules seem a bit tedious, but it's better than the alternative. Maybe these rules will also help deter irresponsible people from trying to adopt. Pit Bulls can be a lot of work just like any other dog, but with the right family, they can be the sweetest dogs you'll ever meet! Congratulations to Odin, Penguin, and all the other dogs who have been saved by these new laws.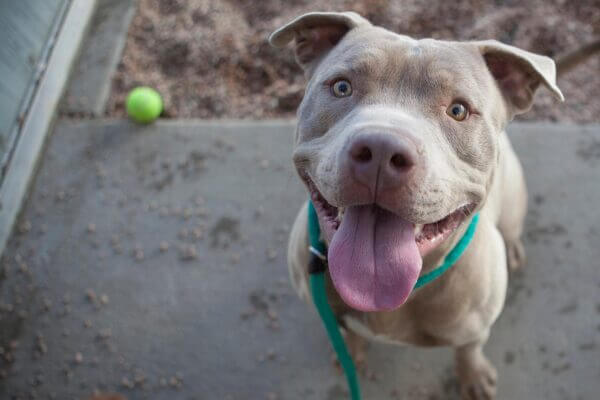 Please SHARE to pass on this story to a friend or family member.