America was rocked by an act of terror on 9/11 that forever changed life in the U.S. 2,974 people died that day and many more continued to perish from complications over the coming years. Heroes came in all shapes and sizes that day and in the months to follow. 343 firefighters and 23 police officers lost their lives and nearly 300 dogs came from all over the country to assist in search and rescue operations.
A Four-Legged Hero
One dog was in the North Tower and lead 31 people to safety- a Yellow Lab named Roselle. She was a guide dog who diligently came to work with her dad every day. Michael Hingson, Roselle's dad, was a sales manager for a Fortune 500 company called Quantum the day the terror attacks shook America. Hingson and Roselle first met just two years prior in 1999.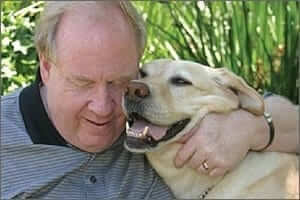 Roselle had been patiently laying under his desk when the unthinkable happened. Hingson and his colleagues didn't know what had happened at the time, but they quickly realized the situation was dire.
"I heard a tremendous boom, and the building started to shudder violently, before slowly tipping, leaning over 20 feet… Those inside became convinced they were on the verge of death. Tearfully, colleagues said goodbye to each other. I was sure I was going to die," Hingson told the Sunday Express.
American Airlines Flight 11 had just struck the World Trade Center. Debris quickly began raining down around the office. Remarkably, both Hingson and Roselle were able to remain calm and let their training take over, according to LADBible.
"I had always paid attention to fire drills and I knew to avoid the elevators, take the stairs and not to panic. While everything was happening, the explosion, the burning debris, the people in the conference room screaming, Roselle sat next to me as calm as ever. She didn't sense any danger in the smoke and flames, everything happening around us. If she had sensed danger, she would have acted differently, but she didn't. Roselle and I were a team and I trusted her," Hingson explained.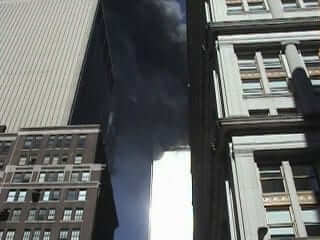 Escaping the Unimaginable
People started making their way down the stairs when they began to be overcome by fumes. Hingson had done quite a bit of traveling and quickly recognized the smell of jet fuel. He started to piece together what may have happened and suspected a plane had struck the building.
The smell, which he reported was similar to kerosene, became so strong that their eyes began to burn. The temperatures of the burning jet fuel skyrocketed to nearly 3,000 degrees on the floors just above them. Steel beams began to melt within the already compromised structure.
Hingson wondered what would happen if the lights in the stairway went out. Surely it would cause panic.
"The thought hit me that I could be a guide. So I called out to everyone not to worry, that Roselle and I would lead the way. Some people laughed, but the mood was definitely lightened."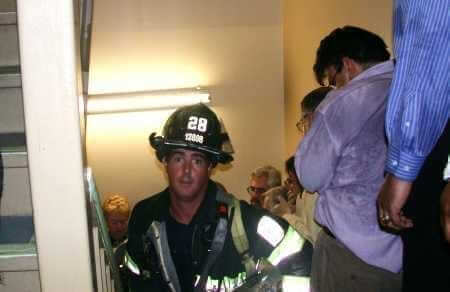 The Worst Wasn't Over
They reached the lobby of the building after an hour traversing crowded stairwells, sweltering temperatures, and navigating past the gravely wounded. They were quickly met by a police officer yelling for them to evacuate because the building was collapsing. Hingson picked up his beloved Roselle and literally ran for his life.
"I heard the sound of glass breaking, of metal twisting, and terrified screams. I will never forget the sound as long as I live."
He recalls that it took just ten seconds for the iconic skyscraper to be reduced to rubble.
"Then we were engulfed by a monstrous cloud of sand and gravel. It filled my throat and lungs and I was drowning, trying to breathe. But we kept running, and Roselle kept guiding me perfectly. She didn't stop once. Roselle and I are a team, and I was not about to let her go."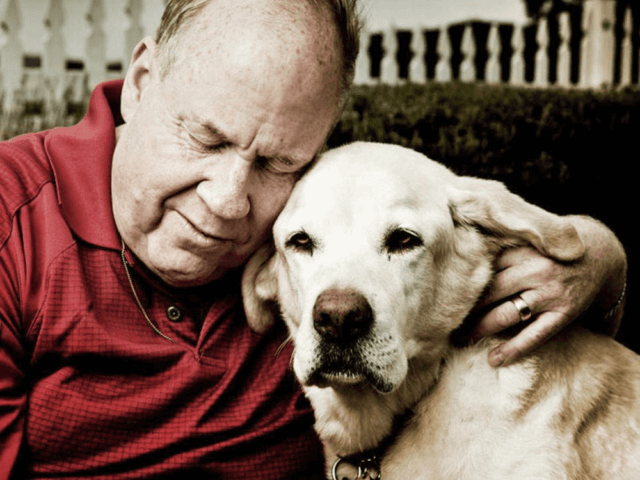 A Lasting Legacy
Roselle retired from guiding in 2007. She lived a long and fulfilling life before passing away from a stomach ulcer and kidney damage in 2011. Roselle's heroism didn't end on 9/11 or in 2011 when she crossed the Rainbow Bridge.
Thunder Dog was a book written in her honor. Roselle's Dream Foundation was started to bring awareness about vision loss. It also provides scholarships to help blind students. Roselle was also posthumously named American Hero Dog of the Year in 2011.
Hingson left his fast-paced sales job and began working for Guide Dogs for the Blind– the organization that matched him with his lifesaver, Roselle.
It's true- heroes really do come in all shapes and sizes.