A family that was left devastated after their dog ran away following a car accident finally received good news this week, after their pet was finally found after a five-week search.
The Bratspis family, from Scottsdale, Arizona, are the owners of a Schnauzer-terrier mix named Lucy, who they adopted as a puppy from the Atlantic City Humane Society in 2017.
Earlier this summer the whole family vacationed in New Jersey, and in late July started their journey home in their SUV. They had intended to fly back, but adjusted their travel plans due to recent restrictions on emotional support animals on planes, according to Canton Repository. They had to drive to Chicago and get a plane from there.
Making the most out of their roadtrip, the family intended to make a stop at the Pro Football Hall of Fame in Canton, Ohio. But while in the city, the family was involved in a serious two-car collision.
"I literally had 10 feet – half a second — to react, if that," Brian Bratspis recalled to the Canton Repository. "The screeching of the tires and just the sound of the cars totally colliding into each other; I'll never be able to get that sound out of my head."
While the whole family survived with only a few injuries, the crash led to another frightening ordeal: Lucy got loose and ran away from the scene.
Lucy, dragging her leash behind her, couldn't be caught in time, especially since Brian had his family to attend to: "The dog was lightning fast," Brian recalled. "Not only could I not catch her, I had to get back to my wife and daughter."
After being treated for their injuries, the family had to look for their lost dog in a city far away from home, and sadly it was no easy task.
The family began a desperate search in the area, offering a thousand dollar reward for finding her, and the story was spread on social media. But weeks passed with no leads, leaving the family devastated.
"It's been really hard," Brian's daughter Rylan told the Canton Repository. "A whole part of us is missing."
But after five weeks of searching, they finally got a miracle.
According to an update from the Canton Repository, a Canton local saw Lucy in the street late at night and recognized the dog from social media posts. Then, a "dog whisperer" named Ramona Hartleben and her crew helped capture the dog.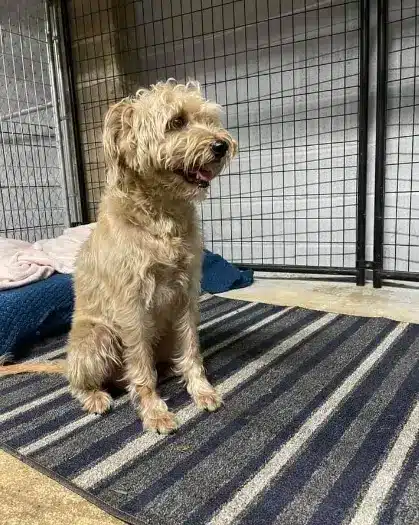 The Bratspis family was overjoyed to hear their dog had finally been found, and thanked the people of Canton for all their rescue efforts.
"For those of you that know our story, we may not have made it to the Hall of Fame as planned but we've encountered the TRUE hall of famers in the Canton, Ohio area," Randi Granata Bratspis wrote on Facebook. "You've made our family whole again!"
While Lucy has lost some weight in her few weeks on the lam, she's otherwise healthy and unharmed.
The family is currently making plans to travel to Canton to reunite with their dog. They are hoping that this time, they will be able to fly back with Lucy in the cabin with them.
We're so glad Lucy has finally been found and is going to reunite with her family. Thank you to all the people in Canton who helped look for her the past five weeks.
Share this amazing news!