If your home has ever been graced by fuzzy paws and a wagging tail, then you know that there is such a thing as eternal love. Visitors to the Green-Wood Cemetery in south Brooklyn are celebrating that eternal love and the story will tug at your heartstrings.
The bustling streets of New York are filled with more than the tickers on Wall Street, LED screens in Times Square, and irresistible pizza shops. Some of New York's must-see stops are simple, lovely, and timeless.
One Grave Sticks Out Among The Rest
A bronze statue honoring one of the best good boys adorns one particular grave and you could say it really sticks out. Tucked away in an unassuming area of tombstones and trees is where you'll find Rex. Rex has faithfully protected his owner at the corner of Greenbough and Sycamore for over 100 years!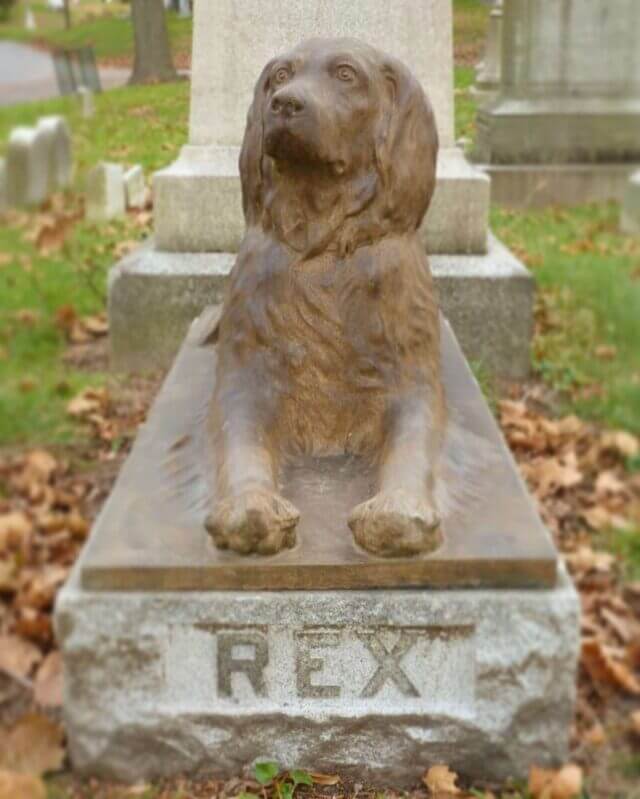 John E. Stow was buried in 1884. He was a well-known fruit merchant and the proud dog dad to Rex. Rex's dedication to his dad for the last century hasn't gone without notice or without reward. After all, everyone knows that every good boy deserves a special treat!
In fact, visitors have been leaving sticks at Rex's paws for years! As COVID-19 has sent people seeking alternative entertainment and a bit of fresh air, Rex has been given more sticks than ever before. As his pile grows, so do the smiles on the faces of visitors.
"When it comes to Rex, he obviously stands out," Stacy Locke, communications manager for Green-Wood Cemetery, told The Dodo. "People see him from the road — it's sort of a prominent spot, right off of the intersection of two roads here."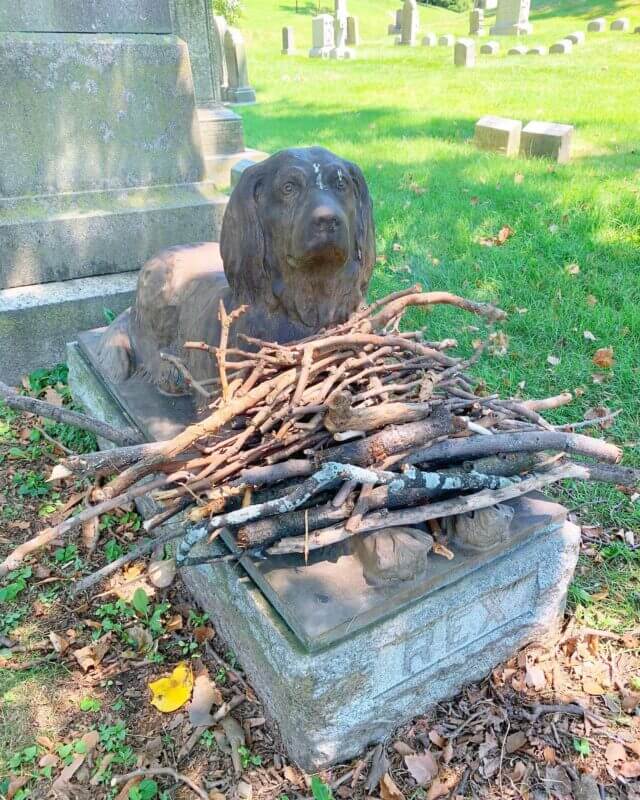 "It's right under a tree and there are lots of sticks around," said Locke. "People will drop a stick across his little paws. Someone also left a picture of a dog there once, maybe their little pet who passed away, as to say, 'Rex, look after my little one.'"
It's Never Too Late For A New Squeaky Toy
Rex isn't the only lucky pup spending eternity within Green-Wood Cemetery's gates. In fact, many other beloved pets were laid to rest alongside their humans. This changed in 1879 when the cemetery's board of trustees voted to limit burials to humans only.
While Rex's location might make him more popular with visitors, there is another good boy that shouldn't go without mention.
"There's another dog sculpture that has a similar mysterious story but it's a little bit more off the beaten path," Locke said.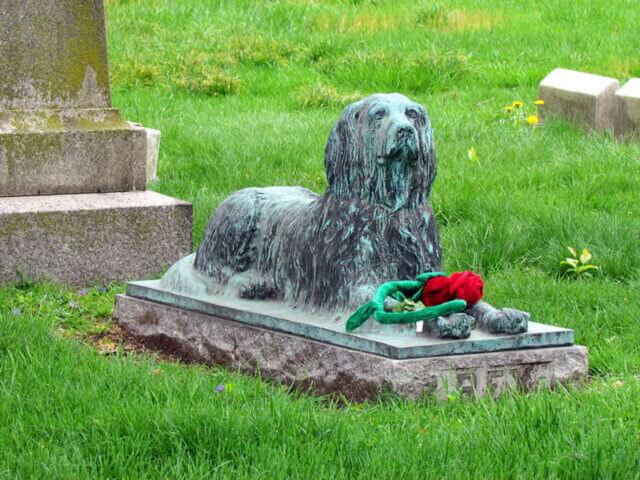 There are no sticks for that pup, though. His name is unknown but that doesn't stop visitors from bringing him toys. Come by on the right day and you'll find squeakers and balls that would make any dog jump for joy!
So, if you plan on heading to Brooklyn, don't forget to find a sweet stick. While you're at it, give Rex a quick scratch behind the ears!
Rex can be found in the Green-Wood Cemetery at Lot 2925, Section 81.