A little boy named Ian and an adorable dog named Callie are best friends. They grew up side by side, and they're about the same exact age. Their special bond started when they were both only 3 months old.
When Callie was just a puppy, she was abandoned by her first family. She was left tied to a fence all alone. She whimpered for help until a kind man came to the rescue. He adopted the little puppy and brought her to meet 3-month-old Ian. Callie and Ian hit it off right away, and their family has an adorable video to prove it!
Callie's new family never knew the truth behind her past, but it was clear that she wasn't treated properly. When they brought Callie into their home for the first time, she didn't even know how to lie down. She seemed incredibly sleepy, but she was just too scared and stressed to rest properly. However, that was before she met Ian.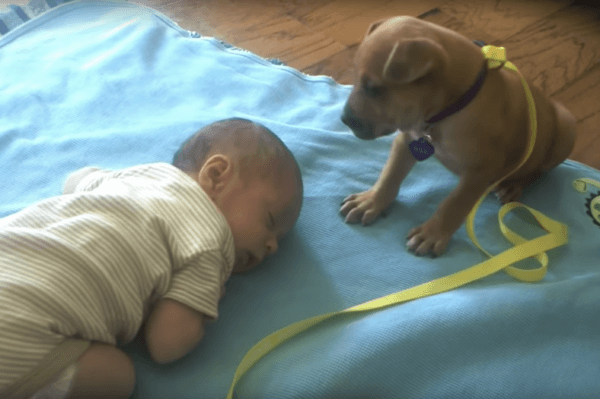 A Baby and His Dog
Callie's new parents placed her right beside baby Ian. Ian was fast asleep on a cute dinosaur blanket, so his parents figured Callie could nap with him. They started recording Callie and Ian's initial interactions to see what would happen.
At the start of the video, Callie refuses to take a peaceful nap. She sits upright, trying her best to force herself to stay awake. Her eyes keep slowly drifting closed, but she always wakes herself back up before she can fully fall asleep.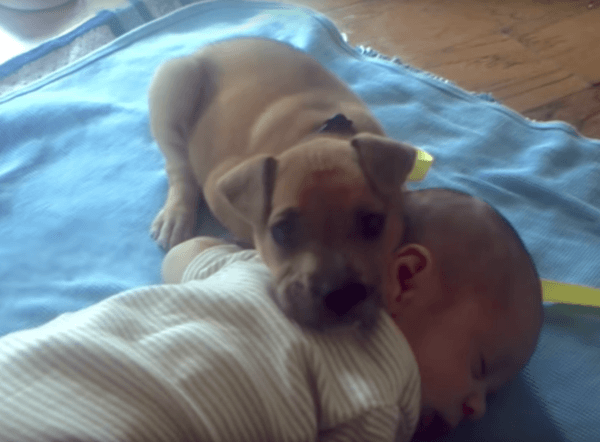 Finally, Callie gets adventurous. She moves to the other side of the blanket, closer to Ian. She slowly scoots next to the sleeping baby until she finally decides to get some well-deserved sleep. Then, she curls up right beside him and rests her head on top of his head.
For the first time since she arrived at her new home, she looks completely comfortable. It's clear that the little dog and the young baby are destined to be best friends. Their parents are so grateful that they were able to catch this heartwarming moment on camera.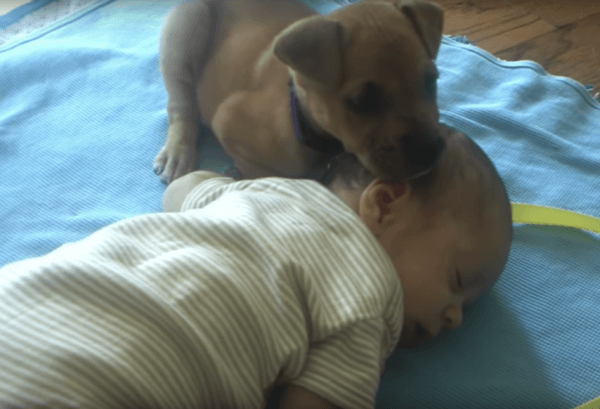 Where Are They Today?
True best friends stay side by side for their whole lives. So, 3 years later, Ian and Callie's mom decided to post an update video about the two of them. Sure enough, they are still extremely close.
In the video, Ian wants to give Callie a treat. The now full-grown dog gets excited when she sees a dog cookie in the young boy's hands. She comes over to him and he tells her to sit.
After Callie sits on command, he hands the treat to her. She gently takes it from him, careful not to hurt him in any way. Then, he repeatedly tells his best friend what a good girl she is.
There's no bond like the relationship between a kid and their dog. Callie and Ian make that very clear in both their videos. They're so lucky to have each other, and hopefully, they will always stay such good friends. Click here to see their video update.
You Can View The Original Video Below:
🐕 We are a small group of dog-loving people who decided to undertake this small project to help dogs that are abandoned in the streets. Using a % of the money raised from sales, we take care of feeding them and grant them a home to live in.
Get Yours Here👇
https://bit.ly/3R4i0rD
Thanks so much for your support!
Much Love. ❤️