Therapy dogs already bring so much joy to people year-round, but this holiday season some special therapy dogs in Florida are spreading that joy even farther across the internet. An amazing picture of seven therapy dogs seated around the table for Thanksgiving is going viral (for obvious reasons.)
The group of therapy dogs from Therapy K9's of Southwest Florida all gathered at a home in North Port for Thanksgiving. Obviously a photo needed to be taken to commemorate this occasion, and it wasn't just a run-of-the-mill group picture. Each dog is dressed in a Thanksgiving outfit and what's more amazing is they're all sitting (seemingly) still and looking towards the camera!
If you're wondering why the pups aren't all clamoring to get to that turkey in the middle of the table, it's because it's plastic and they know better.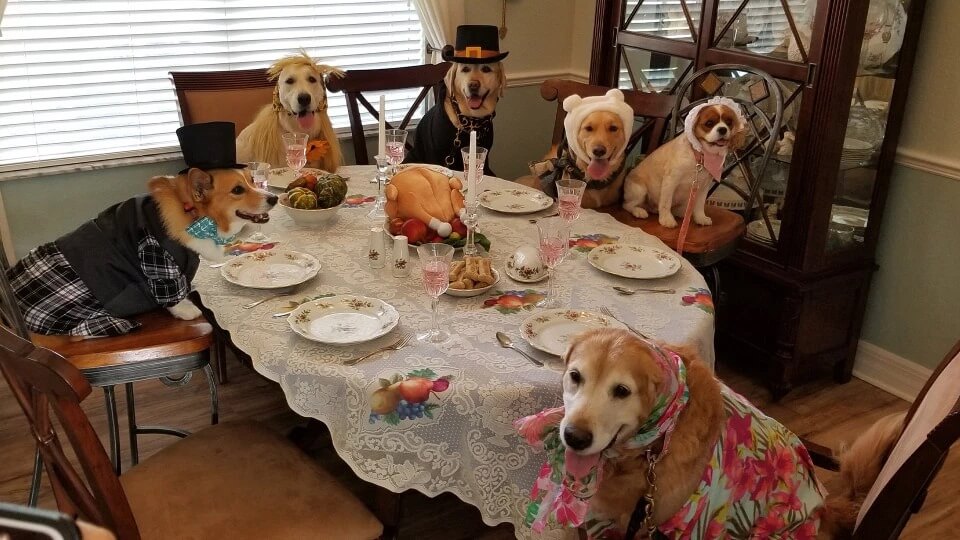 Here are the featured models from left to right: Simba the 10-year-old Corgi, Whysper the 18-month-old English Cream Golden Retriever, Legion the seven-year-old Labrador, Isabella the two- year- old Golden Retriever, London the three-year-old Cavalier King Charles Spaniel, and Ziva the six-year-old Golden Retriever.
Trish Gorry, who brought her beloved Legion to the "meal," humbly told The Palm Beach Post how the photoshoot was so successful.
"It didn't take long. It was 'one and done.' Several people took pictures so we could get it in one sitting. It was kind of incredible."
She initially shared the picture on Facebook earlier in November, but it gained traction closer to the holiday.
It's hard to choose a favorite outfit or dog in this amazing picture. Simba looks so dapper in his top hat! Maybe we should bring that style back? I'm a pretty big fan of London's bonnet too.
Therapy dogs from Therapy K9s of Southwest Florida do a lot. They visit hospitals, nursing homes, schools, group homes, and libraries. Sometimes they make social visits and sometimes they educate with programs like fire safety. They even visit prisons and help PTSD patients. They're such good boys and girls!
Getting Your Pups To Sit Still For A Photo
This task is always a challenge. There are a few things you can do to maximize your chances of getting a good pup picture:
Play First: Dogs that are in a good mood from play and also a little conked out will sit still.
Get Their Attention With Food: This seems obvious of course, but holding a favorite snack near the camera will catch their eye!
Avoid The Camera Flash: This may startle or confuse your dog and probably won't yield a good photo.
I'm not sure what you all think, but I say this is absolutely the classic to replace "Dogs Playing Poker."