Service dogs are much more than just cuddly companions you spend the day with. These dogs are specially trained to perform incredible life-saving tasks, and many people couldn't live their day-to-day lives without their aid. No one understands this better than recent nursing school grad Maggie Leptrone.
When Leptrone finally graduated from the University of West Georgia's nursing school, she walked up to receive her diploma accompanied by another graduate: her service dog Mona. Mona helps Leptrone as her diabetic alert dog, and has been by her side constantly over the last 4 years. Leptrone said she was thrilled to share the stage with her dog.
"I am so excited that Mona can be a trailblazer at UWG for students like me who require a service dog to manage their health."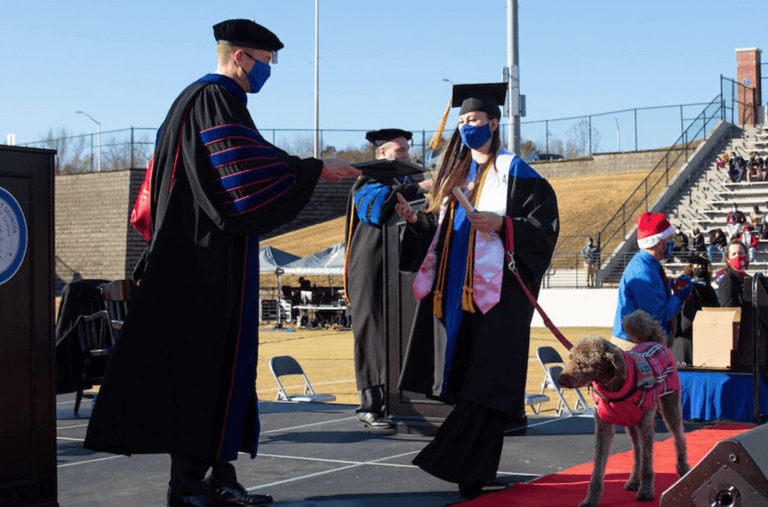 Mona And Maggie's Story
Leptrone was diagnosed with Type 1 Diabetes as a child. After an emergency scenario in high school, her family decided she could use some day-to-day support. That support came in the form of a talented Labradoodle.
"In my junior year of high school, there came a day when my blood sugar went way too low and I could not get it back to where it needed to be for a long time. I drifted into a mini-coma during my sleep, and my parents could not wake me up for a long time. Once I came to and got my blood sugar back to a manageable level, my mom decided that I needed something I could really depend on in my upcoming college life."
Mona got her training through Diabetic Alert Dogs of America, where she learned to detect changes in blood sugar with her nose. She then accompanied Leptrone to college, but she did more than just sit and stay.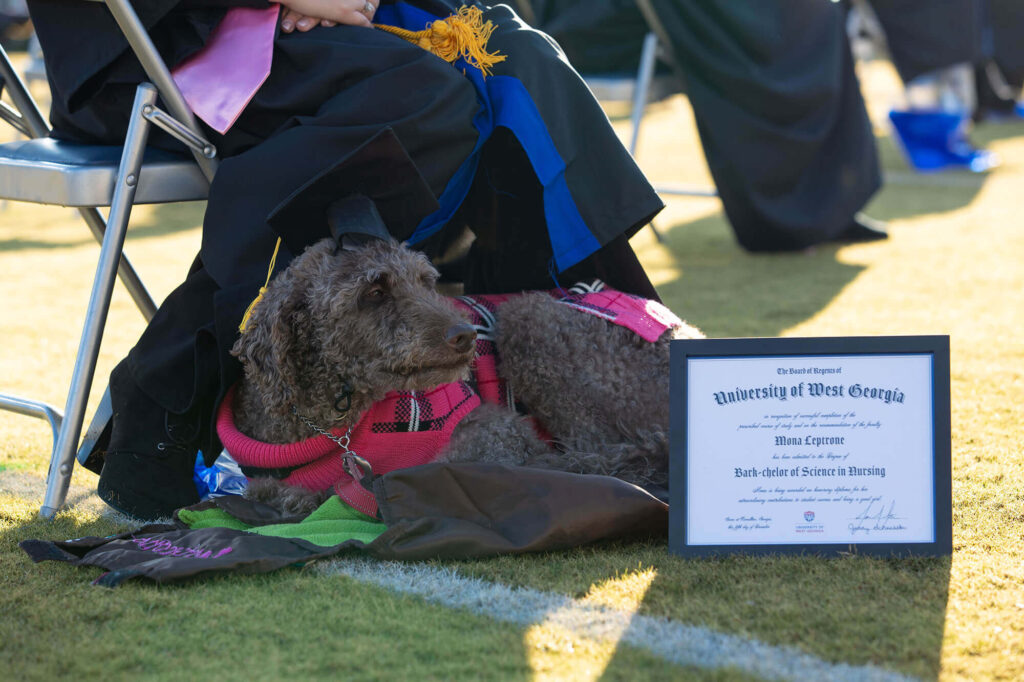 Mona attended classes, labs, and clinical placements with her handler. Her support allows Leptrone to pursue her passion of helping others without fear of another medical emergency.
"Every one of my professors has been a blessing to me. They have been understanding of my situation and welcomed Mona and myself with open arms. My professors did not see a hindrance to my education but saw a student who has overcome a lot of odds to get where she is today. Each professor worked with me and helped me find ways to do my job with Mona staying at my side."
Congratulations to both graduates, and may we see many more service dogs with degrees in the future!
Please SHARE to pass on this story to a friend or family member.