Service dogs do such incredible work helping people. They provide assistance and companionship to those who really need it.
It's a big responsibility—especially when you're owner is the former President of the United States!
But one good dog served his country and his beloved owner with pride—and now he's received a huge honor.
Sully, a yellow lab, was born in 2016 and trained as a service dog by America's VetDogs, a charity that trains dogs free-of-charge for use by veterans in need.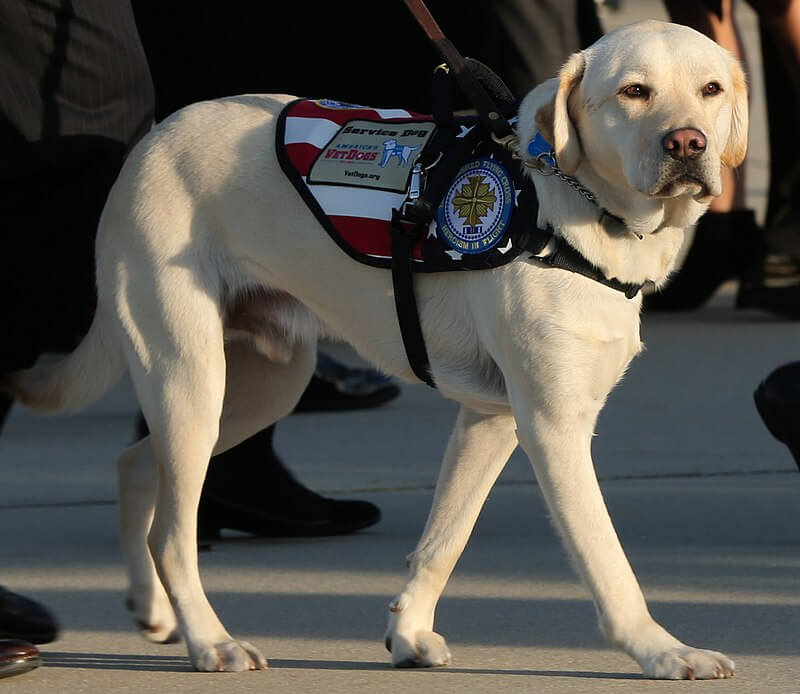 And the pup apparently proved himself enough that he was given a big assignment: acting as the service dog for Former President George H.W. Bush!
At the time, Bush was 93 years old and struggling with his health, but Sully was always there to help. He was by his side in his last public appearance, when he went to vote in the 2018 midterm elections.
He was also there to comfort the former president when his wife of over 70 years, Barbara Bush, died in April 2018.
George H.W. Bush died on November 30, 2018. Sully was there for him in the final six months of his life.
But despite their short time together, it was clear they had formed a real bond.
At Bush's funeral, Sully made headlines after he refused owner's side as he lay in state.
Mission complete. #Remembering41 pic.twitter.com/rXdyXAS4lk

— Jim McGrath (@jgm41) December 3, 2018
After Bush died, Sully's mission was not over.
Per the former president's final wishes, Sully was given a new assignment at the Walter Reed Bethesda Facility Dog Program, where he continues to help veterans with their rehabilitation.
And on Veterans Day yesterday, Sully was given a major tribute in honor of his loyal service to veterans.
He got his own bronze statue!
The statue was unveiled at America's VetDogs' campus in Smithtown, New York.
The statue is not only in honor of his work with George H.W. Bush and many other veterans, but "as a symbol of all the incredible service dogs out there that help individuals with disabilities," according to Sully's Instagram.
"Sully did a great job, along with the Bush family who is just tremendous to work with, in helping shine a light on our services," John Miller, president and CEO of America's VetDogs, told WCBS/CNN.
Sully was proud to pose next to his statue, perfectly recreating the pose:
This isn't the first time Sully has been honored with a statue like this.
He also received his own statue at Bush's presidential library in College Station, Texas.
This way, he will always be immortalized—and forever by his beloved friend's side.
Thank you, Sully, for all your loyalty and hard work helping people—and showing the world the amazing things service dogs can do!
What a well-deserved honor! Share this great news!