Laura and Takia's story is a wonderful example of a woman's dedication to her furry friend. Though Laura faced many obstacles throughout her journey with Takia, she persevered and gave Takia the life she always deserved.
Laura and Takia's paths crossed when Laura drove past a dog that was chained to a tree in someone's backyard. Being the dog lover that she is, Laura immediately walked up to the fence to scope out the situation and say hello to a new furry friend.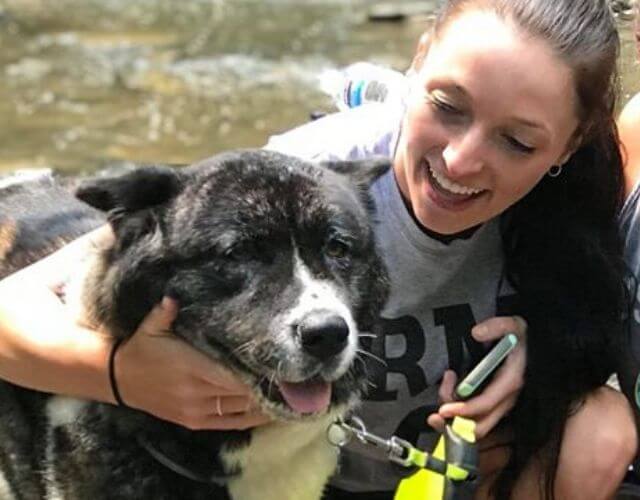 As Laura approached the fence, she was unsure of how the large Akita would react. To her surprise, she immediately began to wag her tail and happily greeted Laura with a flood of kisses. As the two exchanged their first greetings, Laura noticed the severity of the situation that the friendly yard pup was facing.
It was clear that this lovable pup spent all her time outside due to her muddy fur and the hole she dug in the ground as her makeshift bed. She also had two bowls near the tree, both of which were empty. Laura noticed that she had zero access to food or water, and that's when their year long relationship began.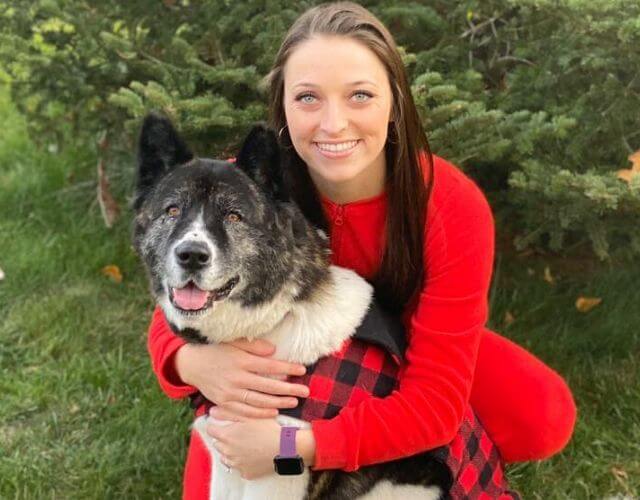 From that moment on, Laura began to stop by the house multiple times a week to bring food to the chained-up pup. As each visit went by, the loving canine became more and more excited for her arrival. She soon began to recognize Laura's car as she pulled up and would perform an adorable dance each time she saw her car arrive. They began to develop a wonderful friendship, and it became clear that Laura needed to find a way to break her free of her outdoor life.
"I'm like, 'Oh my gosh I have to take this dog. I'm gonna have to steal it, I'm gonna have to do something for it.' I was like, 'No I'll go to jail for this dog.'"
Laura first contacted animal control within weeks of meeting Takia. Animal control made their way out to the scene, in which they informed Laura of the rules surrounding Takia's unfortunate surroundings. As long as the owners of the house offered Takia a doghouse and adequate food and water going forward, there was nothing else they could do.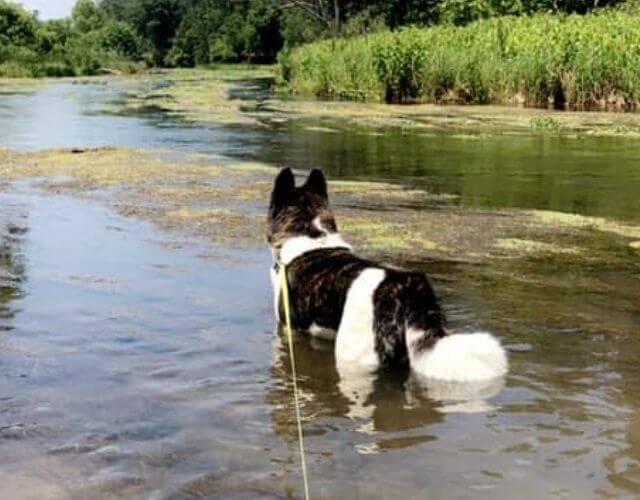 Laura was heartbroken but refused to give up on her new canine friend. She told animal control that she would continue to come by and feed Takia as often as she could, as her bowl is almost always empty once she arrives. Animal control agreed, and told Laura to contact them again if Takia's situation ever changes.
Laura continued to visit Takia for the next year. Winter came and left, and the poor pup remained outside for all of it. Laura began to worry about the approaching summer heat and how Takia would likely suffer without adequate care. It wasn't fair, but Laura's hands were tied. That was until she made one more desperate plea to animal control.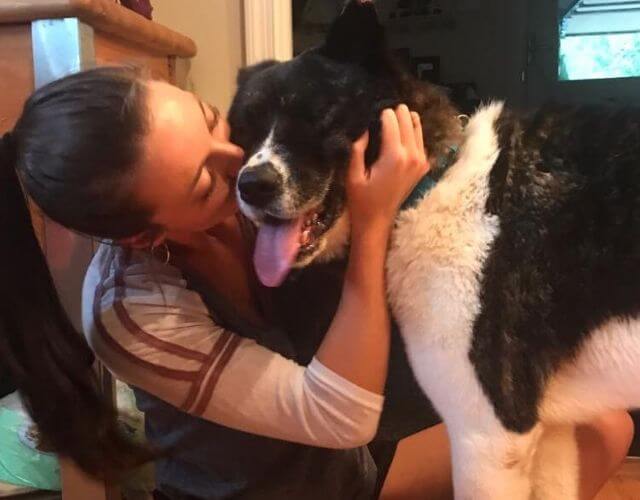 After animal control learned that Takia's owners had refused to offer her adequate care, they finally forced them to surrender her over to their care. Once Takia was free of her backyard prison, Laura was first in line to adopt! Once she was finally able to bring her BFF home, she lovingly named her Takia.
"As soon as we got here home, she was so used to not doing anything all day long. Now the second she gets to run around, she's gone. I was like holy cow this is a brand new dog."
Once The Dodo published Laura and Takia's story, it made it's way to a woman that had lived next door to Takia's previous owners. She went on to explain that she also was concerned about Takia's welfare, and contacted animal control in hopes of her being removed.
"I am so glad she got her! I live next door and we also fed her and called animal control and they would tell us the same thing about the house. My husband would bring her food and water and my sister-in-law across the street would too. So animal control must have thought the owner was but they never did. They just yelled at her. I'm so happy she has a good home!"
Takia now lives out her days in the comfort of Laura's home. The two go on an array of outdoor adventures together, have daily cuddle sessions, and just enjoy the presence of each other in their lives.
"There's just something about her. I got super lucky, I really did."
We wish we could take away the years that Takia had to endure a life outdoors, but we are so thankful for Laura's perseverance to bring her home. We can't wait to watch Takia continue to flourish in her forever home!