Georgia the Australian Shepherd mix had a rough start to life. Sunshine Dog Rescue in Phoenix found her at a gas station near the U.S.-Mexico border. She was pregnant but didn't seem to be in good shape. So, the rescue rushed to save her with a mission to keep her and her pups alive.
The pregnant dog had to go into an emergency c-section to deliver her puppies. But unfortunately, they were all born prematurely and didn't survive. Georgia soon became panicked and heartbroken, not understanding that her puppies were gone.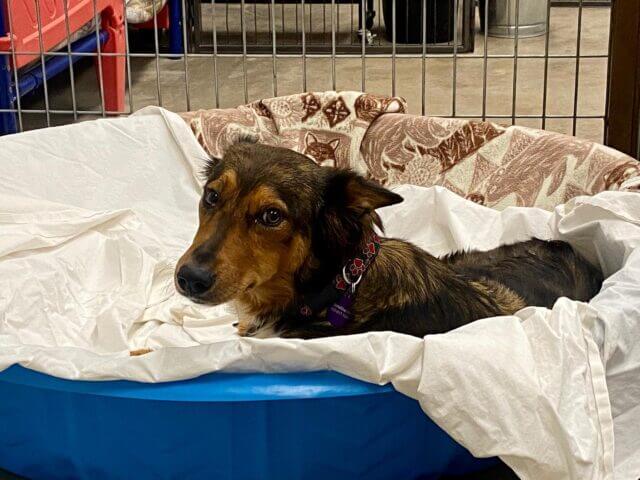 Mending a Broken Heart
Anita Osa, the Executive Director of Sunshine Dog Rescue, was extremely worried about the grieving mother. Georgia continuously tore through the sheets of her bed, looking for her puppies. That's when Osa reached out for help.
Osa posted on Facebook in hopes that someone knew of orphaned puppies who needed a mother. But what she found was not expected at all. She ended up finding three orphaned kittens instead. Osa admitted that she wasn't a cat person, but she agreed to give it a try.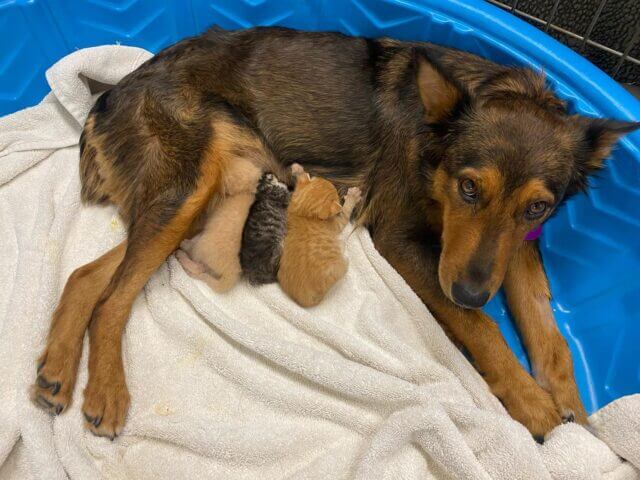 "I was certainly unsure," Osa said. "But I had seen other species nurse another species before, so I thought 'worse case scenario she doesn't take to them and I have some kittens I need to tend to myself.'"
Luckily, it was love at first sight for Georgia and her adopted kittens. Right away, they bonded with her, and she became protective over them as well. These three tiny kittens made Georgia's heart feel full once again.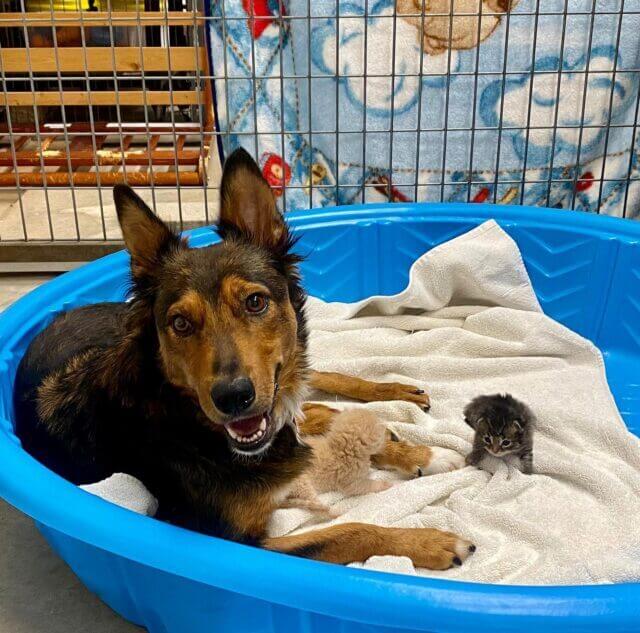 Georgia and Her Kittens
Georgia's milk production was low, but she allowed the tiny kittens to nurse on her. However, her milk alone was not enough to nourish the kittens, so Osa also bottle fed them. But it's ultimately Georgia's love and support that helped them grow. The dog even settled on names for her three beautiful kittens: Graffiti, Gumball, and Goober.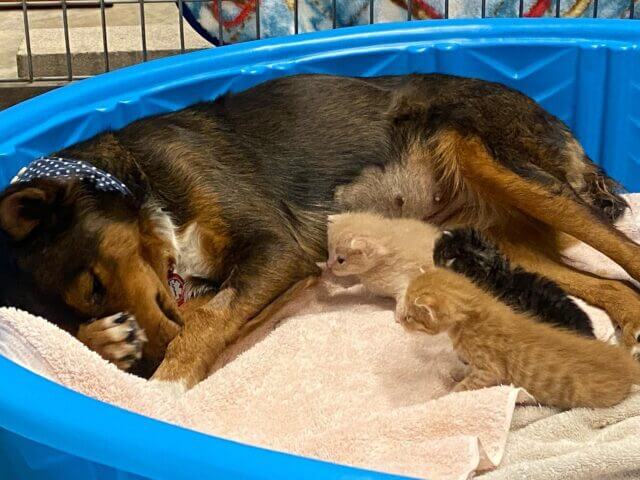 Osa said that this experience was so successful that she would do it again in a heartbeat. These adorable felines have even made her more of a cat lover now. Currently, the family of four are still recovering at the rescue, but they already have forever homes lined up for them.
Georgia's new dad has decided to rename her Milo. Also, his roommate adopted one of the kittens, so Georgia won't have to fully say goodbye to her babies. She'll still get to see one of them grow big and strong in her new forever home. What a lucky pup!
Please SHARE to pass on this story to a friend or family member.