Kilo's life began in a cruel, and all-too-common fashion. He lived in a dreary backyard without enough to eat. His only purpose was to breed and produce litter after litter of puppies.
Eventually, Kilo ended up in a California kill shelter. That's where he met volunteer Candice Miller. At the time, Miller had three dogs of her own and was not looking to add another. But something about Kilo touched her heart.
He cowered at the back of his cage, eventually approaching Miller in a tentative Army-crawl. No matter how much she worked with him, Kilo just couldn't muster the confidence to draw in potential adopters. After two months, he was placed on the euthanasia list.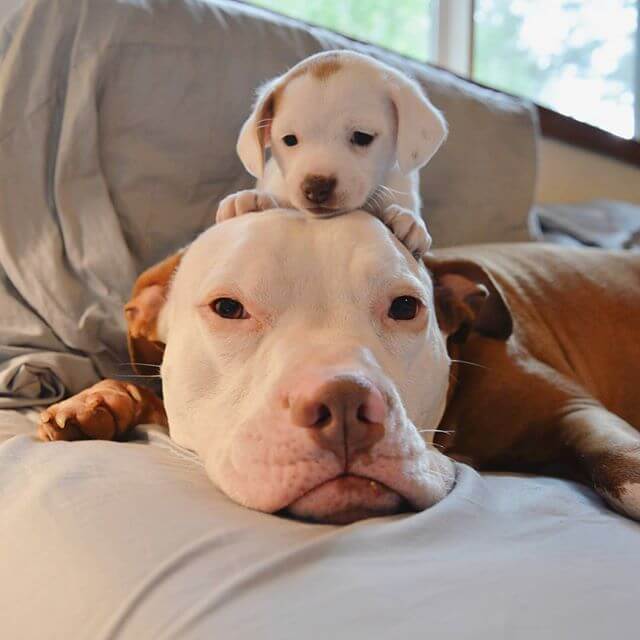 On his final day, Miller contacted the shelter and learned that Kilo was already in the holding area, waiting to enter the kill room. She hopped in her car and dashed over to save him without a moment to spare.
"The rest was history," Miller says. "Kilo came into my life at a point where I needed him the most … We both had been through some bad stuff, but together we are absolutely happy and healthy."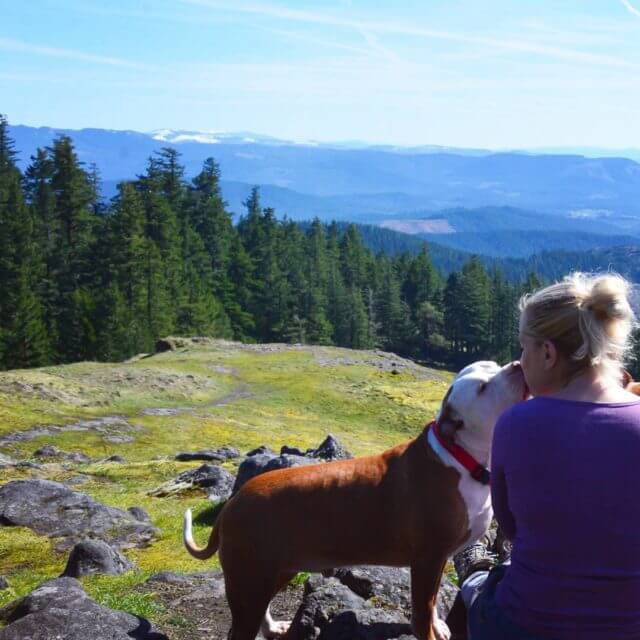 As Miller would learn, Kilo is much more than just a loving addition to her pack. Soon after his arrival, she took in 3-day-old Penny, a motherless puppy in need of round-the-clock nursing care.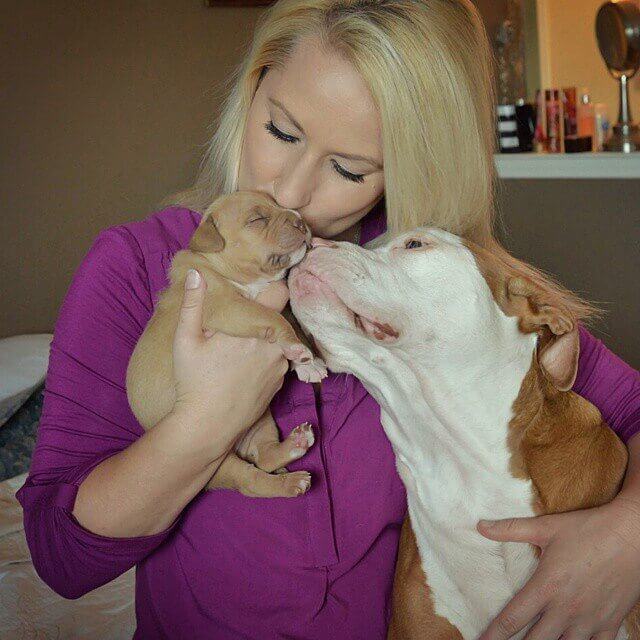 The pup kept refusing her bottle until Miller tried laying it on Kilo's belly. His body warmed the formula and gave little Penny the feeling of nursing from a real dog. Kilo had found his true calling!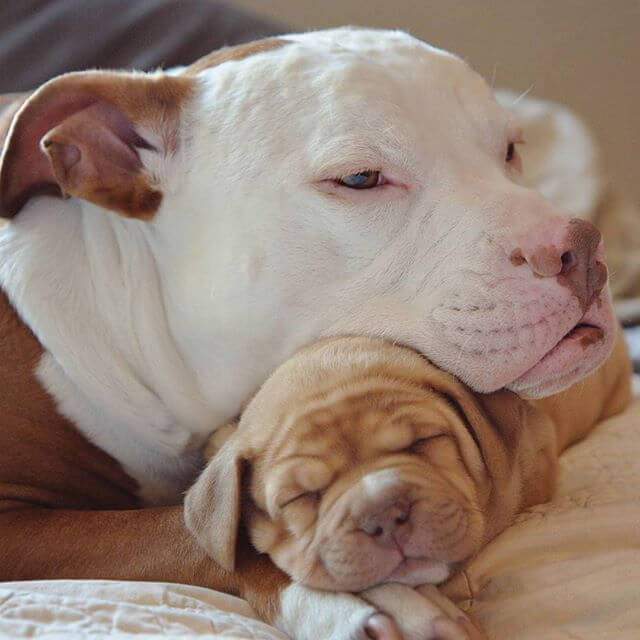 To this day, Kilo and Penny remain inseparable best friends. The once-vulnerable pup grew into a healthy bruiser of an adult, but she remains hopelessly devoted to her surrogate-papa.
And while Penny will always hold the number one place in his heart, Kilo has gone on to assist Miller in raising an estimated 200 foster puppies!
"He really made me passionate about rescues," Miller says. "He just takes care of them."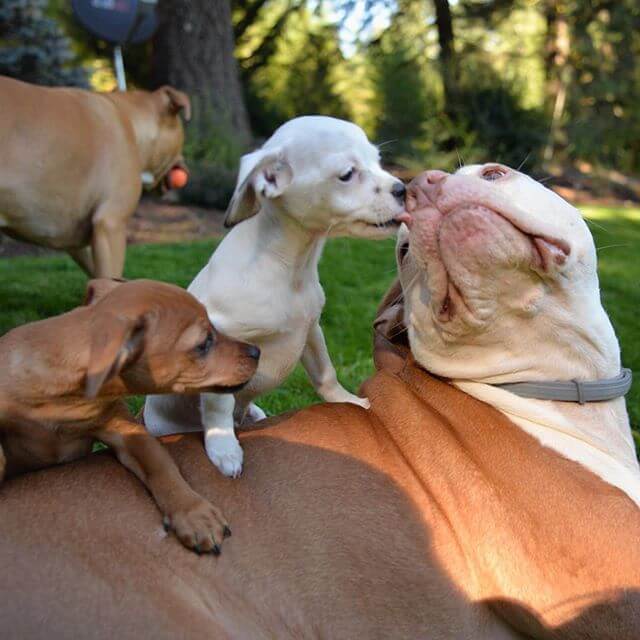 They climb him like a jungle gym, gnaw on him like a chew toy, and interrupt his naps with zany puppy antics, but Kilo's patience knows no bounds.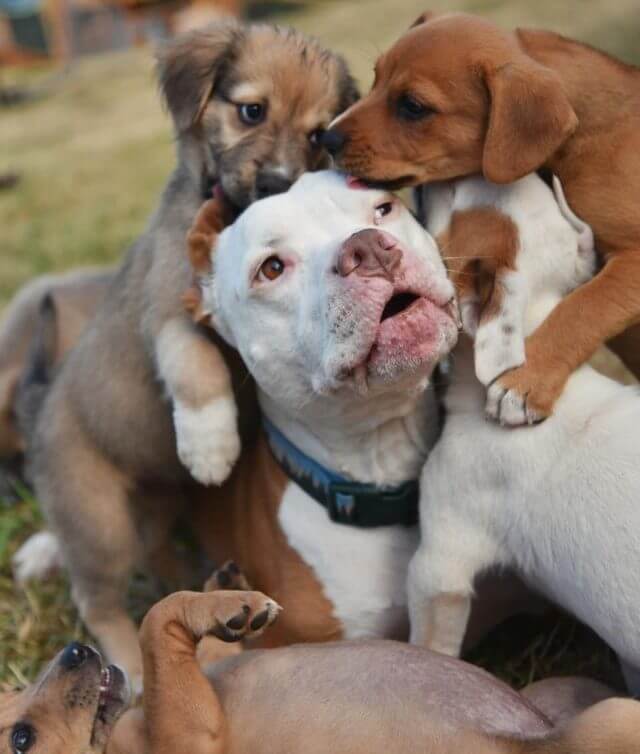 Litter after litter, pup after pup, he lovingly cares for them and teaches them the ins and outs of being a dog.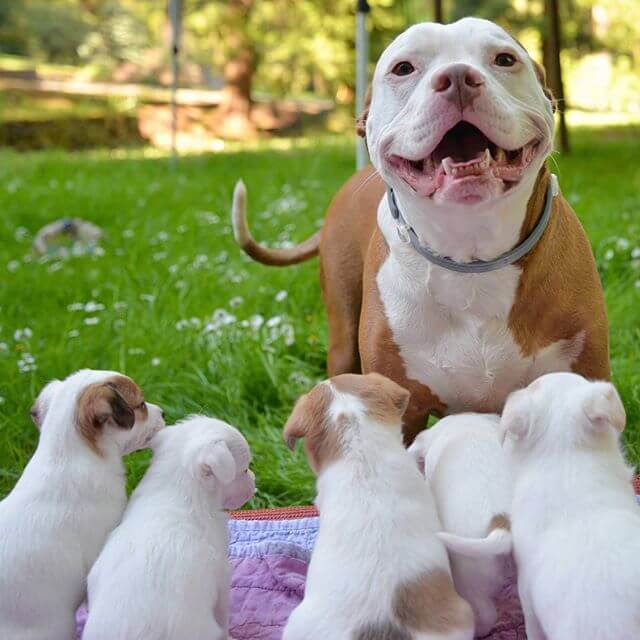 It could be all the pups he saw come and go when he was a breeding dog. Or maybe it's because he's still a puppy at heart. Either way, Kilo is a top notch foster dad!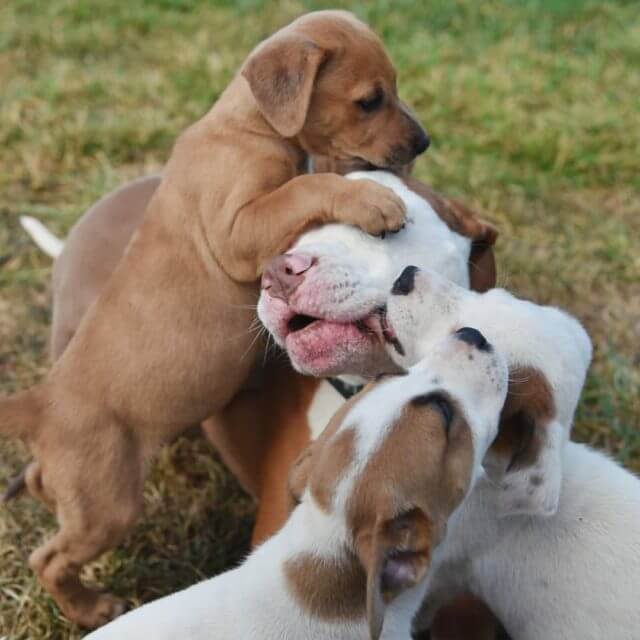 Since welcoming Kilo into her family seven years ago, Miller has relocated to a 12-acre property in Oregon to accommodate her ever-growing pack and rotating band of fosters.
It's a puppy paradise!
Can't get enough of Kilo and Company? (Honestly, who can??) Follow them on Facebook and Instagram. The photo and video updates are sure to make you smile.
Keep an eye out for guest appearances from the Millers' chickens and pet tortoise, Torty.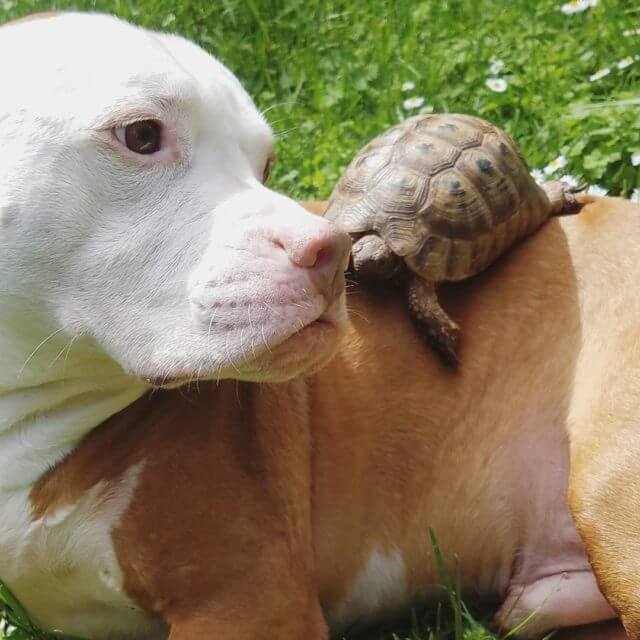 And puppies in pajamas. Lots of puppies in pajamas!