Freddy the Great Dane went viral for his tall stature. He towered over his mom and even his Great Dane sister. So, he was proud when he earned the title of "World's Tallest Dog" in 2016. Not long after, he was also suspected to be one of the oldest living Great Danes. He loved all the fans he made during his rise to fame, but sadly, he fell on hard times at the beginning of 2021.
Freddy passed away at age 8 1/2. His family is devastated after this sudden loss, but are thankful for all the love and support they've received. One thing is for sure: Freddy will never be forgotten.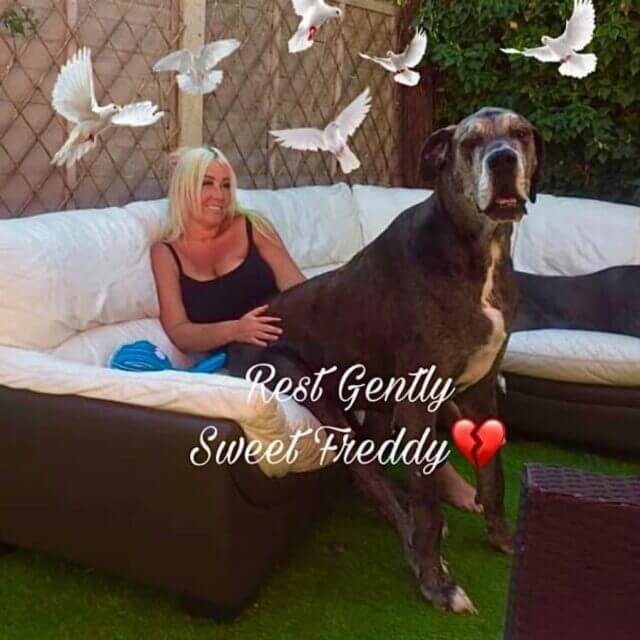 Freddy's World Record
In 2016, Freddy won the Guinness World Record for the tallest living dog after a vet measured him. Freddy stood 103.5 centimeters (3 feet, 4 inches) from feet to withers. When standing on his hind legs, he was 226 centimeters (7 feet, 5.5 inches) tall. However, only the first one counts for an official record.
The tallest dog ever was another Great Dane named Zeus, who measured 111.8 centimeters (44 inches) from feet to withers. Yet, he only stood 7 feet, 4 inches on his hind legs, so Freddy had the victory there. Zeus passed away in 2014 at 5 years old.
Most Great Danes live for 8 to 10 years at most, so Freddy lived a long, healthy life. His mom, Claire Stoneman, said that Freddy was the runt of the litter when she got him. Yet, he quickly grew taller than his sister, Fleur, who was from the same litter. Freddy had a life of many achievements, so it's sad to see it all come to an end.
Rest in Peace, Freddy
Freddy passed away peacefully, surrounded by love. Stoneman spent every moment with him as she said her final goodbyes. She even got a print of his paw after he passed, which she said is something he never would've let her do while he was alive because he hated his feet being touched.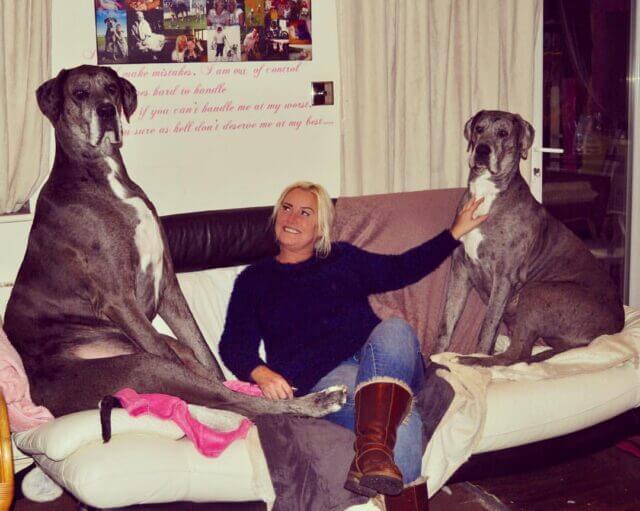 "He was not just the tallest dog but the dog with the most love and the biggest heart. A total soppy bugger who was hand fed," Stoneman said. "He was my life, my reason, my joy, my annoyance. My happiness and my ultimate sadness. He was my heart Dane. My one in a million and loved by the entire world. I can't stop crying."
Freddy was a gentle giant. Many people were intimidated by his size, but once they got to know him, they saw what a big sweetheart he truly was. His story will not only live on through his records but also through the hearts of those who loved him.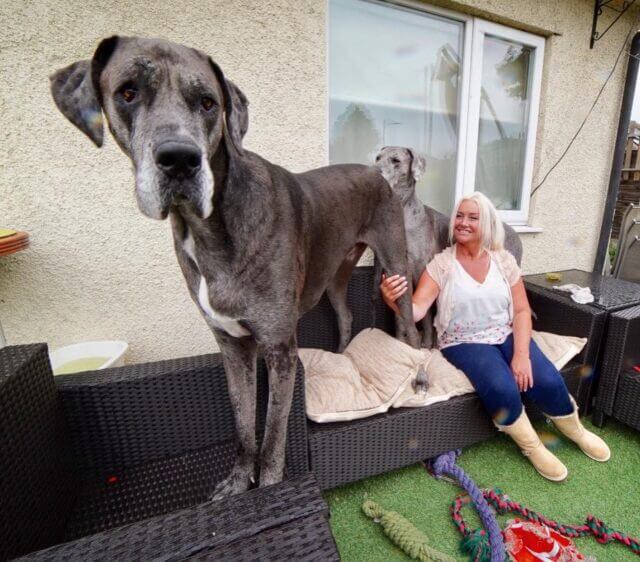 Please SHARE to pass on this story to a friend or family member.