Whether it's congenital or because of old age, deafness in dogs should not prevent you from loving them more.
Oftentimes, if a puppy is found to be deaf in both ears, breeders have a difficult decision to make: release the puppy or bring it to a shelter. The sad reality is that many deaf dogs end up in shelters because of the challenges in training them. Also, deaf dogs often get hit by cars, and they can be snappy when they are startled when sleeping, giving the dog breeds a bad name. Issues that a loving and patient dog owner can work around.
Take our story for example, this man decides that learning sign language and teaching his doggo is the way to go.
Somewhere in South Jersey, Cole, a deaf pit bull pup is helping the world hear with their hearts!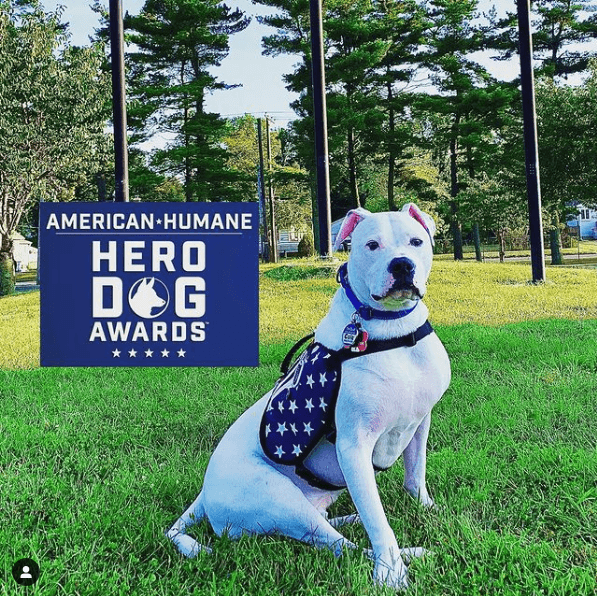 Before his adoption, he used to be a pup that was running around a major street with his mom when Animal Patrol picked them up and put them in the shelter. He was passed up by countless families at the South Jersey Regional Animal Shelter because he was deemed "broken." Eventually, in April of 2017, he met Chris, a public-school music teacher. Their adventure together started impacting lives with Cole's message. His message is simple and profound: a disability is not an inability, it's a superpower!
Chris mentioned that they don't really know Cole's backstory, but it was more than okay, their focus is moving forward. He also mentioned that his nephew was deaf as well and he noticed a very important similarity between Cole and his nephew, they literally just live their life and do what they do the way THEY do it.
Cole amazed Chris with his keen ability to respond to sign language and seemingly endless capacity to show tenderness and love. With the help of his nephew, Chris learned how to sign language and it is their main way of communicating with each other, as well as lip reading commands.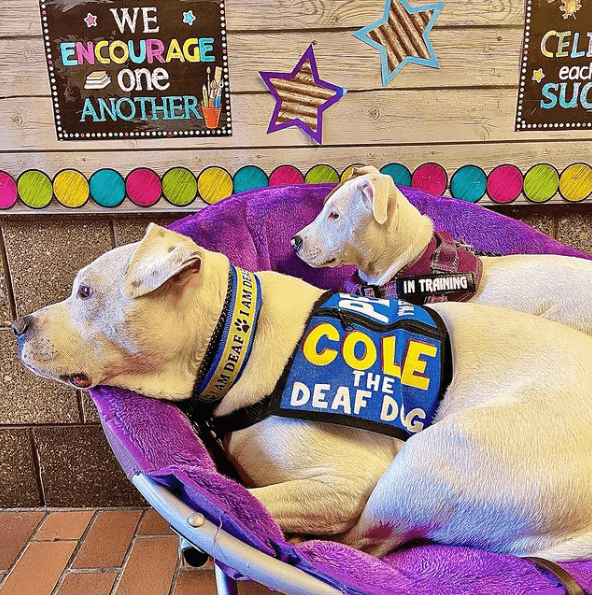 Cole is a full-time therapy dog at the school Chris works at, Dr. Mennies School. They became the inspiration for launching a unique social-emotional learning program in the South Jersey school. Cole's message started inspiring many others as his story made national news publications and became the catalyst for the Team Cole Project, where Cole and Chris have presented school assemblies all over the Tri-State area. Along with Chris' nephew, they have taught children that it is okay to be different. It helped students recover courage and self-respect, and inspired acts of kindness throughout the community.
He's a dog that's very in tune with emotions and has a way of finding the kid that needs some extra comfort that day. Their program helps students reflect on personal feelings of "brokenness" in a new and self-empowering way, and leaves an impression of acceptance and compassion that youth can take with them for years to come. Outside of the classroom, in their first two years as a therapy dog program, The Team Cole Project has volunteered over 500 hours and received the Presidential Silver Service Award.
Cole quickly became a beloved companion among the residents of the NJ Veterans Memorial Home, who unanimously petitioned for him to be named their Official Mascot.
In all the places he goes to visit, Cole displays three very distinct personalities and modes. When they're doing hospice work, he's very cuddly. He lays his head on their chest and melts in their arms. While with veterans, he's a bit more energetic. But in the school where Chris works at, Cole becomes a superhero dog.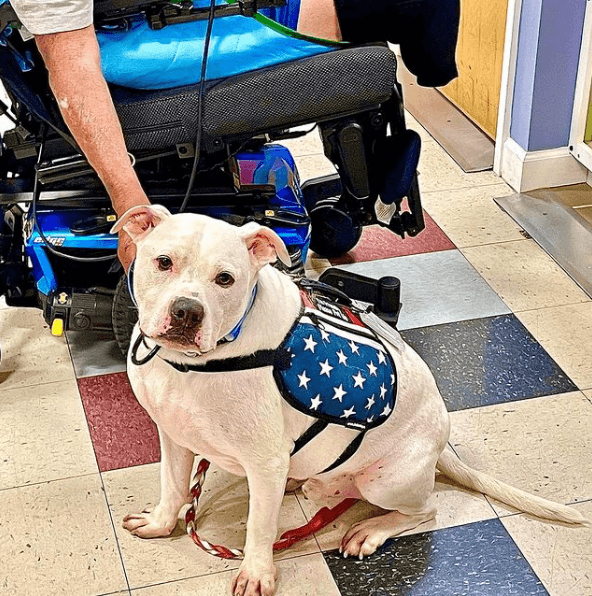 In August of 2020 the Team Cole Project did its first ever "Kindness Tour", visiting care facilities throughout New Jersey to bring joy and hope during the Covid-19 pandemic.
Despite all of this good work, there's still some preconceived notions and prejudice. Some buildings or facilities would refuse to let Cole in, solely because he was a pit bull. But they don't take that to heart, they leave and learn from that experience.
"Anyone that thinks a dog with a disability can't lead a full life, they need to learn to love a dog with a disability or a special needs dog. Because the experience is beyond rewarding."
For more information about Team Cole Project, you head on over to their website.
Deaf dogs are just like hearing dogs in all other ways. When we discover that a dog is deaf, or if we are considering adopting a deaf dog, it is important to sort through the misinformation to learn how to best live with a deaf canine companion.