Courage the rescue dog doesn't let anything hold her back. She might not look like the average dog, but she acts as if nothing is wrong. Courage's back legs are paralyzed, but she's still able to run around and play like before. It's all thanks to her special wheelchair and loving foster mom.
But Courage's wheelchair is so much more than just a set of wheels. It also has ski attachments, which allow her to sprint through the snow. Like many dogs, Courage loves the snow and will play in it for hours on end. She's one of the happiest dogs in the world, but finding a forever home would make her even happier.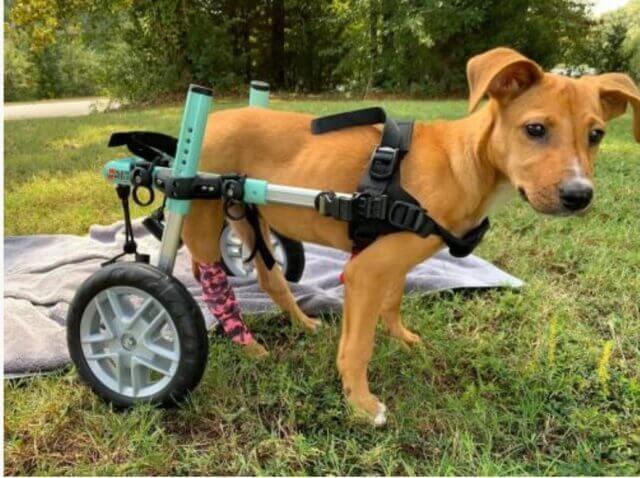 From Dying Puppy to Spirited Rescue Dog
A cruel man is responsible for Courage's paralysis. He kicked her off of a porch, which severed her spine. She could no longer use her back legs, but Friends of Homeless Animals in Rhode Island took her in and prepared to give her the best life possible.
Once Courage had a wheelchair, she sprung to life again. Becky Paniccia agreed to foster the 9-month-old pup, and she was surprised by how active Courage was.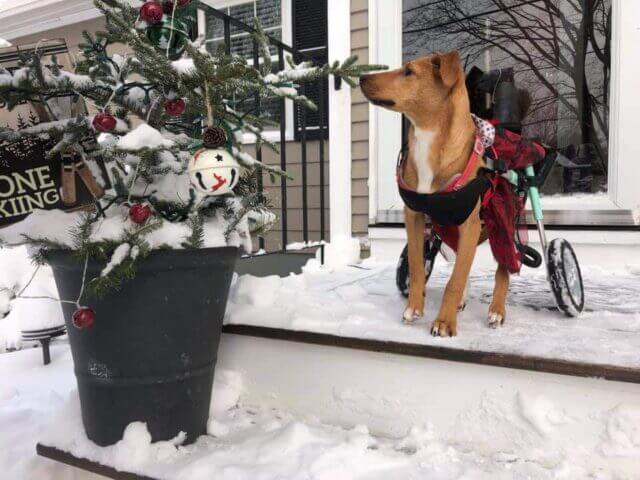 "Courage was on a video on Facebook from Mississippi and I saw her and was immediately drawn to her," said Paniccia. "She was transported here, and we've been taking good care of her ever since."
Courage loves to run around just as fast as a dog on all fours. So, the rescue believed that some skis would be helpful during snow-covered days. And they were absolutely right!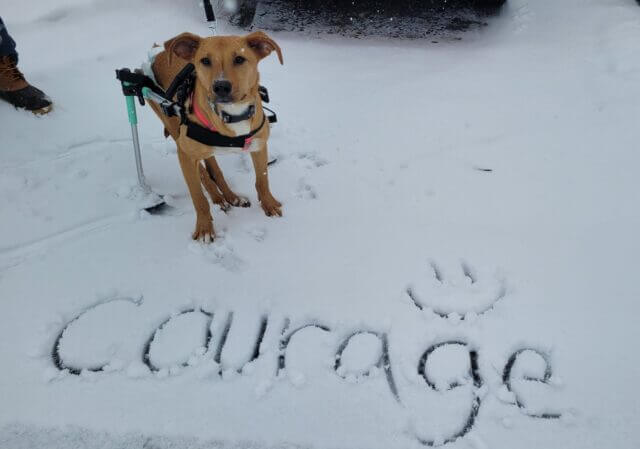 Help Courage Find a Home!
When Courage skis, that's when she feels the most alive. Sliding across the snow is both exciting for her and adorable for us. So, it's amazing that no one has wanted to adopt her yet.
But Courage's special needs do require a little extra work. She's incontinent, so she has to wear a diaper at all times. While that might deter adopters, it hasn't stopped her from gaining fans. Local dog lovers have raised over $2,500 to help cover her medical care. Paniccia said Courage sometimes gets recognized when she's out and about too.
"She does physical therapy. We've had an MRI and extensive testing done and besides her being incontinent she's a very healthy dog," said Paniccia. "I have wonderful supporters that helped her get that done. Without the supporters, it would've been challenging, and she was able to have every test done that she needed. It was wonderful and I thank them very much."
As much as the rescue wants to see Courage get her happily ever after, they also don't want to rush things. A few families have been interested in Courage, but none of them moved forward because of the pup's medical needs. But there's a perfect family out there for her. She just needs to be patient.
If you or someone you know is interested in adopting Courage, you can contact Friends of Homeless Animals.
Please SHARE to pass on this story to a friend or family member.