The UK's Croydon Police are celebrating this week after police dog Kaiser returned to duty following a harrowing knife attack that left him scarred and lucky to be alive.
In a widely shared Facebook post, the department shared details about Kaiser's recovery and welcomed him back onto patrol.
"After being brutally stabbed in June PD Kaiser and his handler PC Woolcott were welcomed back by our Borough Commander Dave Stringer and The Mayor & Mayoress of Bromley this morning," the post read.
Both Woolcott and Kaiser had been injured when responding to a mental health emergency earlier this year.
According to the BBC, the duo had been on patrol in south London when they received a call about a break-in nearby. Kaiser courageously tackled the intruder, keeping him subdued even as he endured repeated knife stabs.
The cuts were deep enough to hit bone, and one narrowly missed his eye. The suspect was detained and subsequently given a mental health assessment.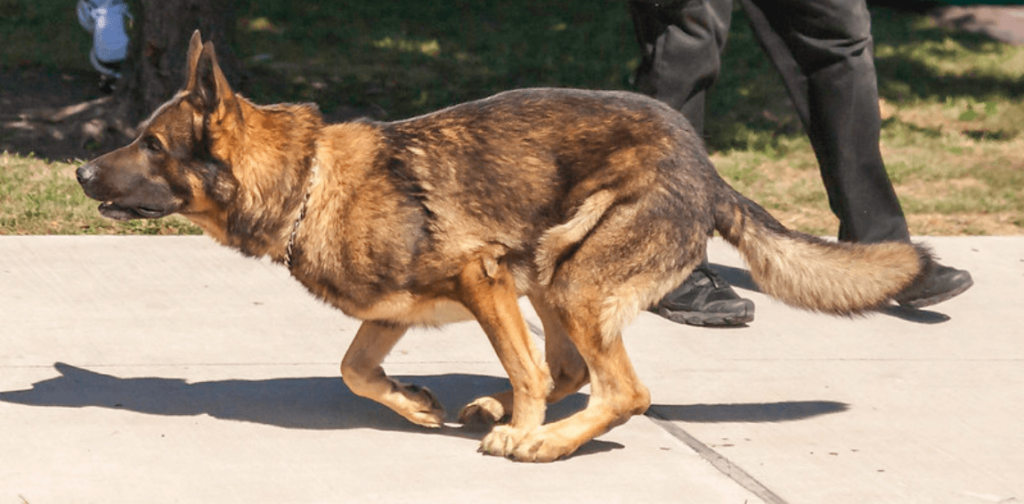 "Incidents where mental health is a significant factor can be unpredictable and sometimes dangerous," Superintendent Emma Richards told the press at the time, according to LadBible.
Fortunately, Kaiser was stitched up and given the time he needed to recover. "Kaiser was absolutely delighted upon receiving a new toy which was gifted to him by The Mayor for his bravery," the Facebook post continued.
Kaiser joins the nearly 2,500 other active duty police dogs that patrol the UK, including fellow German Shepherds, Malinois, and Dobermans.
The force uses a variety of breeds for different purposes, with dogs like Kaiser being used as "general purpose dogs" because "they are extremely sociable and versatile animals who usually form a strong bond with their handler," according to the Old Police Cells Museum.
See more about Kaiser and the Croydon Police at their Facebook page here!