When a compassionate person found a dog limping down a street outside Atlanta, they knew she needed immediate attention. The white Pit Bull mix, later named Kiah, was obviously pregnant, and it looked like she hadn't had a good meal in several weeks. Veterinary staff later discovered the dog's teeth were filed down, and her current pregnancy was far from her first. They also found an old gunshot wound that painted a bleak picture of what the dog's life used to be.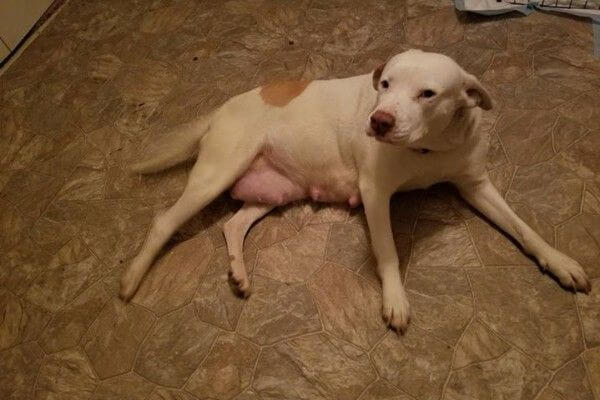 The Cherokee County Humane Society quickly took Kiah into their care. They rushed her to an emergency veterinarian, but the dog's struggles were far from over. The veterinarian learned Kiah's unborn puppies had died several days earlier. There was nothing they could do to save them, but an emergency c-section saved Kiah's life.
An experienced medical staff worked around the clock to treat Kiah's injuries. They healed her physical wounds, but the dog's refusal to eat and drink pointed toward even more serious emotional trauma. After time spent healing from her surgery, Kiah was moved to a foster home. Her foster, Caroline Claffey, wanted to give the hurting rescue dog a safe and comfortable place to recover from her experience.
Kiah had a soft place to sleep, regular meals, and a person to pet and soothe her. Her physical needs were taken care of, but her emotional well-being still suffered. She was mourning the loss of her puppies, so Claffey got an idea. The foster mom put stuffed animals in Kiah's bed in hopes of filling the hole left in her heart.
Her idea worked, and Kiah quickly became attached to the toys. Claffey said the dog's favorite stuffed animal is a puppy that vibrates and hums lullabies. She told Global News,
"The vibration makes it feel more real to her."
The toys won't be able to replace Kiah's lost puppies forever, but they're helping the sweet dog move on from her ordeal. The name Kiah means "new beginning," and that's exactly what her foster family wants for her. With time, they hope Kiah will find a forever home where she can put the past behind her.
Update: Kiah found a home! Hope For Paws Colorado transported Kiah from Georgia to Colorado, where she met her new mom! Mom drove all the way from Southern California, already in love and ready to give Kiah her forever home!