Dr. Michael White is the director of Harris County Animal Shelter in Texas. He flipped on the morning news and was surprised to see a reporter standing outside of his shelter's gate. Reporter Janelle Bludau and the KHOU 11 News Team arrived at the shelter that morning to find a Lab Mix chained to the fence. Bludau told the audience that she would stay until someone came to open the shelter. Dr. White sprang from his chair and hit the road!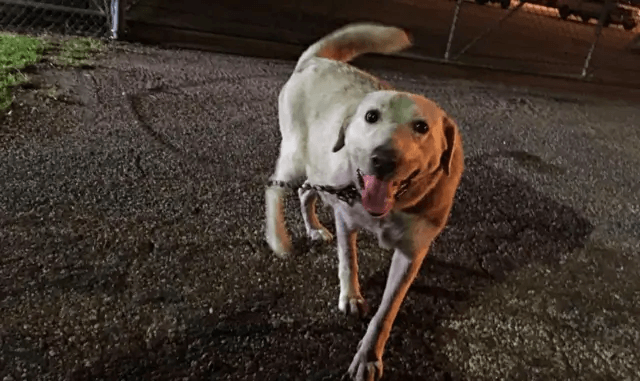 Smiling and Happy, Despite Her Situation
The friendly dog wiggled and wagged her way towards the news crew as they approached. Proving, once again, that dogs are the greatest, this sweet thing seemed completely nonplussed at her predicament. Maybe she knew in her heart that good things were coming around the bend. She had been been found by caring people who were going to make sure she was okay. What the crew didn't realize, however, was how much help this pup was going to need. She had a big surprise in store for Bludau, the crew, and Dr. White.
Dr. White Makes a Big Discovery
As soon as Dr. White arrived at the shelter he gave the abandoned dog a routine examination. Everyone was surprised to learn that the dog was very pregnant, with a very large litter that was sure to be coming soon! She was so heavy with the unborn puppies that her big round belly was dragging the ground.
Dr. White decided to bring the expecting mama home with him so that she could deliver under his careful watch. "I decided I wasn't going to leave her there any longer, and I took her home," White said. "I didn't want her to stay up there in that condition. I hate for animals to give birth in a shelter situation."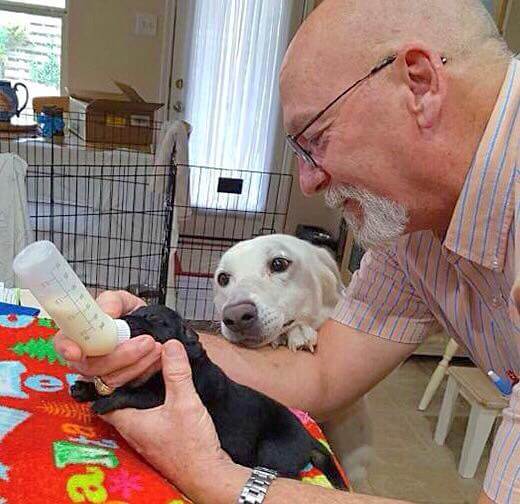 Becoming a Mama to 11 Puppies
Dr. White named the dog Janelle in honor of her rescuer. They went home to await the arrival of her litter and Janelle settled right in, loving on her foster parents and climbing up on their laps, big belly and all. As expected, they didn't have to wait long for Janelle to go into labor. Just a few days after coming home with Dr. White, she showed signs of distress indicative of labor approaching.
She started having contractions around 9 at night. Dr. White and his wife knew they would be in for a long night. "My wife and I stayed up with her all night assisting in each delivery," White said. "At 3:36 a.m., [puppy] number 10 was born, and we thought that was it, but number 11 was born at 6:05 a.m. It was a long night for me, my wife and Janelle."
Janelle, the lab mix found tied 2the gate of the Harris Co Animal Shelter by r own @JanelleKHOU & @MikeBadaBing, had 11 healthy puppies this AM! Shelter Director, Dr. Michael White, is fostering the whole fam-another reminder of how crucial fosters are! Mom & pups doin great ❤️ pic.twitter.com/A4tcunGamN

— Lisa Hernandez (@KPRC2Lisa) June 13, 2018
The Doting Mother and Puppies are Doing Well
Dr. White was happy to report that Janelle is a doting mother. She keeps a clean "den" for her litter, gives the puppies everything they need, and clearly loves each and every puppy. The puppies will stay with Janelle until they are weaned and then all will be available for adoption.