Whether or not you believe everything happens for a reason, this story makes a strong case for silver linings. This spring, Ian Azeredo and his wife Linda Farkas adopted Otter, a spunky mixed breed rescue dog, from St. Hubert's Animal Welfare Center in Madison, New Jersey. If it hadn't been for a terrible skydiving accident though, they never would have met their beloved dog and best friend.
In July of 2019, Azeredo was on a skydiving trip, something he had done hundreds of times before. This time, he ended up hitting the ground at 60 miles per hour, severely injuring himself in the collision. It ultimately put him into a coma. Farkas recalled:
"He spent two months in the ICU in Morristown. And they wouldn't let you eat in the ICU. So I went one day to shovel lunch in my face real quick and saw this couple putting up therapy dog posters. They were local to Morristown, and they actually recommended St. Hubert's."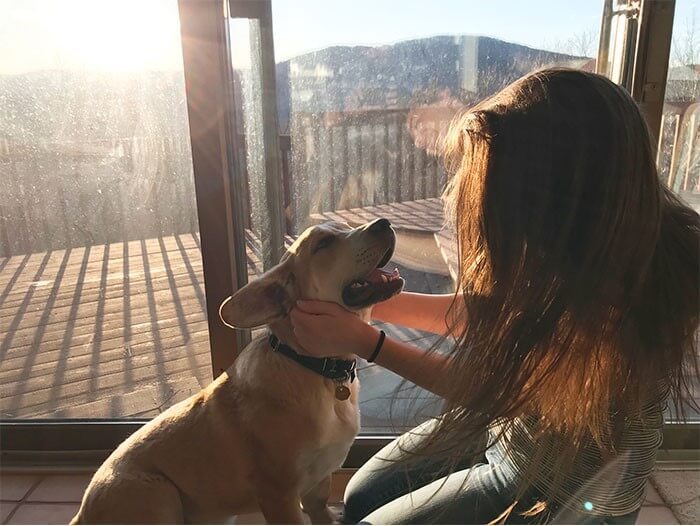 Azeredo spent nearly nine months in recovery at this hospital right down the road from St. Hubert's Animal Welfare Center. Therapy dogs from there also came to visit the hospital. Azeredo mentioned how valuable these visits were:
"I was a broken toy there, just kind of hanging on. The one good thing was they had these therapy dogs that would come in and just kind of say hi to people. A lot of them were from St. Hubert's."
Farkas also noticed how important the doggie visits were to her husband.
"Besides the incredible medical team, the best thing about the hospital was their volunteer therapy dog program. Even when in excruciating pain, the friendly, judgement-free dogs would bring a smile to Ian's face."
Finding Otter
When Azeredo was well enough to leave the hospital, the couple knew they had to return to St. Hubert's. With lockdown beginning, they now felt they had the time to give proper care and attention to a dog.
When a volunteer directed them to a tail-wagging Labrador Retriever/Hound mix, he jumped up on Azeredo's wheelchair and licked his face.
"Immediately, I said, 'This is the boy, right here.'"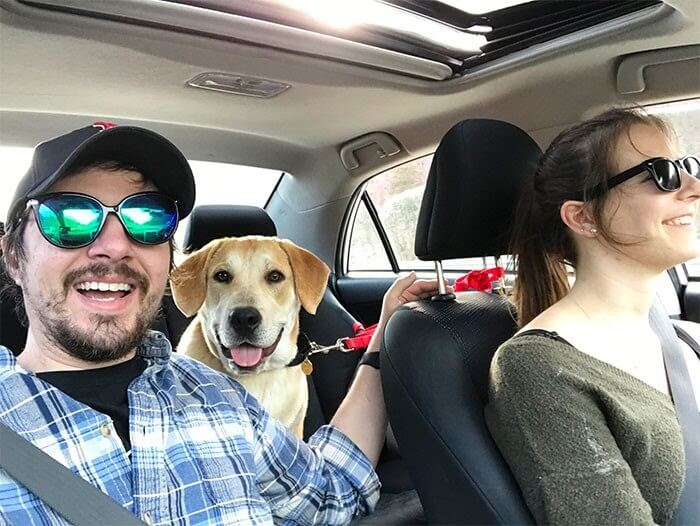 They named him Otter, after the Twin Otter plane the couple jumped out of on their first date in 2013.
"He doesn't always behave perfectly, but he is our best friend. When Ian is in pain, Otter joins him on the couch. When I want an adventure buddy, Otter will enthusiastically hike or go paddle boarding with me."
Otter can be a bit rambunctious, but he brought them so much joy after they experienced such tragedy.
"It is impossible not to grieve our lost time and capabilities, but Otter never fails to cheer us up. Life after trauma is full of uncertainties but adopting Otter has inspired us to happily move forward with our next chapter."
Giving Back To The Shelter That Brought Them Their Best Friend
Since Otter did so much for the family, they wanted to give back to the shelter who did so much for him. The Petco Foundation's Holiday Wishes campaign invites adopters to share their stories for the chance to earn grant awards for the organizations they adopted from. Farkas submitted their story and won an award, bringing in a lot of money for the rescue.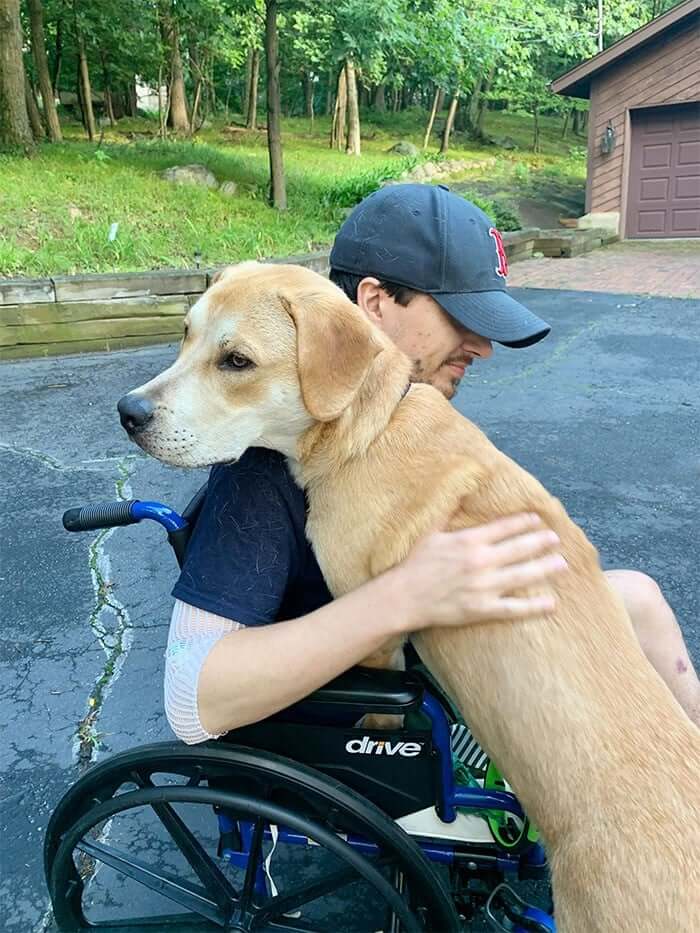 Azeredo now plans to have Otter certified as a therapy dog, so he can join the ranks of the pups visiting Morristown Memorial Hospital.
"I remember being in that bed. It's hard to explain the frustration and shock that comes with being there and having so much uncertainty. Hopefully, I can help some people out by just relating, talking when they are going through a similar nightmare."
Thank goodness for therapy dog programs!