For dogs, having many babies at once is fairly typical. Some larger dogs can even carry up to 13 puppies at a time. However, bigger litters can sometimes cause some problems for the mama dog. It becomes harder for her to feed all of the babies and keep herself fed and hydrated enough to do that.
As a stray without proper nutrition, delivering and raising a healthy litter of puppies can be a major challenge. So, for a very pregnant dog roaming the streets in Texas, the future looked bleak for her and her unborn babies. Stella, as she was later named, lived under cars and begged for food as she and her babies grew bigger.
Rescued In The Nick Of Time
Fortunately for the whole family, a local rescue group in Texas spotted Stella in time. Through "a tremendous amount of coordination," Stella made it all the way up to New York on September 22nd. She was then transferred to the care of the North Fork Animal Welfare League.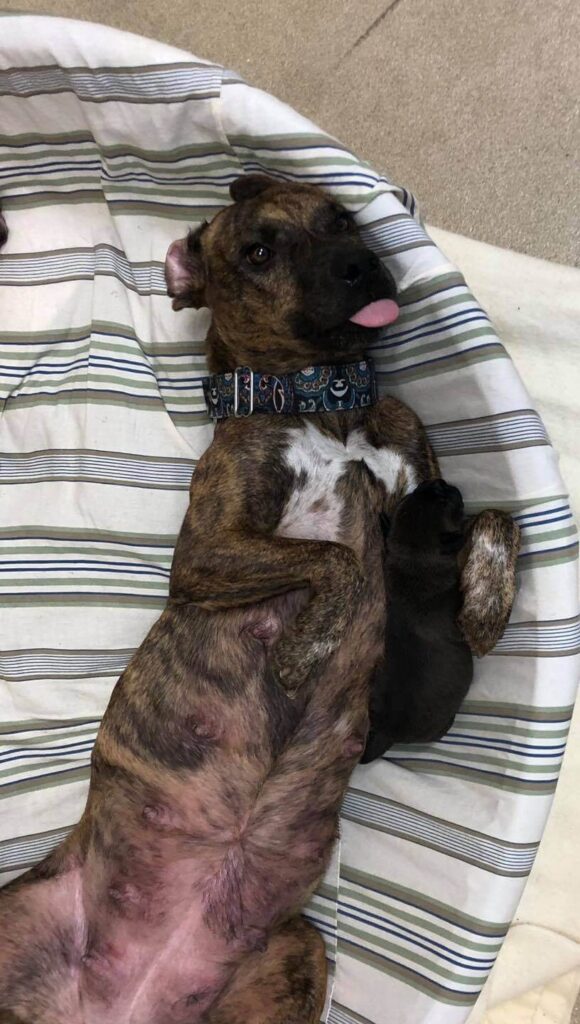 In a description on GoFundMe, the rescue explained how Stella ultimately ended up in their care.
"Another local shelter had taken her in but asked if we would help with her since we have a great space that is quiet and less stressful for her to give birth. We jumped at the chance to help her!"
The NFAWL made an immediate vet appointment for Stella. The doctor projected that her babies would arrive within a week or two. Technically, that assessment was true.
"The Vet told us they could see seven puppies on the x-ray and she would give birth within the next ten days. The next morning staff arrived in the middle of Stella giving birth! Mama and eight puppies are doing well under the loving care of our staff."
The Whole Family Recovers And Grows Together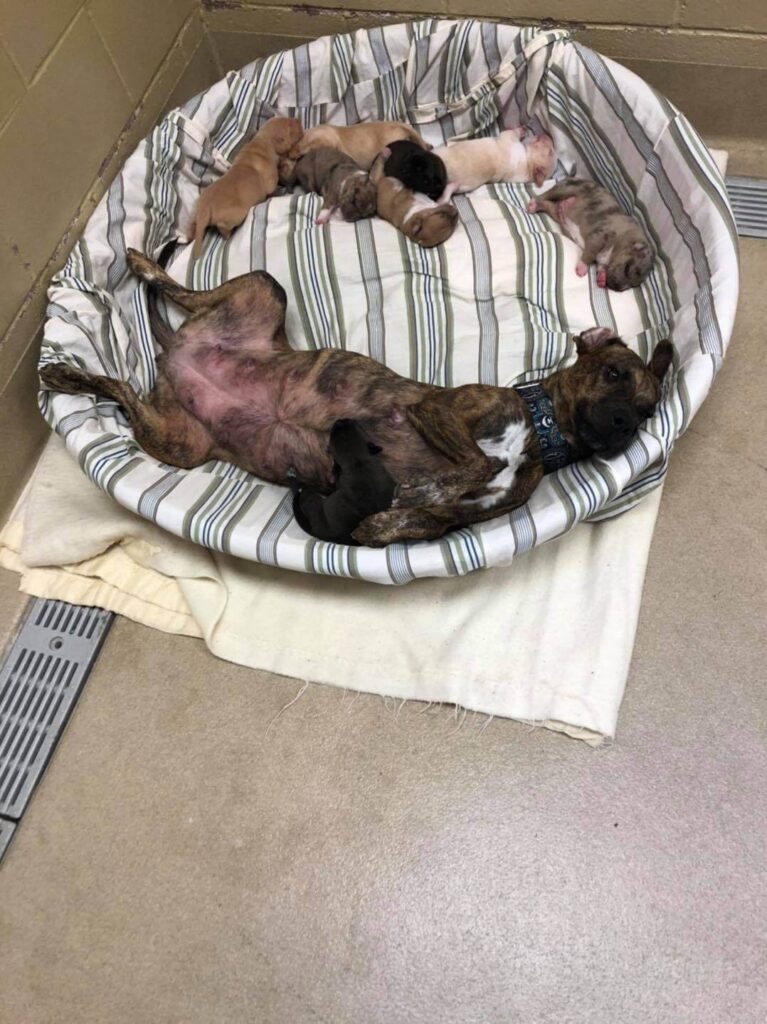 Just look at that happy, healthy family! Thanks to the intervention of some kind humans and extra commitment from the North Fork Animal Welfare League, 9 dogs were saved. They'll have the love and care they never would have gotten on the streets.
For now, Stella will be getting healthy herself while she nurses her pups.
"While Stella will do most of the work the first few weeks including feeding, cleaning, keeping warm and teaching them social skills, there will be quite a bit of expenses getting these puppies ready for adoption. Plenty of food and walks for mom as her body will need lots of nourishment to feed eight mouths!"
You can make a difference in the doggies' lives too. Donate to the GoFundMe here to help fund the costly care for Stella and all eight of her beautiful babies.
Please SHARE to pass on this story to a friend or family member.