How much would you sacrifice to save a stray dog? This amazing woman braved several freezing cold nights to save a stray dog in Manhattan's Highland Park in New York City.
Her name is Denise Lauffer, a 40-year-old woman who built a makeshift shelter for an elderly stray dog she named Charlie, and slept beside him for two nights just to earn the dog's trust. Charlie has been in the park for 10 years. When Denise moved to the area just a few years ago, she immediately took notice of Charlie. Denise has four dogs, which were once strays too. And as a dog lover herself, she couldn't bear the thought of the dog starving and alone. So she began leaving food for the dog.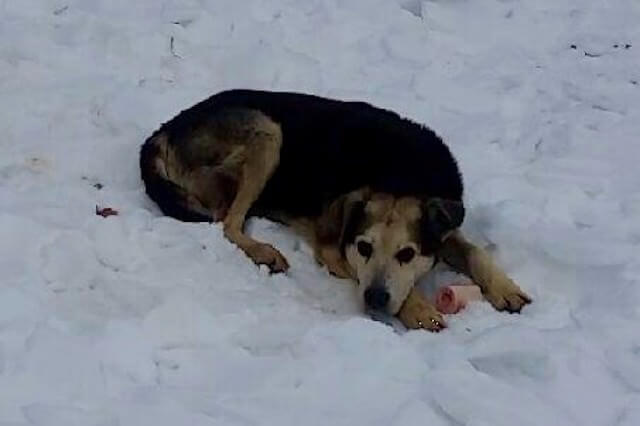 Denise posted a video of her feeding Charlie. Charlie didn't even have the strength to get up.
When winter came she feared that the poor old dog would die in the extreme cold. So during that winter, she built a makeshift shelter for Charlie. She lined the bottom of his bed and hand warmers. To make Charlie trust her, she stayed with him for two full nights. And during her stay with him, the neighbors brought blankets, hot meals, and hot water bottles to help out. After spending several nights in the cold with Charlie, Denise was finally able to earn his trust, so she coaxed him into a car and took him to the vet. After, Charlie went home with one of the neighbors who took care of him. And there, he was finally able to sleep indoors for the first time in 10 years.
Now Charlie is in good health. He has been vaccinated, and he will be neutered when his health is more stable. After 10 long years, Charlie finally has a forever home!