Jimmy Donaldson, more commonly known as YouTuber MrBeast, is famous for his unique stunts that usually involve spending a lot of money to help others. In a recent YouTube video, he decided to try something new. He used lots of the money he earned from his YouTube career to help all the dogs at Furkids Shelter in Georgia get adopted. The shelter had 14 dogs that needed loving homes, so he did everything he could to help them all find forever families within two days. In the end, he gave gifts to all the kind families that decided to adopt these pups in need.
Adopting All the Dogs
Donaldson and his friends wanted to remain anonymous during this event. They wanted to help promote the shelter from behind the scenes. That way, they knew that all the adopters were truly interested in the dogs and not just money or fame. Plus, every adopter had to be approved by the shelter as usual.
Donaldson and his team got to know all 14 dogs first: Foxtrot, Winston, Iris, Monica, Taffy, Didi, Zeppelin, Gumpy, Tommy, Jive, Noah, Pepper, Gia, and Kelly.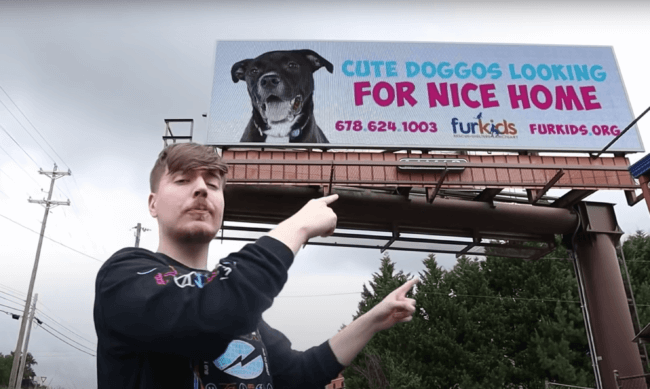 In order to promote these dogs, Donaldson purchased multiple billboards, including a truck that advertised the adoptable dogs. He also put up fliers all over the area. Then, he and his friends waited at the shelter in a secret room. They watched the video footage to see if people would come to adopt the pups. Their goal was to adopt all the dogs out as soon as possible.
"MrBeast has said his mission is to make the world a better place before he dies," said Samantha Shelton, CEO and founder of Furkids. "Furkids makes the world a better place for homeless dogs and cats who have been abandoned, lost, injured, or sick. Our goals are aligned, and Furkids was profoundly honored to have the once-in-a-lifetime opportunity to work with MrBeast and his extraordinary team."
The event was off to a slow start, but one by one, the dogs got adopted. Whenever adoptions slowed down, Donaldson purchased more billboards to help the dogs get adopted. Sure enough, he was able to find homes for all the dogs in only two days.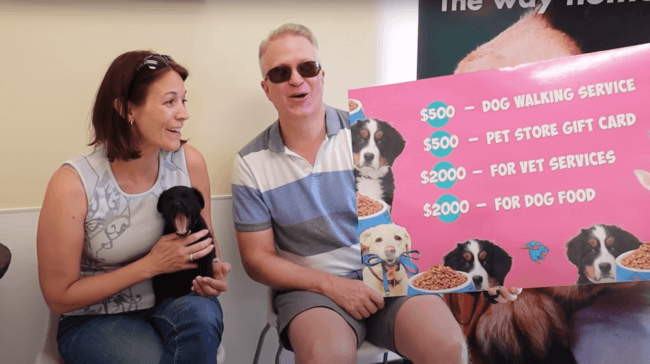 Forever Homes for All!
Once the adopters and their applications were approved, Donaldson came out to meet the families. He and his friends rewarded each family with a thank you gift for adopting a dog. Some families received ten years worth of dog food while others got $10,000 gift cards to pet supply stores. Each family was shocked by these generous gifts. But, of course, the most exciting part was that they adopted the perfect family member.
Along the way, Donaldson and his team fell deeply in love with the adoptable dogs. So, they ended up adopting some of them. One team member quickly adopted the Bulldog named Gumpy. Then, Donaldson and his girlfriend adopted Pinky, who was the last dog available. Every dog ended up with their perfect family, which is exactly what Donaldson had hoped for.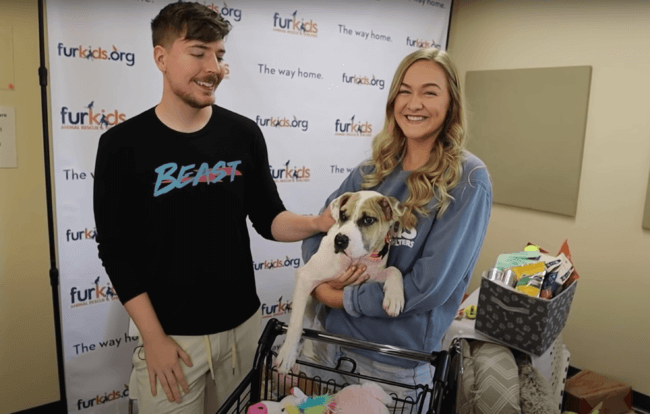 At the end of the video, Donaldson reminds everyone that there are still lots of other dogs out there in need of families. Plus, Furkids has multiple locations and they are constantly taking in new animals. So, if you want to help more animals in need like the dogs in this video, then please donate to Furkids.
Watch the Full Adoption Video Here: