Surveillance video of a Texas man abandoning his sister's "uncontrollable" dog by the side of the road has led to a momentous animal cruelty arrest. The cameras were installed by the Dallas Marshall's Office in an effort to crack down on animal cruelty in the Dowdy Ferry area, known as a common dumping ground for unwanted pets. This is the first incident of animal cruelty captured by the cameras that has led to an arrest.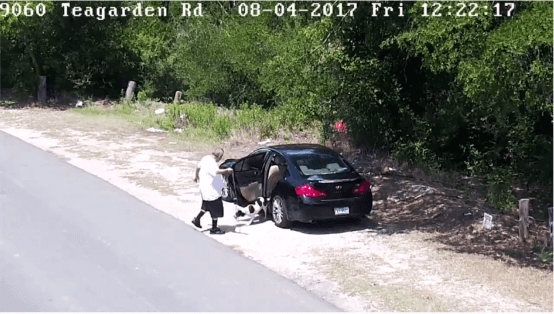 The suspect, Gorge Spears, was recorded on August 4 pulling his black sedan onto the gravel shoulder of Dowdy Ferry Road. He steps out, opens the rear door and pulls a black and white dog out by her leash. Without a moment's hesitation, Spears gets back into his vehicle and speeds off, leaving the bewildered pooch staring after him.
The Dallas County District Attorney's Office and the SPCA of Texas issued an arrest warrant on September 11. Gorge Spears turned himself in later that day. He claims he was "trying to help his sister by getting rid of the dog because his sister was unable to control her."
The canine victim, named Claira-Belle by her rescuers, was discovered unharmed on August 5 and taken in by the SPCA of Texas. She has since been adopted by "a family that fell instantly in love with her" according to their Facebook page.
Claira-Belle's new humans – who have renamed her KD – commented:
"Here's an update on this sweet puppy!! Claira-Belle (Now KD) is doing extremely well in her new home! She is quite possibly the sweetest dog I have ever met. From the time we got home on Saturday to now, KD has brought so much love into my home already. She enjoys cuddling on the couch, watching tv, and going for walks around the neighborhood. She is extremely calm and just wants to love everyone she meets. I was a little nervous about how she would adjust to her new surroundings because she was so timid in the shelter, but this beautiful girl has blown me away. Thank you to the people who rescued her and to the SPCA who brought us together. My heart is so so full of love and gratitude!!"
Officials say the case "marks the beginning of a close partnership between the SPCA of Texas and the Dallas Marshall's Office in ongoing efforts to crack down on animal cruelty in the Dowdy Ferry and surrounding areas."
Please SHARE to pass on this story to a friend or family member.