In early 2020, a group of hikers at Mee Canyon, Colorado, saw smoke coming from the bottom of a canyon. When they looked down, they saw a man calling for help. The hikers couldn't get down to him, so they contacted authorities, which caused a helicopter to survey the area. The rescuers in the helicopter spotted the man waving his arms near a manmade fire. Starting that fire not only saved the man's life, but also the lives of two dogs.
The man that the helicopter rescued had been traveling with his friend and his friend's two dogs. Sadly, his friend didn't survive a tragic hiking incident, but his dogs remained alive next to their human's body.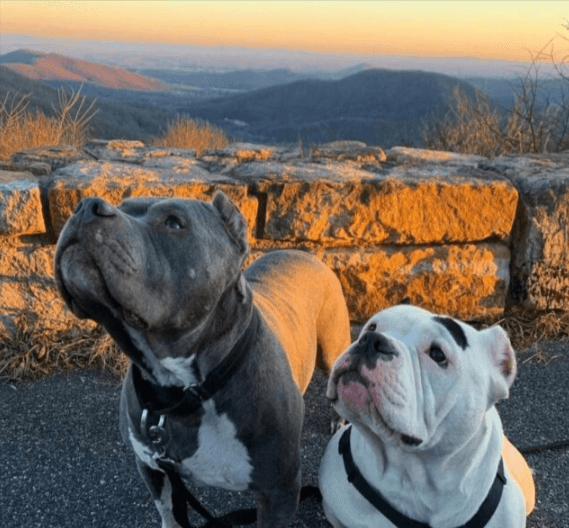 RELATED POST: 17-lb Bony Pit Bull Experiences Snuggling and the Feeling of a Full Belly
A Fatal Fall
Before the accident, a tattoo artist named Kris Busching was hiking with his two Pit Bulls, Tonka and Little P, and his friend named Mark. They got lost, and they didn't have phone service to call for help. Then, Kris attempted to descend the canyon with his two dogs, but he lost his balance, causing all three of them to fall.
Sadly, Kris died upon impact, but the two dogs survived. Mark was unable to get to them, so he hiked as far as he could. When he still wasn't able to call for help, he built the fire that caught the attention of nearby hikers. Mike got emergency medical care as soon as the helicopter picked him up, and then they picked up Kris' body and the two dogs.
Tonka and Little P had waited by Kris' side the whole time Mark was gone. Tonka sustained severe injuries, but his love for his human never dwindled. Mark stayed by the dogs' sides at the vet until they were strong enough to travel. Then, he brought them to Kris' devastated family members. None of the family members were able to commit to both dogs' care long-term because they already had dogs of their own to care for.
Heartbroken Dogs Brought to Safety
Kris' cousin, Crysti, had recently adopted a dog from Mr. Bones & Co., so she alerted them of Tonka and Little P's situation. The rescue took Tonka and Little P into their rehabilitation program, but Tonka's injuries were much more severe than Little P's. Tonka had broken bones, and Little P kept kissing his brother before every medical procedure.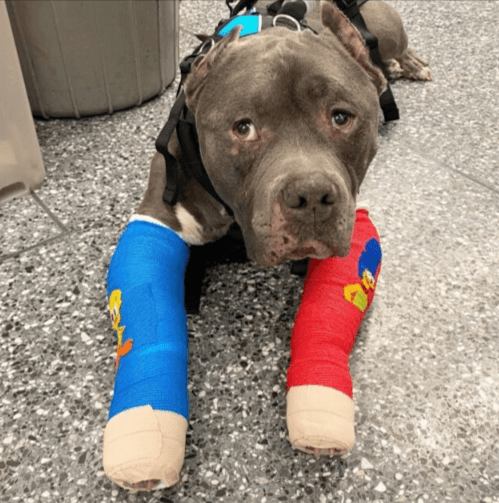 The brothers had to be separated for a little while as 10-year-old Tonka went through his recovery process. Tonka stayed at a foster home while Crysti kept Little P at her home temporarily. As much as Crysti and all her family members loved the dogs, none of them were able to give the duo the life they deserved. So, they made the right decision by seeking a new forever home where the two dogs could live together.
"My family and I knew we couldn't keep them because we all had other dogs, and learning to be around other dogs at this point of Tonka's life would be too much for him," Crysti said. "Not only that, but we needed someone who would give them a similar life to what my cousin did."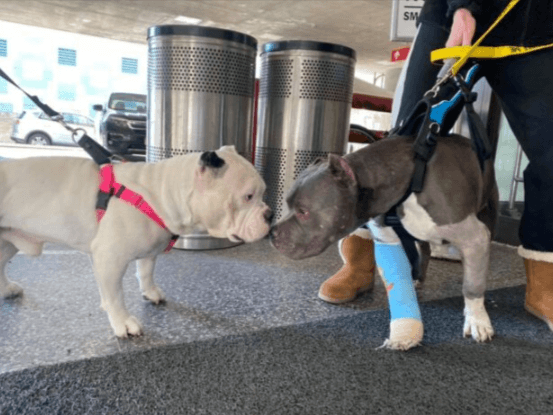 A Fresh Start Together
Luckily, it didn't take long for Tonka and Little P to find a perfect home. Once they both recovered, a couple named Brandon and Heilea wanted to adopt both of them. When the Pit Bull brothers met their new parents, they both howled joyfully. Tonka is usually the talkative one, but Little P is quieter. It was like they were singing to Kris.
"Sometimes, if, I think, [Tonka's] missing his dad, he will break out into a song, and P will join right in," said Heilea. "It's really cute. They're talking to their dad. We like to think he's still present and looking over them."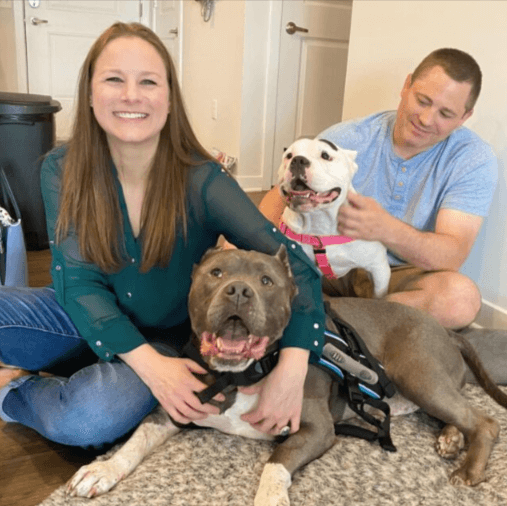 Heilea and Brandon have made a lot of efforts to keep Kris in the dogs' lives. They hung a picture of Kris with the dogs on the wall, and they use special food bowl stands that Kris' cousin made, which have "In loving memory of Kris Busching" carved in the wood.
Dad is Always with Them
Both dogs have been through so much, but they're making the most of their life with their new family. Brandon and Heilea are doing everything they can to make sure both dogs are as happy as possible. Even though their lives are different now, they always carry Kris in their hearts.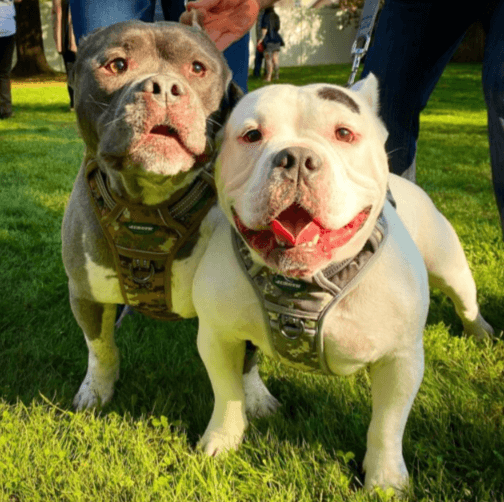 RELATED POST: Unwanted Older Pit Bull Would Be A Perfect K9 Officer According To Police Lieutenant
"We want them to have a good rest of their life, as much as [Kris] would've done if he had them," Heilea said.
Sadly, Tonka passed away around Halloween that year, but he was blessed to have several wonderful months with his new family. Now, he's reunited with his dad again.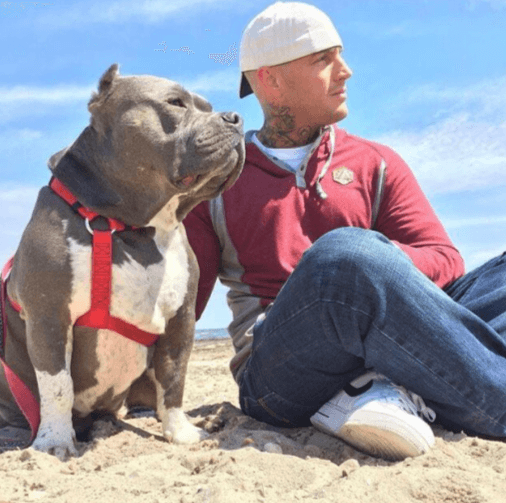 Little P misses both Kris and Tonka greatly, but he'll keep getting spoiled in his forever home. To see what the sweet Pit Bull is up to, you can check out his Instagram page.
Watch the Emotional Video Here: