When someone doesn't hesitate to save a dog, they quickly become a hero on social media. Deputy Michael Gregorek is the perfect example because he found out a dog was in danger, so he dropped everything to save him.
A man's car had started on fire with his dog named Hank still inside. When Gregorek heard he was responding to a car fire, he had no idea what to expect. But when he found out Hank was trapped in the smokey car, he jumped into action. Gregorek is a proud dog parent, so he knew saving the dog's life was a priority.
Trapped in a Burning Car
The Douglas County Sheriff's Office in Colorado responded to a car fire in a neighborhood. Deputies had many questions as they arrived at the scene, such as where the car was parked and how the fire started.
They saw that the car was parked on the street with smoke filling up inside. A man was throwing something at the back window, which made deputies wonder if he was responsible for the fire. But when Gregorek approached the vehicle, the man revealed that he owned the car, but his dog was trapped inside.
Since the car seemed to be locked, Gregorek broke some of the windows as he looked for the dog. After the back window broke, Hank peeked out of the car, so his human ran to him. The man tried to pull the large dog out of the car by himself, but it didn't work.
"Hank comes to the back window, he's salivating, you can tell that he's in distress," Gregorek said. "[The] owner was trying to pull him out, not successfully."
Hero Saves the Day
When the owner backed away from the vehicle, Gregorek stepped in. He reached in and pulled the dog out of the car. The dog seemed heavy, and Gregorek breathed in smoke as he picked him up.
"My thought at that point was 'he's coming out with me regardless of whatever else might be happening,'" Gregorek said.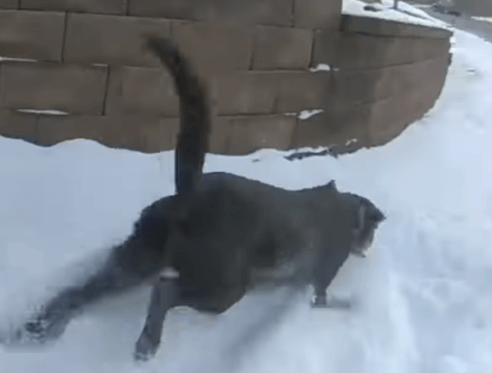 After getting Hank out of the car, Gregorek carried him toward the house and set him down in the snow. Gregorek coughed as he walked away from the dog. The entire rescue was recorded on bodycam footage, and it's nerve-racking to watch.
Luckily, one of the neighbors was a vet who was able to check up on Hank right away. He seemed in good shape despite everything. It's still unknown how the fire started in the car, but everyone involved is grateful that the dog is safe and doing well.
Watch the Video Footage Here: