Abla the dog works hard to protect her flock. As an Anatolian Shepherd, it's her job to keep the sheep of the Calliss family farm rounded up and safe.
But there are definitely some furry little perks in her work. And one of those perks is a sweet lamb known as June.
Now, the world is taking notice of the adorable dog and her lamb buddy thanks to the sweetest video posted to Twitter by their mom, Jo Calliss.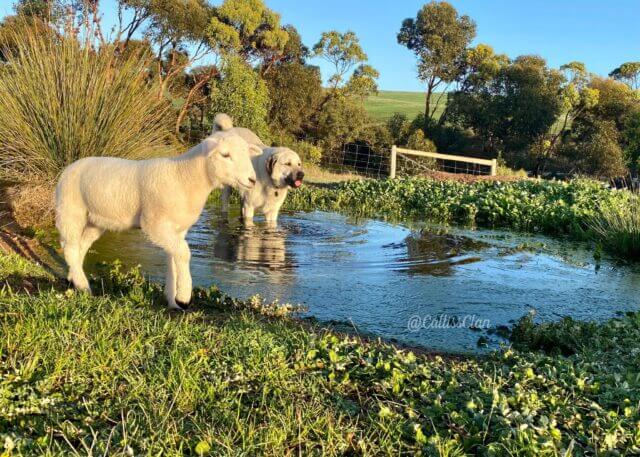 The Calliss family calls Port Lincoln, South Australia home, and there, they raise Wiltipoll sheep. While it is some beautiful living, humans, dogs, and Wiltipoll alike have been dealing with some heavy rains in the area, which have left the small creeks and waterways of the area swollen with rain.
During one of their regular walks, Jo caught Abla helping best friend June wade through the deeper water. That's when Jo whipped out her camera and caught the video, which has brought smiles to folks in all corners of the globe.
Furry and Wooly, They're the Best of Buddies
How did this pair become unlikely best friends?
When June was a fresh, new lamb of only a day old, she was attacked by a fox in the full light of day, leaving her with injuries to her head and neck. The attack happened while Abla was "off-duty," but June made it through, and now almost two months later, the little lamb can say she gained a best friend.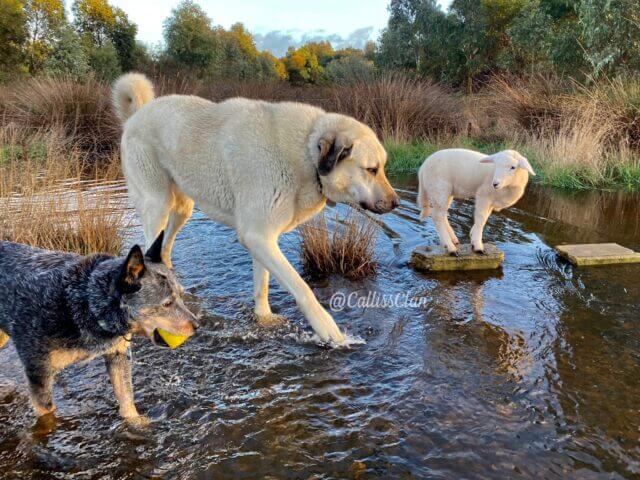 Since the attack, Abla keeps to June's fuzzy side to keep the baby safe. It makes sense, after all, 'Abla' means big sister, and this good dog has certainly proven to be just that to June.
Jo explained, "She's made a remarkable recovery and adores all of her doggy friends but especially Abla."
In fact, Jo called the two "inseparable."
And this inseparable bond between dog and lamb is what led to the adorable video of Abla helping June cross a flooded creek while out on a walk. As the pair wade into the creek, one can see baby June is a bit concerned, but with Abla leading the way, the lamb finds the footfalls she needs so she doesn't become a wad of wet wool!
Another 9.5mm of rain overnight so the creek has risen again. #Abla gently coaxes #June across, though pic.twitter.com/qdhHCUwcfv

— Calliss Clan (@CallissClan) July 21, 2021
But the cuteness of this pair doesn't end with one video. If you hop on Twitter and follow @CallissClan, you'll be treated to regular photos and videos of June, Abla, and all the sweetness of the farm. In the meantime, here's some cute pics of the pair!
Just Some Adorable Pictures of A Lamb and Her Dog
Who knew a Wiltipoll and Anatolian Shepherd would ever become the best of friends?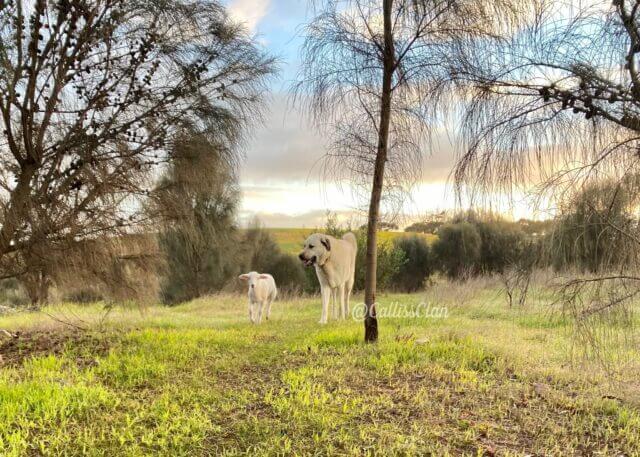 What's the best time on the Calliss farm? "Cuddle o'clock with Abla & June bug!"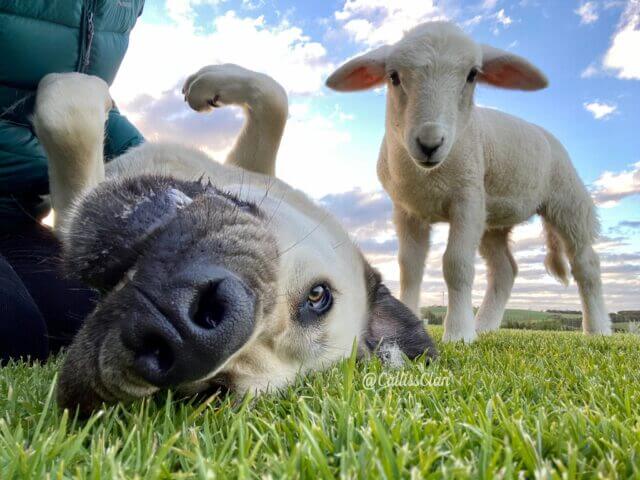 But it's not all cuddles and cuteness on the farm. Sometimes, the pair serve as a lookout for predators. Here, we see them in "fox hunter" mode!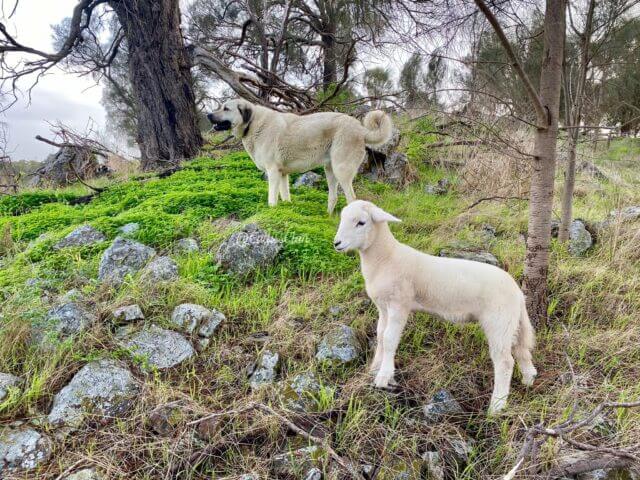 June and Abla share their home with Australian Cattle Dogs, Matilda and Wally, another little lamb cutie called TinyTim, and the rest of the flock.
And what do fans think of the adorable friendship? Twitter user @Pademelons said it best:
"I am embarrassingly addicted to everything that little lambie does and her spectacular guardian Abla and the rest of the clan."
Don't worry, us too!