A dog's loyalty never ceases to amaze us. Even when all hope seems lost, dogs will stick by their family members for as long as needed. And Tucker the Great Pyrenees knows a thing or two about being a hero even when it's not needed.
Melissa Ringstaff and her family found Tucker on the side of the road, not moving. At first, they thought he was injured, but as it turns out, he was protecting a deceased dog who had been hit by a car. The dog was likely his sibling, and Tucker refused to leave the dog's side no matter what.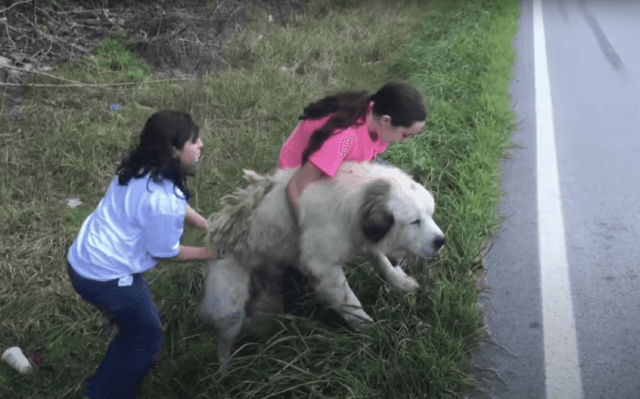 Even Heroes Need Saving
The Ringstaffs are known for taking in abandoned animals and helping them find forever homes. So, when they saw a giant dog alone on the side of the road, they had to do something. Other cars kept passing by, but Melissa pulled over without hesitation. When the family got closer to the dog, that's when they realized that he wasn't alone.
Poor Tucker was guarding the body of his friend, who had been hit by a car. Someone passing by told the Ringstaffs that the two dogs had been abandoned after their family moved away. Tucker had been waiting there for days. He probably hoped that his humans would come back to save his sibling.
Despite Tucker's resistance to leave, the Ringstaffs worked hard to get him into their truck and drive him to safety. He was a gentle giant, but it took all their might to lift him out of the ditch on the side of the road and into their pickup truck. One of the family members sat in the back of the truck with him as they slowly drove him back to their home.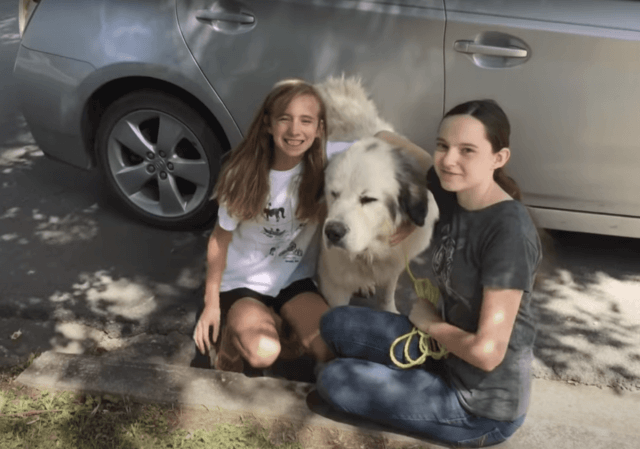 Right away, the family felt a connection to the brave dog. At first, they wanted to name him Hachi due to his devotion to his friend. But later, they decided that the name Tucker fit him better.
Tucker's Second Chance at Happiness
When they first brought Tucker home, they gave him a nice bath and cut all the painful mats out of his fur. They also fed him and took him for a walk, treating him just like one of their dogs. The family only got to spend a little time with him before they went to sleep, so they kept him in a new dog kennel that they'd recently bought. They thought it would be strong enough to contain such a large dog, but when they woke up, Tucker was gone!
The Ringstaffs weren't ready to give up on Tucker just yet. They searched for three days, trying to find the lost dog. They talked to everyone they ran into and visited the humane society. No one knew where Tucker was. But then, they finally found him relaxing next to a stranger's porch. He was happy to see them, but he had no idea how worried they'd been.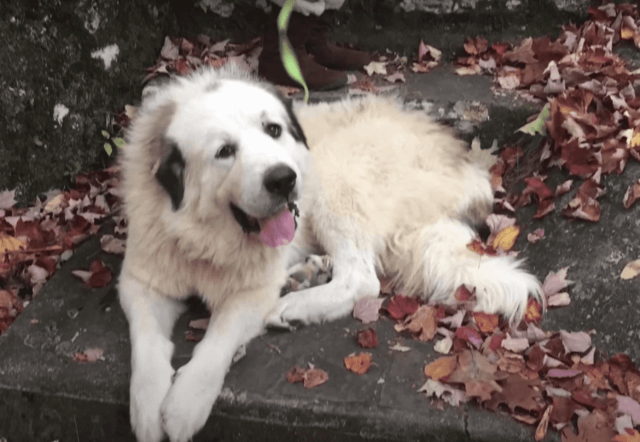 After that experience, the family knew they had to keep Tucker. They loved him too much to lose him. Luckily, once he got comfortable in their home, he never tried to run away again. He could see that he was loved, so there was no point in escaping again. Now, his favorite activity is hiking with his loved ones, and he looks so much happier than he did the day they found him. His story proves that rescuing dogs saves lives!
Watch Tucker's Rescue Video Here:
Please SHARE to pass on this story to a friend or family member.