Our pets are so much more emotionally intelligent than we realize — they have the ability to realize when their owners have passed away, and are even able to mourn for them.
That's what one dog proved recently: after a shocking tragedy left one young man dead, his loyal dog bid a heartbreaking final farewell at his funeral.
James William "Will" Warner, a 22-year-old from Shelbyville, Tennessee, was found dead on Friday, according to WKRN. Detectives reported that Warner was shot to death and left in the street by his killer.
Warner's girlfriend was also shot, but survived with critical wounds.
Will's death came as a devastating shock to his family. "It's like I had an out-of-body experience. I just collapsed," his mother Christy West Warner told the Tennessean. "My whole world was broken into a million pieces."
"Every second I stayed with Will was a joy," she said. "He was just larger than life. He was just a good boy. He was so personable."
Metropolitan Nashville Police Department identified a suspect in the murder: 25-year-old Samuel Earl Rich, who is now in custody in Bedford County as investigation continues. Rich had also been wanted for an attempted murder.
But as authorities investigated the case, a family was left to grieve. Sadly, due to the state Will's body was found in, they had to rush to a burial.
"I didn't even get to pick the casket out. It was so immediate," Christy told the Tennessean. "We've been robbed of everything. Every last ounce of closure or peace that we could possibly get from saying goodbye, we didn't get to do."
Will was buried at Mt. Lebanon Cemetery on Sunday. His friends and family gathered at his graveside to mourn and remember him… and one of the most heartbreaking, beautiful displays of grief came from an unexpected place.
Will's dog, Ace, laid down on the fresh burial plot, as if to be closer to his deceased owner: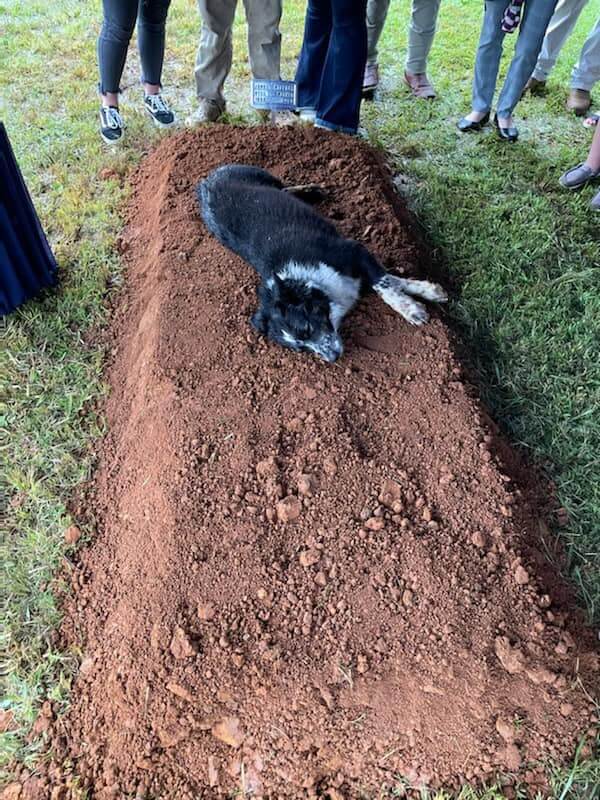 Will's obituary describes Ace as Will's "faithful friend and loyal companion," and the photo shows the two of them together. It's clear the two had a true love — and that this dog will never forget his departed best friend.
While the situation must be unbearably heartbreaking for the family, the photo of Ace at his graveside is a bittersweet reminder of how much he was loved.
"(He) loved life and loved people," Will's uncle, Tennessee state Rep. Todd Warner, told the Tennessean. "It's just a tragic ending to something that should've never happened."
Rest in peace, Will. It's clear you were loved by so many, and especially your loyal dog.
It's a reminder of how much our pets love us: They always want to be by our side in life, and they'll still want to be there when we're gone.
If you were moved by this story, please share with your friends.