When police received the call that a dog was stuck deep under the foundation of a home in West Seneca New York, two of their best "dog whisperers" were dispatched to the scene. Once the officers arrived, they could see that Buttercup was in trouble and really needed their help. So, they immediately got to work. But they weren't the only ones. Someone else at the scene was posting live updates of the rescue on the "West Seneca" Twitter page.

Far out of reach, Buttercup was trapped under the house. But, with two experienced officers at the scene, Buttercup was sure to be saved soon. Confident that he would be rescued, the person posting live updates added a bit of humor to their posts.
"Buttercup somehow managed to make his way deep under the home's foundation and can't get out. Officer Rave is very concerned. Officer Pingitore is only concerned with looking cool," read one of the first updates on Twitter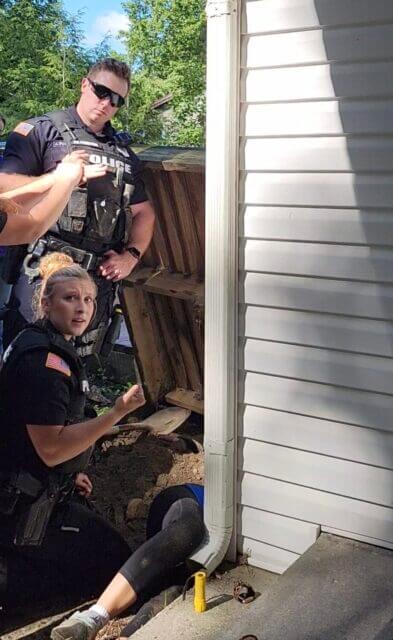 After surveying the situation, it was determined that digging a hole was the only option for retrieving Buttercup. But even after a bit of unearthing, and reaching for him, they decided that he was still too deep for them to rescue.
"Just out of reach," is what they posted with a short video on Twitter.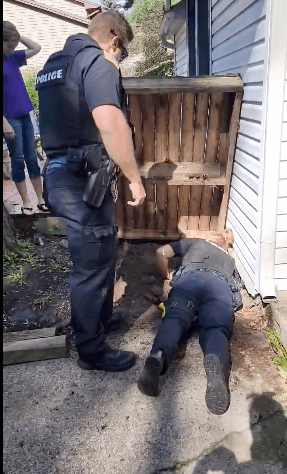 Once it was determined that Buttercup was still out of reach, they decided to dig a deeper hole. A shovel was brought out to the officers, and they had a much easier time excavating. However, Officer Pingitore wasn't exactly "precise" with where he moved the dirt.
"We've brought in the heavy machinery. Not a precision machine though as he just shoveled dirt on Officer Rave's head," is what the update said.
He had accidentally shoveled dirt right onto Officer Rave's head! But that didn't slow down her determination to save Buttercup. She continued to call him and reach for him. As the officers worked, users on Twitter had the chance to read and responded to a few of the updates. One particular user made the suggestion that they abandon their shovels, and use a bit of strength instead.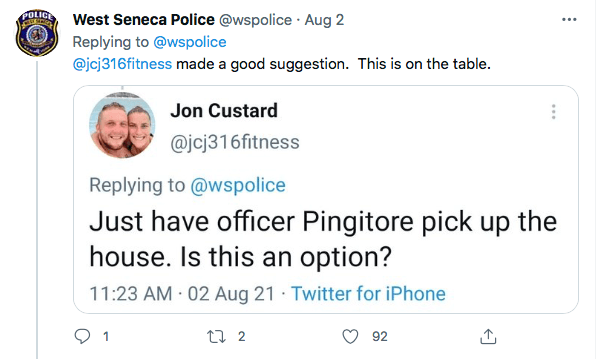 That would have been so much easier. But sadly, that wasn't an option. So back to digging, calling, and reaching they went. Everyone was determined to save sweet, Buttercup. Officer Rave continued to lay on her stomach to better see and call Buttercup. But, she needed it to be a bit brighter.
"In the spirit of the Summer Olympics a flashlight has been passed like a relay baton," said the post on Twitter.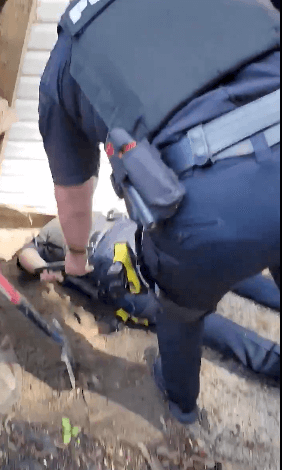 With the Summer Olympics on their minds, a flashlight was passed like a relay baton. And much like the athletes in the Olympic Games, Officer Rave and Pingitore continued to work together as a team. They only paused their digging briefly to brainstorm the best course of action to rescue Buttercup. But again, they found that he continued to be out of reach.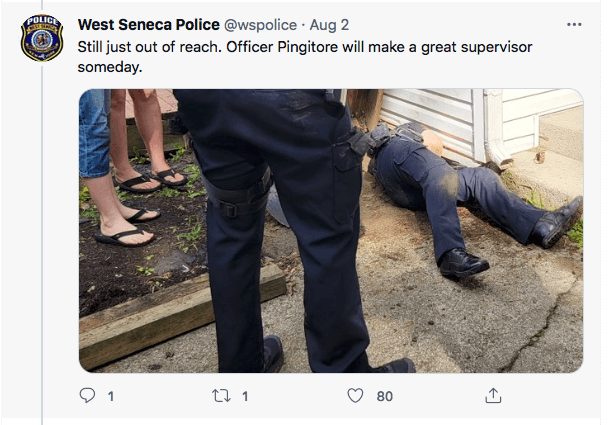 But not long after their previous update, West Seneca Police posted that Buttercup had been saved! He was finally free! Their Twitter page even expressed their enthusiasm by declaring "Gold Medals for everyone!"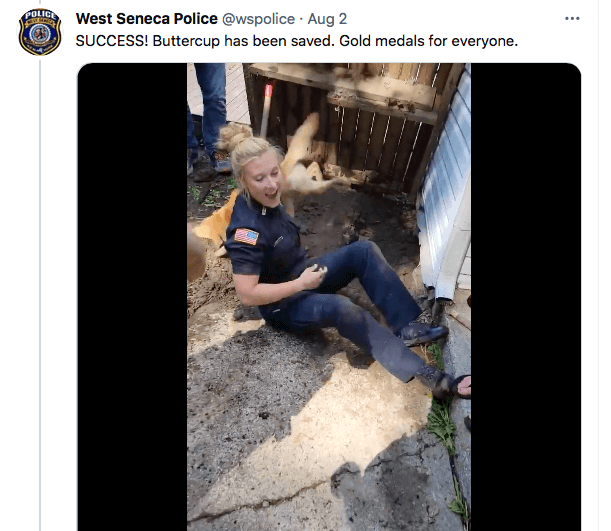 Last, they shared the news that Buttercup was "OK." And they expressed their gratitude for everyone cheering for him and the team of officers while they rescued this sweet pup. We are so glad you are safe and reunited with your family, Buttercup!