A dedicated firefighting crew from Gainesville, Florida traveled to the Bahamas to help assist in the devastation left behind from Hurricane Dorian. One team member had no idea he would soon set out to rescue his future furry best friend!
During their visit, the firefighting team witnessed miles of destruction and damage unlike anything they had ever seen. During their efforts, they were brought to a collapsed home of which a medium-sized Bulldog was trapped under piles of rubble. The Gainesville crew had to work together and save this helpless pup.
While some of the firemen helped to lift the collapsed wall off the pile of rubble, another member crawled under the rubble in an effort to release the trapped dog. After what seemed like an eternity, the bulldog was in reach!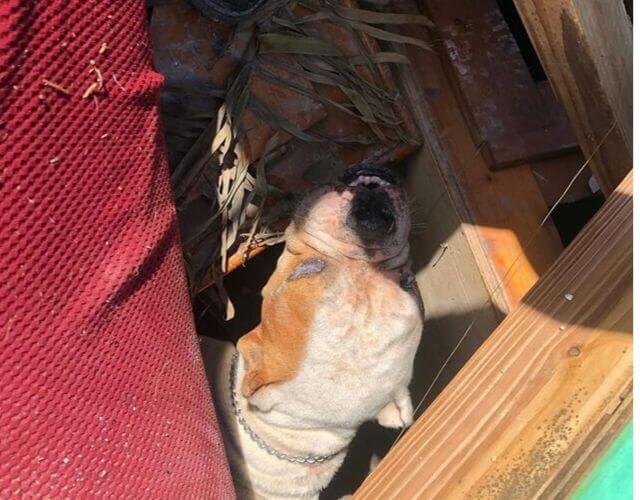 Several minutes later the fireman emerged from the pile of debris with a grateful pup in his arms. The video footage of the rescue shows an ecstatic fire crew, along with an absolutely elated furry friend. The rescued dog is seen wagging his tail, with what appears to be a huge smile on his face!
"What went into saving the pup? Check out this great video ? For the many inquiring minds, our crew took care of the dog at their base camp until they had to leave to come home yesterday. At that point, care was handed over to the International Fund for Animal Welfare (IFAW). One of our crew members is currently pursuing official adoption the pup and working to get it stateside. " – Gainesville Fire Rescue Facebook
In the moments following the rescue, the team brought the pup to a safe area away from the destruction in which he was trapped. There's no way to know just how long he was stuck, so they knew they needed fast access to water. The photos following the miraculous rescue show the crew surrounding the pup, offering him water, and showing him the comfort he deserves after such a terrifying ordeal.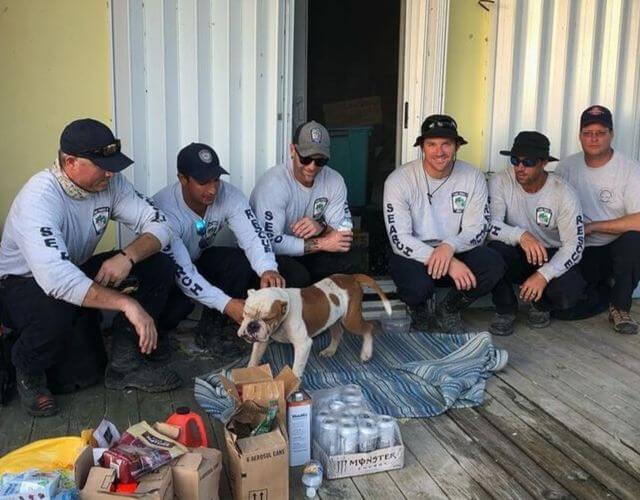 The lucky dog was soon handed over to the International Fund for Animal Welfare where he could receive further care, and find his future family once the crisis had passed. However, this rescue had such an impact on the firefighting crew, that one animal loving crew member knew he had to find a way to keep this sweet pup in his life forever.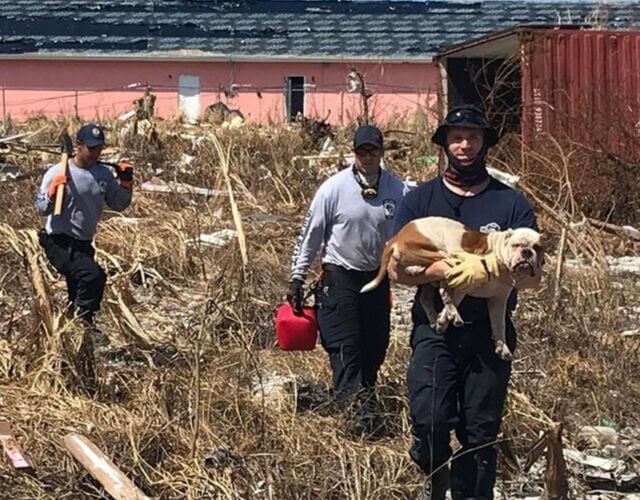 The crew member is now starting the process of adoption and arranging a way to get the rescued dog back to his home in Gainesville, Florida. He had no idea this trip to provide relief would impact his life in such a big way. This pup truly hit the jackpot!
Please SHARE to pass on this story to a friend or family member.