A Cry For Help From A Nose Under A Door
Officers in Plainfield, New Jersey were called to a home for a welfare check after neighbors reported that they hadn't seen or heard a man who supposedly lived at the residence. When officers arrived they found a dog's nose sniffing under the door. They contacted neighbors and the man's ex-girlfriend who confirmed that the man was safe and wasn't coming back. They said the cat and dog were cared for.
Second Thoughts Saved Two Lives
Later that evening, the ex-girlfriend decided to investigate further. She entered the home with the help of the landlord. Inside the deplorable home, they found a cat and dog alone, emaciated, and without food or water. They had been left alone to die. The woman took the cat but the dog, fittingly named Sarge, was taken to the Plainfield Humane Society.
Starving For Food And Love
Sarge is a red-nosed pitbull estimated to be between 15 and 17 years old and when rescued, he weighed only 30 pounds at most. New Jersey 101.5 reported Officer Louise described Sarge as "skin and bone" and too weak to even walk on his own.
He told TAPinto South Plainfield, "He is so old but he needed a home. Even though he probably only has a few years left, we can help him spend them here, with a backyard, other dogs, kids, and a family."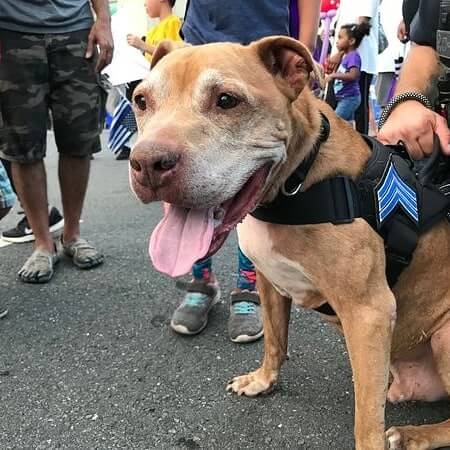 Adapt And Overcome
This determined little guy was quite literally starving to death. He was also undeniably determined to live and he wasn't willing to give up hope of being rescued. Out of desperation, this resourceful boy had begun eating a couch inside the residence to survive.
The Family Grew By Four Feet
The kind officer couldn't stand to see Sarge suffer anymore. He had a full house already but he knew he could find room for one more. Officer Louise and his wife decided they would welcome Sarge into their family with open arms and a warm bed if he pulled through. They already had a full house with an infant son, a five-year-old daughter, two cats and two dogs. In case you were wondering, the four fur babies already in the family were also rescues.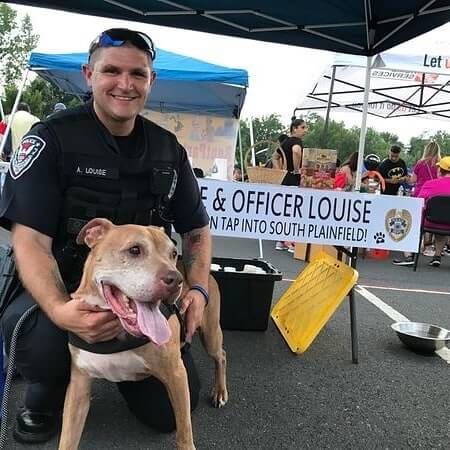 A Little TLC Goes A Long Way
Sarge was at the shelter for six weeks while he recovered. He has made huge strides in his recovery but he still requires significant care while he continues to fight for his health. This brave pup has a special diet and eats multiple times per day. Irish Angel reports Sarge's weight is now up to 70-80 pounds. He also has severe arthritis but it isn't stopping him from living his best life.
Justice, A Comfy Bed And A Happy Ending
Sarge's previous owner is still facing animal cruelty charges. Sarge appears to be adjusting well to his new life and family in the meantime. He no longer has to eat furniture to survive and it appears he gets unrestricted access to his mom and dad's bed!
As for Officer Louise, his passion for helping animals in need has propelled him into the next era of his career. He is on track to become certified in September as a humane law enforcement officer (HLEO) for the Borough of South Plainfield Police Department.
He told TAPinto South Plainfield, "It will provide me with the training and knowledge necessary to prosecute animal abusers to the fullest extent of the law… Sarge and all of the other animals out there in need of help deserve to have someone in their corner, and I'm more than willing to be that someone."