Isa Bredt is a 22-year-old Dutch artist who has given new meaning to the term, "Disneyfication." Originally used by sociologists to describe the simplification of society, Bredt has made the wordless about consumerism and more about cuteness.
For her Pet Disneyfication Project, she transforms dogs, cats, and other furry friends into heart-meltingly adorable Disney characters!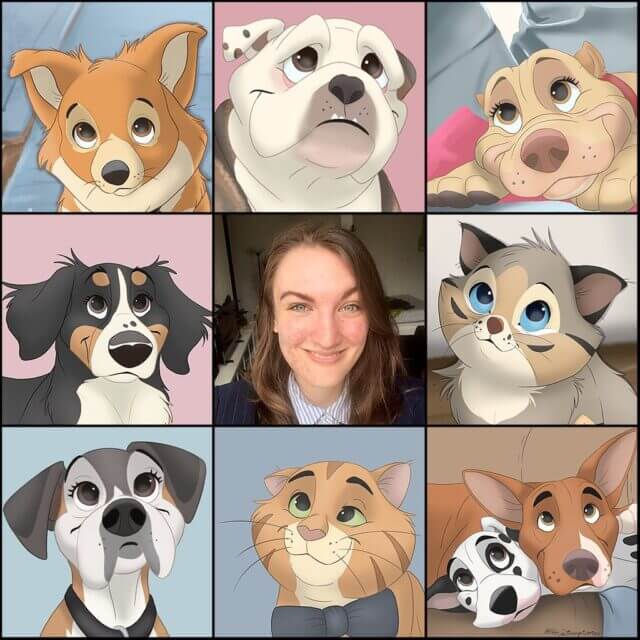 It all started when the aspiring illustrator began drawing some of Instagram's most famous and unique pets such as @MillietheWunderDog. Millie was just a puppy when someone beat her, shot her, and left her for dead.
Bredt's Disneyfication portrait showcases her inner beauty and strength.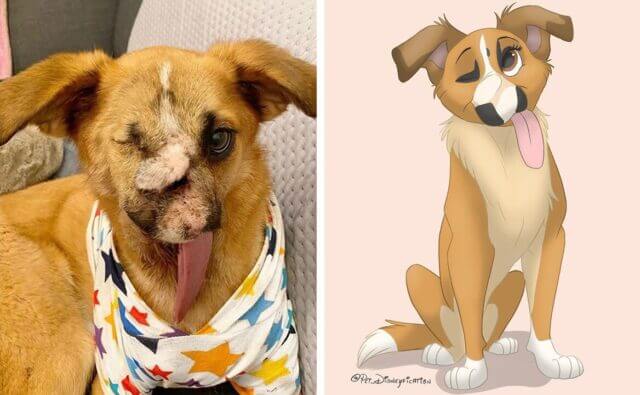 Millie's owner — and many other delighted recipients of Bredt's artwork — shared her portraits. Their followers became Bredt's followers, and before she knew it, she had more commissions than she could handle.
At this time, she is not taking on new pet portrait orders until at least September. However, she is still making time for her most important "clients."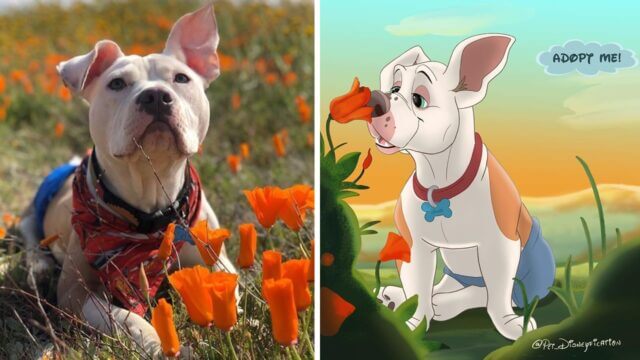 Drawing For A Cause
Bredt's "Shelter Sunday," "Take Me Home Tuesday," and "Foster Friday" posts feature harder-to-adopt shelter pets like Wheels (pictured/illustrated above). Born with Spina Bifida, he is reliant on his special wheelchair to get around.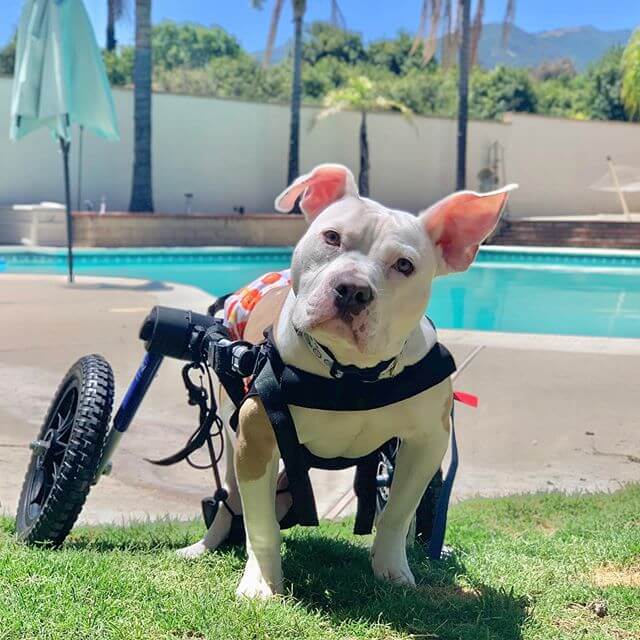 Sweet Totopo was rescued in Mexico where he was confined to a chain so short he could not even lie down. He was thin, extremely neglected, and covered in skin lesions.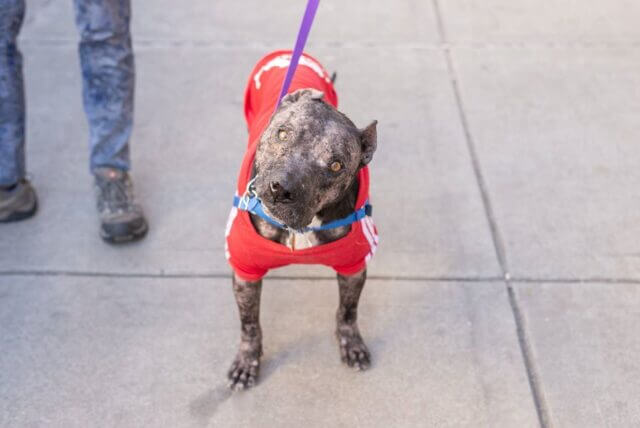 Bredt used her gift to capture Totopo's true spirit and the sparkle of hope in his beautiful brown eyes. Although this special guy is yet to find his forever home, getting him in front of Bredt's 133,000+ Instagram followers is sure to help!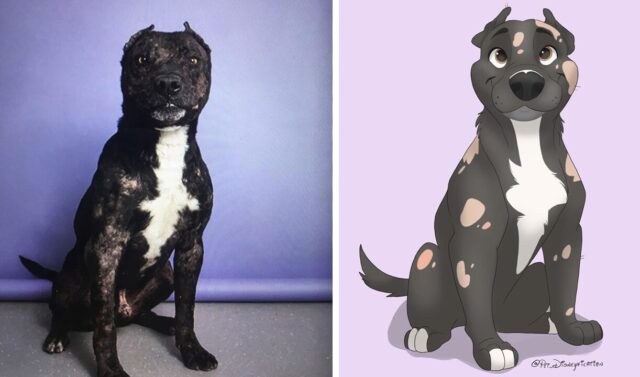 Success Stories
Other lucky shelter pups Disneyfied by Bredt have since been adopted.
11-year-old Dusty found himself in a shelter when his elderly owner passed away. Despite several health concerns, Dusty is now in a loving forever home!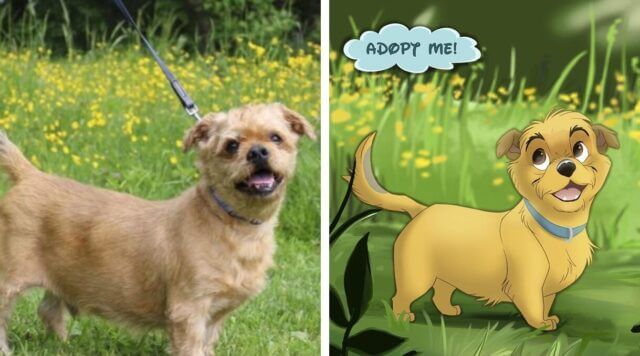 Bredt even makes heavenly tribute portraits to honor pets that have passed away. Remember Lil Bub?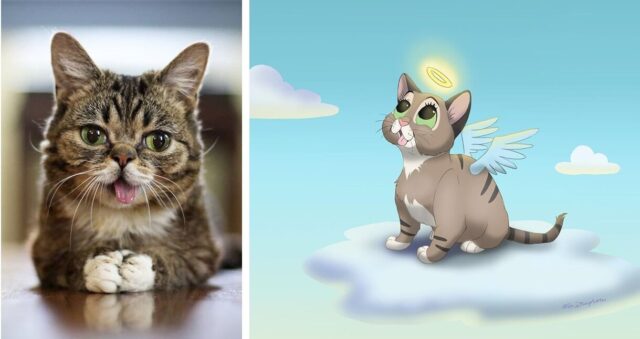 Brett's illustrations show that all pets are beautiful in their own way. They are all the more special because of their scars, not in spite of them.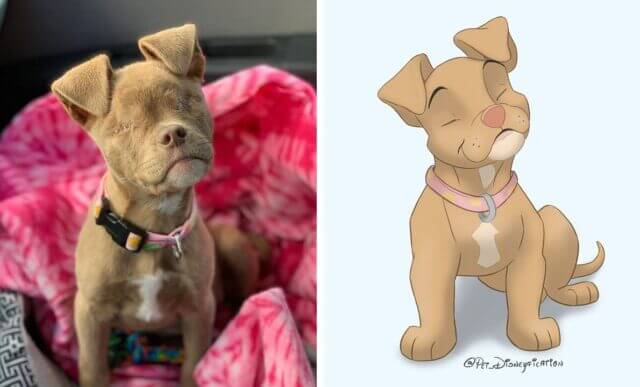 While you cannot get a Disneyfied portrait of your own pet until the fall, you can check out tons more adorable examples of Bredt's work on Instagram!
Please SHARE to pass on this story to a friend or family member.